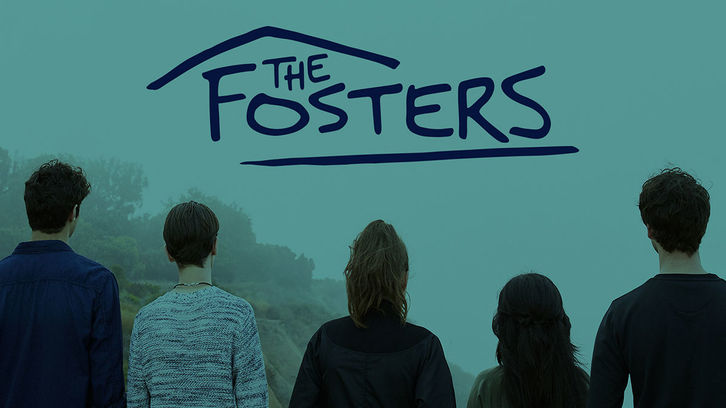 This week on The Fosters:
Stef is dealing with a situation regarding Kyle after Sheila shows up at the station. Kyle says that he's been seeing suspicious cars outside the house and unknown callers that calls him but now saying anything. As the episode progresses, he also shows Stef that someone left a dead rat outside on his porch. I'll be interesting to see how far and where the writers plan on taking this storyline.

Mariana is still torn between which guy she wants to be with and I'm honestly kind of sick of this mess. Sure, the date scenes were really cute but I think there's so much more they could do with her character than just seeing her struggle with boys. I might be a little upset that Mat is not here anymore too, so that might be a little bit of why I'm sick of this. I really liked Mat, but I honestly do like both Wyatt and Logan but I just don't like this whole triangle dilemma that's going on.

Jude is still doing the live streaming but it's not getting a bit problematic so in this episode Jude gets a makeover but that backfires and he goes back to looking like himself again. Jude also gets into a huge blowout with his mums after he takes his shirt of during one of the live streams. Stef and Lena reminds him that he doesn't know who could be watching those streams and I think this is a really important topic because of how much kids today uses the internet. You never really know who could be watching or reading etc. nowadays so I completely understand where his mum's are coming from.

Callie is thinking about appealing her rejection to art school, and her mind is made up after this episode but there's a twist. Callie wants to change her major to law instead of art. She comes to this realisation after Aaron asks her to participate in a panel that talks about Ximena's struggles. I was honestly so glad that Callie realised that she has more passions than art and that's she's willing to pursue them.

Brandon is struggling with what he wants to do with his life after Grace suggests to him that he needs to find something that is his own and what his plans for the future are now that she's getting better. He decides to help Callie with the music for a video to help Ximena and Poppy's parents case, and it's also there he realises what he wants to do with his future. Brandon wants to do film scoring. After listing to the music he produced for the Sinfuego's video, I really think Brandon found what he'd be really great at and I hope he really does pursue this.

To end this episode on a heartbreaking note, we find out that the Ximena and Poppy's parents gets out of holding, but that they have 30 days in America before they are deported. I honestly cried my eyes out during this scene because it was so emotional.

Favourite character:
For me, it was all Callie in this episode. I just loved how she came to the realisation about her passions, that art isn't her only passion. I feel like we've seen it come to light in the past few episode but it was so nice to actually see her realise it too. I loved how she in some ways helped Brandon realise what he wanted to do in the future too because she ask him to do the music for the video. I'm really sad that the Fosters are ending soon but I'm also so excited for the spinn-off because Callie has always been one of my favourite characters and especially in this past season. I feel like she's grown so much and really found her place.

Best/Favourite scene:
My favourite scene was when Brandon showed Callie and Ximena the score he had made for the video about Ximena's parents. It was just so emotional and it really took the video to another level. I'm just sad that it wasn't enough.

Best quote:
Callie: I wanna change my major, to law
I just thought that was such a statement and powerful quote after the previous heartbreaking scene with the Sinfuego's.

What did you think about this episode of The Fosters? Please, let me know your thoughts in the comments below.