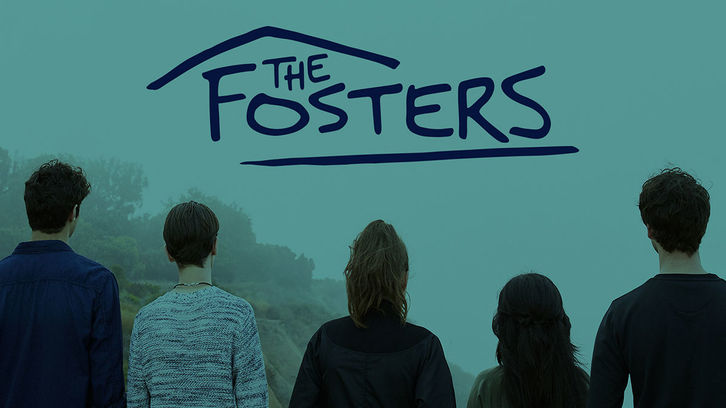 The time is here. We have a two-episode season finale which will make you smile a whole lot but also make you cry like a baby. That's at least how it was for me watching these two episodes. The episode takes place just before Callie and Brandon's high school graduation, but we also get to see all the other Adams-Foster kids graduate because we get three different graduations in the span of five minutes which I thought was so nice and wonderful to see.


This week on The Fosters:
Mariana decides to help Emma with her internship project after Jesus convinces her too and we find out in the second episode that Emma got the internship but Mariana didn't. But fear not, because we see at the end of the episode that Mariana does get in to MIT, and so does Emma. Mariana chooses to date Wyatt after a lot of back and forth (I'm not sure why they writers even did that) but the funny thing is that we get to see her and Mat have a very nice scene at his graduation and that's not the last we saw of him. He's also sitting next to Mariana at Jude's high school graduation so we can assume that they reconnected after both of them moved to Boston for college.
Jude finally decides to quit the streaming gig after he realises Declan is not really a nice guy and that he himself became someone he didn't want to be during that whole experience. Jude and Noah break up in the beginning of the second episode but they do have a conversation at graduation where they also share a kiss.
Jesus is bummed because he doesn't get to be a senior next year with Mariana and Emma, and he's afraid that Emma won't want to date him if he's still a junior. What he doesn't know is that Mariana has organised so that everybody in their family and some friends come by the house to help build Jesus's tree house, so that he can do his senior project and actually be a senior with Emma and Mariana. Gabe came back for the building too which I thought was really nice because I actually liked him and Jesus's scenes together. Mariana and Jesus have a very nice scene in the treehouse that really got to me. It really shows how strong of a bond Mariana and Jesus have and I just really relate to that because I feel like I have that kind of relationship with my younger brother.
Stef and Lena go on the couples retreat that Stef's mum got them where things take a turn for the worse in their relationship but at the end of it, they've managed to make it through. I was honestly just so happy that Stef dealt with everything she's been feeling these past couple of episodes and also told Lena about how she was feeling. The scene were Stef finally gets a breakthrough by talking and confronting her dead father was so emotional. Teri Polo just did such an amazing job in that scene and I was crying so hard during that scene. I also have to write about Lena's graduation speech that she holds during this episode, it made me cry and it made me smile. One of my favourite quotes from the episode is also from that speech, and everybody who loves the theme song for The Fosters will know what quote I'm referring to.
Callie is still trying to get into law school and she also realises that she wants Aaron back which she tells him. He says he needs time to think about it and we get a scene between them during the second episode where they finally get some closure because Aaron says he wants to see where things go with Amanda. We do have some good news for Callie because she manages to help Ximena and Poppy's parents which means that they get to stay in America. We also find out that Ximena got her DOCA which means that she also gets to stay in America. If we fast forward to graduation, Lena tells Callie that she got a call from UCSD and Callie got into the law program. I'm honestly so happy about this and I can't wait to see the spin-off to see where this will take Callie because we've seen this past season how much passion she has and I'm sure she'll do so great.
And now, brace yourself for the most heartbreaking storyline of the finale two episodes.
Brandon and Grace. Grace convinces Brandon to go to LA with her so he can audition for the musicians institute which we later find out that he gets into. They have so many nice scenes in the first episode with some singing in LA and a beautiful sunset scene by the beach. The end of the first episode and the whole second episode is a real tearjerker because we find out that the treatment didn't work and Grace is done with more treatment, which means she doesn't have long. We see her and Brandon have some finale moments together before she passes and I honestly cried so much during every single scene that Grace was in. I just feel like we've really seen their relationship bloom and I really liked them together so it was heartbreaking to see her die and to see how Brandon was hurting. But we do get to see a happy Brandon at Jude's graduation and during one of the finale scene, we find out that Brandon is engaged to a girl that I assume he met at school.
We end the second episode with a call from Bill, a social worker who tells Lena and Stef that he has a kid who needs a home. I honestly loved that ending.
Favourite character:
Honestly, I loved everyone in these two episodes and I think that's how you're supposed to feel. These episodes really did feel like a series finale and I think the writers thought it was. That's why we get so much closure and why I loved every single characters journey in these episodes. I'm glad that we still get three more limited series episodes this summer but this really did feel like the end of the show.
Best/Favourite scene:
The whole graduation montage was so special and nice to see so that's probably my favourite part in terms of what made me smile and feel content. It was so good to see all the kids graduate and to really see how much they've all grown from the first moment we saw them five seasons ago.
The other scene that I absolutely loved but that broke my heart was Brandon and Callie's scene after Grace passed away. I cried so much during that scene when Callie comforted Brandon. I wanted to give a standing ovation to Maia Mitchell and David Lambert during that scene because I felt every single emotion that they were portraying, and I honestly watched the scene about three times just to torture myself.
Best quote:
Lena during her speech:
It's not where you come from, it's where you belong
What did you think about the double episode of The Fosters? Please, let me know your thoughts in the comments below.