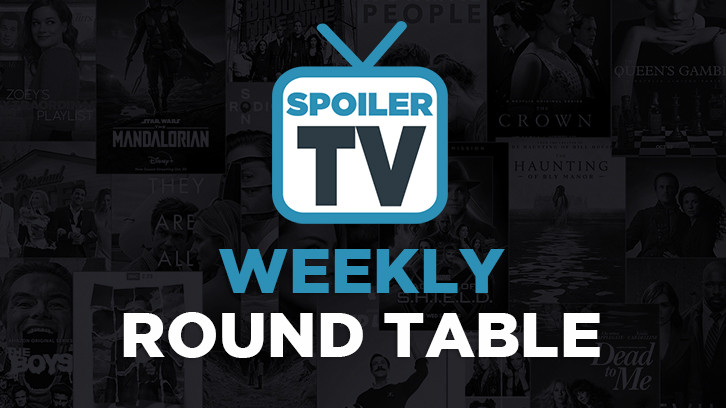 Hello everyone and welcome to another WRT! Just when I thought the Olympic Weeks would be boring the dear world of TV entertainments threw news at as like they are free. SpoilerTV writers featured in this week`s WRT are Laura (LS), Lisa (LM), Samantha (SB), Katherine (KM), Jamie (JC), Beth (BW), Claire (CS), Donna (DC) and Jaz (JZ). As always sit back, enjoy the read and join the discussion down below.


1. Jessica Jones is returning after a 27 month hiatus. Will this big hiatus hurt the show or won't it affect it at all?
LM:
I don't actually watch Jessica Jones, but given the Netflix bingeing model, I don't think the long hiatus will hurt it. So many more people will have caught the buzz and had a chance to see season 1 - fans of the other Netflix Marvel shows may also jump on. What will hurt the show is if the quality isn't up to the first season. It's also important to bear in mind that Netflix doesn't rise and fall by traditional ratings.
SB:
It's partially due to the long hiatus I've been able to finish watching the first season, and with Jessica featuring in The Defenders last year somewhat reminding people of Jessica Jones if they had forgotten I think the show will be fine. In comparison to some broadcast networks, Netflix is promoting the hell out of the show & it's extremely clear it's never been forgotten about by them. I would though hope if the show gets a 3rd season, Netflix doesn't leave us waiting as long & co-ordinate better between its Marvel shows because it is ridiculous to have such a big gap.
KM:
Jessica is a strong character with a reasonably recent appearance in The Defenders to kind of keep her in everyone's mind. Her stories are also very imaginative and strong and I think of the show even though it has been gone for entirely too long. Netflix also loves the show and wants it to succeed, promoting is as much as possible and sending out screeners to media outlets to get more buzz going. Jessica's journey really resonated with me, and I can't wait to see where it goes.
JC:
For any other show 27 months would be overkill but since we had lots of Jessica on The Defenders, it didn't bother me that much. But since she is my favorite, I'm very happy to get more Jessica soon.
BW:
I don't think it will affect it too much because Netflix viewers know the drill by now when it comes to new seasons. Plus we got to see her in Defenders as well.
CS:
My daughters, Carolyn and Gwyneth, love this show, so I asked them. They are very excited for the upcoming release and say that the break has not affected their interest. Unlike, tv of 'yesteryear,' they are accustomed to the immediate release of an entire series, binge-watching (sometimes) and then moving on. They say they prefer watching television this way; not having to wait from week to week, or longer, to see how a show plays out. Also said that even if it's half as good as season 1, It'll be great! And they love that Krysten Ritter grew up in a town half an hour from Scranton.
DC:
Unfortunately the long hiatus had little to do with Netflix but poor Kristen Ritter undergoing surgery. However, we have seen Jessica in all her bad ass glory in The Defenders and I for one can't wait for her return she is such a flawed character. From what has been teased so far it looks a promising season. Looks like Marvel and Netflix secured a deal so hoping for more.
2. Megan Boone made a statement that her Blacklist character won't wear a riffle after the recent shootings in the USA. Does statements like this help the fight or are they redundant ?
LM:
I dropped the Blacklist after season one because I couldn't stand Megan Boone. That said, her stance here is almost enough to get me to watch again! ANY and I mean ANY action taken to push back against gun violence is to be celebrated and lauded. There are NO redundancies in this fight. That said, I also don't think that the problem with gun violence is violent movies, television, or even video games. However, for anyone with a predisposition to violence, the fewer examples out there, the better.
SB:
I think this is very much a catch-22 situation. I can see why Megan Boone spoke out and I commend her for it, but at the same time, The Blacklist is a procedural & it could look a bit weird if other characters are going around with riffles whilst Liz isn't. There's also the danger that people can single in on her statement, and convince themselves that TV shows/Movies/video games are solely responsible for the issue with guns that America has. I'd honestly prefer people such as Megan use their platform to support the campaign for gun control, rather than promising their fictional character on a TV show won't ever use a particular type of gun again.
KM:
I'm not sure if it will make an impact. On the show pretty much everyone has a gun or guns. It's a good statement about her change for her character, but frankly, if she hadn't pointed it out I wouldn't have noticed. If the show announced that none of the characters would be using assault rifles, I do think that would make news for a bit, but again I don't see it making any real change.
JC:
I mean, I guess it's better than nothing but on a show with so many weapons, I highly doubt it's gonna make any difference. I think it would be a lot more helpful if she actually put her support behind gun control rather than just do this. (though not sure if she's already doing this or not, haven't been keeping up with this).
JZ:
I've been a big fan of Megan Boone's campaigns regarding female directed advertising etc but this for me seems a little absurd and I do not think it'll make a difference.
Her character is an FBI agent who is trained to safely handle weapons and is of sound mind to do so. To me, I see no issue in her handling a rifle if the situation calls for it. It's waaaayyy different than an untrained and mentally unsound terrorist from handling an assault weapon.
She's also implying that she (as a character) is contributing to gun violence in America which seems a bit extreme especially since time and time again it's been proven that entertainment does not encourage violent behavior or criminality. So her statement could actually be harmful and perpetuating inaccurate information by thinking that her carrying a weapon is going to make an iota of a difference.
3. Brooklyn 99 is returning in 2 weeks after a 3 month hiatus. Are two weeks enough to promote the show's return? Did Fox make an abrupt decision?
LS:
Everything FOX ever does is an abrupt decision to any sane person. Seeing as how, when they were in a similar situation last year, they opted for a 4-month hiatus going in the same slot it was in before with very little promotion. And that was four months! And then the show hit a series low! There has to be something said about that. At least here, with this different date and time slot, clearly FOX is trying something new that could perhaps save the show and give it a final season sendoff in the vein of
New Girl
. Or this is their way of trying to give it proper closure in the time slot where it used to thrive? Who knows. I, for one, would prefer not to think of it as the latter solution. I can't conceive that the only show on television could leave us so soon. There's still so much to be told, even with this seemingly conclusive finale upon us. They could do so much more, and these characters and stories are the best ones on TV. The world really needs
B99
right now, more than ever. Maybe that's why FOX decided to do an earlier airdate. They finally smartened up and realized what this show means to us. I don't know. All I know is that I'm super excited to see my family again, and I don't have to wait as long as last year.
SB:
2 weeks is absolutely not enough time to promote ANY show's return. It's obvious that Fox has pulled this out of their bottom, and whilst I am glad Brooklyn Nine-Nine will be returning sooner than I thought, I'm not sure whether the move back to Sunday night & especially so late in the game will help its renewal chances. Depending on how much on-air promotion Fox gives them, viewers who don't have social media/Internet might not even be aware of the night change. Either way for a comedy to make it past a 4th season without feeling overly stale is quite an achievement. If it gets renewed then that's great, but if this is the final season I'd prefer Fox come out & say it sooner rather than later.
JC:
Hell no, 2 weeks isn't enough. It took them forever to announce when B99 would be back. Both the fans and the show deserve better than that.
BW:
I am so happy it is coming back so soon, but nope this is not enough time to promote its return. There is no big event that they are airing that would give them a chance to promote it (not that they would). And they moved it back to Sunday which is kind of too little too late.
JZ:
In a short answer no, two weeks is not enough time to launch a successful promotion especially since it's also being moved back to its original timeslot that normal fans may not remember.
Fox may have done this because they don't care about the product anymore and wants to burn it off. The move may just be a test to see if the rating drop was a legitimate disinterest in the show or scheduling issue. Or, the late campaign could just be because Fox has faith in the fanbase and knows that wherever they decide to build it, they will come. I guess we'll see when the ratings come in.
Hope you've enjoyed this edition and join the discussion in the comment section. Till next week. . .