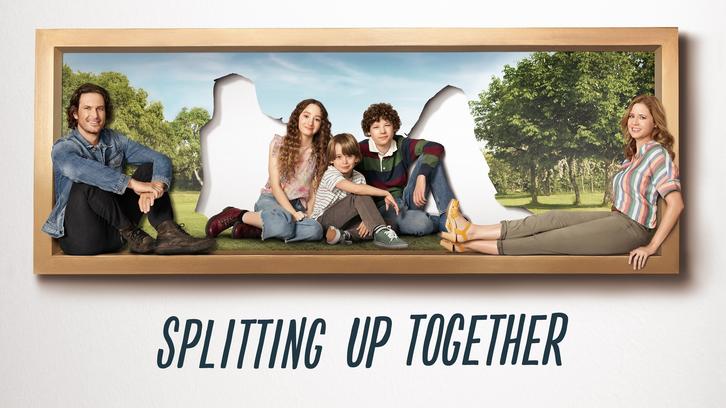 Jenna Fischer makes her comeback to a primetime comedy with tonight's premiere of "Splitting Up Together" on ABC. After starring in "The Office" as Pam Beesly, or one half of the iconic Jim and Pam, this is her first major broadcast show as a series regular. Her work in this new comedy definitely stands out amidst the rest of the cast.
In "Splitting Up Together," Lena (Fischer) and Martin (Oliver Hudson) decide to get divorced but continue living in the same house with their three children. They each take a week to be the 'parent' and live in the main house with the kids while the other one takes a break from all of it in their garage. The show is about how the two navigate their new normal.
It's not entirely a unique premise, the whole 'will-they or won't-they' romance of it all but "Splitting Up Together" surprises you by handling the situation more tenderly than most but it still has a little ways to go in terms of finding its groove.
Before its big premiere tonight, here is a quick advanced preview of the comedy.
The show doesn't take more than a few beats to get to the core of the situation aka Lena and Martin's sullen marriage and how it got there. Martin is still basically a man-child and Lena, who is a little more uptight than most, got tired of this. As seen in the trailer, they break the news to their friends: Lena's sister Maya, her father, and another married couple, Arthur and Camille.
Their three children -- Mae, Mason, Milo -- don't seem to be too upset by this news. At least, not in episode 1. Lena is obviously the stricter parent while Martin cares more about spending time with the kids even if it means eating lots of unhealthy takeout instead of cooking them a decent meal.
During Lena's parenting week, she's faced with a unique problem with Mason: his puberty, which is causing bodily issues for the dude. She's unsure of how to handle it but she does get help from a very cute doctor. Martin, meanwhile, comes to a realization from an unexpected source about how he contributed to his marriage's downfall, which leads to a polite confrontation with his now ex-wife about each of their behaviors.
What works in "Splitting Up Together" is the lack of the unnecessary laugh tracks that most comedies end up using. There are moments of real depth on the show, which is also very refreshing. It's not an outright laugh machine but that doesn't mean there aren't moments of comic relief. They mainly come from the couple's other married friends, Arthur and Camille (played by Bobby Lee and Lindsay Price). The children do a decent enough job, as well.
My concern about this comedy is that the spark between Fischer and Hudson itself is scarce and fleeting. Maybe it'll continue to build as the episodes go on. Its only episode one so I will hold out to see if they flesh out their characters better. We don't even find out what Martin and Lena do for a living in this episode! They've dug themselves into a hole with this plot because there aren't too many ways this show can carry on without adding abstract twists for Martin and Lena that prevent them from getting back together (if that's the goal, which it probably is).
I'll give this show a few more episodes to see if they tighten their narrative and improve character development while continuing to settle into the healthy mix of humor and emotion for the rest of its run.
"Splitting Up Together" premieres tonight, March 27th at 9.30/8.30c on ABC. Will you be watching?