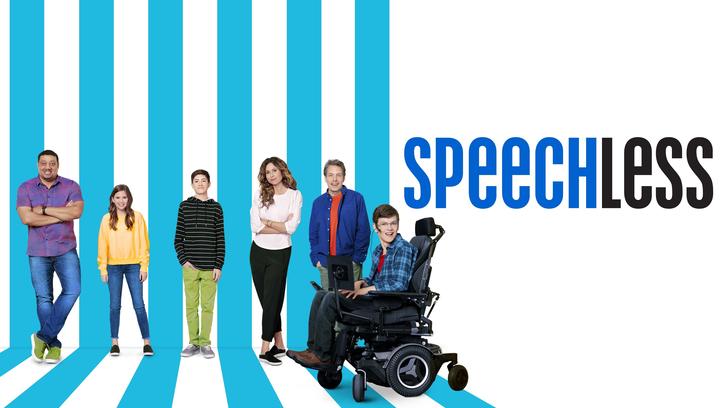 Here we are, at the end of the road. 18 unique and socially important outings later Speechless wrapped its season 2 run with an episode to be remembered. "N-O– NOMINEE" was written by Scott Silveri & Danny Chun & Matt Roller and directed by Christine Gernon a gave great character moments for our 3 adorable DiMeo kids, wrapping things up nicely in case of the C word happening but also set the stage for great season 3 stories.

Ray´s Selfdisovery


Personally This story was probably my favorite out of the three stories. It was a huge step for Ray to realize that he tried too hard. Tried to hard to be the right guy for Taylor instead of just being himself. He is such a sweet and carrying person and if Taylor can`t love him for the freaky boy he is, he doesn´t need her. But nevertheless, his attempt to win Taylor was back was hilarious. Last season´s episode where Ray run out Dylan was one of their best and Ray´s second attempt at sports was another winner. The combination of laughter and covering my eyes during all of his falls worked weirdly well for me. I enjoyed the interaction between Kenneth and Ray a lot. Both are underdogs in the dating life and him being there for Ray in his time of need was really sweet.
My Dad isn´t always a Hero
When you have such a well-cast show with all the actors sharing such great chemistry, such a simple "Lie" story can turn into something really big. It was really adorable how Jimmy tried to hide the truth from Dylan and how this went back to the second episode of the season when Jimmy promised her they wouldn´t leave Lafayette. Their scene in the secret hideout was truly beautiful and a major shot out of their beautiful relationship.
A personal major shout out to Kyla Kennedy who was emotionally on spot and delivered a natural burst out you would expect from a girl of her age.
I`m more than my Disability
This is a message this show sends all the time and I`m happy they once again reestablished this as being their main goal. Their main goal during this whole two seasons was to bridge the rift between the prejudice people have about people with disabilities and show that they are so much more than their disability. The characters constantly repeating that JJ was chosen cause he his work and not his disability gave away that something will really go bad in that regard. I understood JJ´s anger and it resonated well as he didn`t throw one of his tantrums but still showed how he was annoyed by how they`ve once again reduced him just to his disability.
Maya`s role in this whole story was brilliant and Minnie Driver once again executed it with such ease and natural, like we all are used to. Her outfit, her one-liners, everything just worked.
The family reuniting at the other award ceremony, to eat as much as they can as they were homeless at that moment and realize that JJ was nominated cause of his talent was a nice way to wrap this season. The throwback to the garbage ramp and Maya loving it despite hating it back it the pilot and the family carrying JJ with joint efforts was really heartwarming. Those smiles weren`t fake that was obvious.
The final scene of the episode/season with the family camping in the front yard of their home really melted my heart. JJ`s smile with the trophy in his hands, the family looking forward towards tomorrow instead of being broken down is everything this show is about. The DiMeos saw the darkest things a family can imagine and still came up and know there is still a tomorrow to fight for as long as they are together.
I will insert here Maya´s quote from the season premiere as it feels fitting, it perfectly describes their essence.
Maya:Sorry. Darling, you don't get the blame here. We will give you credit here, though. This whole ridiculous chase we are on, it's because of you. You've thought us to be spontaneous, to drop everything when it matters. You did it the first day you came, you did it yesterday. I'll tell you, it is my favorite of who we are. You make us, US!
This is it, guys! Hopefully only until September where we will enjoy new episodes of this highly entertaining and socially important and inclusive show. What are your thoughts on the season 2 finale? And the season overall! Use the comment section to share your thoughts.