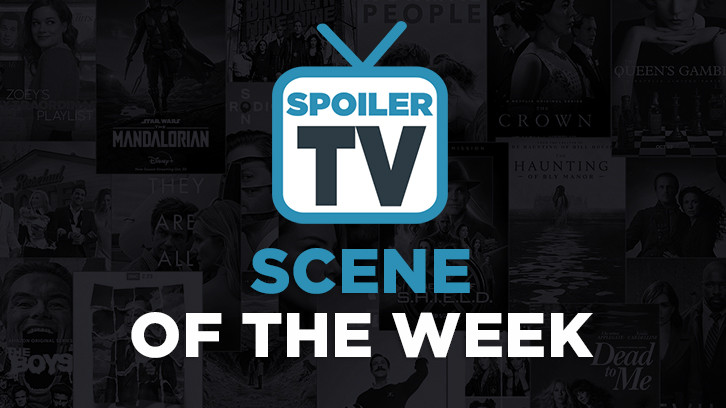 A weekly feature in which we're trying to find the most compelling, best acted, written, directed and just generally great, memorable scenes that we've seen in past seven days on TV.

9-1-1, "Trapped", March 14, 2018, Actors: Oliver Stark, Connie Britton, Angela Bassett, Aisha Hinds and more, The Scenes: Buck tells Abby he's not going anywhere & Athena calls Hen to the rescue
Marine: Athena calls Hen to the rescue because she accidentally cuffed herself and her new beau to a bed. I don't think this show had made me laugh this much until that hilarious scene!
Beth: Buck tells Abby he's not going anywhere. Talk about growth! Even through Buck's insecurities, he let Abby know that he gets it and is there. This isn't a relationship that should work on paper but it just does in so many ways.

AGENTS OF SHIELD, "Principia", March 16, 2018, Actors: Jeff Ward, Elizabeth Henstridge, Natalia Cordova-Buckley and more, The Scenes: Deke learns the truth about FitzSimmons & Jemma finds Yo-Yo on the floor
Justyna: I absolutely loved all the interactions between Deke and his grandparents during the episode. He truly seemed like such a great combination of Jemma and Leopold that it's hard to believe I wasn't sure about their connection earlier. All three working together to figure out where to find the gravitonium turned out to be just what the team needed to succeed. Deke driving Fitz crazy felt exactly right, seeing the similarities between them. And Jemma's calming voice completed their little family perfectly. For all these reasons and many more, I was happy to see Deke realize the truth after overhearing Jemma's conversation with Yo-Yo. The look on his face when he realizes that he's not as alone anymore was wonderful to watch. Him trying to hide his shock with random words, first with Jemma and then with Fitz was adorably awkward, just what you would expect of FitzSimmons. Can't wait to see more of their interactions and everyone discovering the truth. Kudos!
Samantha: Jemma finds Yo-Yo on the floor.

BLACK LIGHTNING, "The Book of Revelations", March 13, 2018, Actors: Cress Williams, China Anne McClain, Christine Adams and more, The Scenes: Jennifer uses her powers for the first time & Jefferson gushes over Anissa saving him
Jamie: Jennifer uses her powers for the first time. I'm so excited for this storyline. Can't wait to see this family kick ass together.
Samantha: Jefferson gushes over Anissa saving him.

CHANNEL ZERO: BUTCHER'S BLOCK, "Sacrifice Zone", March 14, 2018, Actors: Krisha Fairchild, Brandon Scott, Holland Roden, Annelise Polliman, The Scene: The end scene
Claire: The visually stunning end scene with Louise, Luke, Zoe and Izzy sitting around the dinner table just like any ordinary family. It is a happy ending that belies what they have all endured for this peace in their lives.

COUNTERPART, "Love the Lie", March 11, 2018, Actor: J. K. Simmons, The Scene: Other Howard confronts Howard
Kollin: This was one of the most brilliantly acted and written scenes I've seen on television in quite some time. After both Howards spent time living in each other's worlds, they meet for the first time so that Howard can hand over intelligence to Other Howard. What follows is a chess game conversation where each Howard, who knows the other so well, takes turns pointing out the fallacies in each other's lives and personalities. Every exchange one-upping the previous. Howard disgustedly points out Other Howard's inability to be honest and kind, and implies how utterly immature he is in his care for others. Other Howard retaliates by talking about how Howard is so hopeless for being a "pathetic, meek, sad sack, loyal hubby." Other Howard wants gratitude for turning Howard into a Man, and Howard wants gratitude for mending Other Howard's life and with little effort. The fabulous writing in this scene depicts the various insecurities that exist within a man. It also portrays the theme of being human and how sometimes our flaws can also be our strengths, and vice versa, depending on perspective, all brought out individually as two very different, but yet very similar Howards confront each other. It was almost as if they were looking in a mirror and J.K. was extraordinary in portraying the two characters.

FOR THE PEOPLE, "Pilot", March 13, 2018, Actors: Hope Davis, Ben Shenkman and more, The Scene: The final arguments
Luana: I love how passionate both were, and how they depict the process, in the typical lawyer movie the only compelling argument will be our lead's, but here they go the extra mile so we will actually be conflicted, at least in the majority of the cases. I hope we get to see a lot more of this show and its take on the judicial process.

GREY'S ANATOMY, "Old Scars, Future Hearts", March 15, 2018, Actors: Justin Chambers, Sarah Drew, Camilla Luddington and more, The Scenes: Alex and Jo get engaged & Koracick figures out what's happening to April & Teenage Alex calms down his mom
Saloni: Koracick figures out why April is behaving the way she is; her crisis of faith in God. The reason this scene stood out was that it took practically a stranger to figure out why April isn't being herself and that she is going through so much internal trauma. Not her ex-husband or closest friends could get her to open up or even themselves realize the problem here.
Nick: In the string of flashbacks to Alex's childhood, we see a teenage Alex walking into a house party and overhearing his girlfriend telling everyone about his crazy mother and how it's only a matter of time before he loses his mind too. He goes home and finds his mother, who we've known since early grey days is a schizophrenic. He calms her down during one of her episodes and she's delighted to see her son, she notices he's dressed up and asks him if he's going out and he says "No, I'm staying with you tonight" which brings out the biggest smile from her.
Diana: Give Jo and Alex the happy ending they deserve. Alex needs to be with a woman who won't disappear at their first fight. Jo needs to be with a man who truly is there for her, no matter what. They are soulmates.
Jimmy: Alex and Jo's engagement. These two are my favorite couple in this show, and one could say tying the knot has been a long time coming, but it really was perfectly timed and done really organically. It just felt right, and it was adorable to watch. Really looking forward to what's to come for these two.
Klutzy girl: Alex and Jo get engaged. It's been a long time coming, and I'm so happy and excited for them. Plus, Jo's proposal was absolutely adorable.

HERE AND NOW, "From Sun Up To Sun Down", March 11, 2018, Actors: Holly Hunter, Tim Robbins, Sosie Bacon, The Scene: Audrey confronts Greg about his adultery
Claire: Knew this was coming, but it was still a gut punch. The look on youngest daughter Kristen's face as she hears their fighting is wrenching. She conveys true terror with just her eyes.

JESSICA JONES, "AKA Playland", March 8, 2018, Actors: Krysten Ritter, Janet McTeer, Rachael Taylor and more, The Scene: Jessica loses her family
Justyna: I considered highlighting a number of scenes from the second part of the season, especially the flashbacks and Kilgrave's "return" but in the end I decided to go with the conclusion of the season-long story of Jessica and her mom, Alisa. From the moment we learn about the true identify of the woman, the story dramatically changes and Jessica is struggling not to fall apart at any moment. When she's forced to fight to the death, she's left barely holding on and even experiences Kilgrave's torment again when the memory of him resurfaces in her mind. But it's her final moments with Alisa that end up breaking her down. After everything they've been through (and hearing Det. Costa's words), Alisa understands that if she leaves with Jessica she will only cause her daughter more harm, so she decides to let her go. When they finally have a heart-to-heart conversation, when Alisa seems almost like her old self and tells her daughter that she's proud of the person she's become, a single shot ends Alisa'a life right in front of Jessica's eyes. The fact that it's Trish both breaks her heart and barely stops her from going after her mother's killer. With one shot, Jessica loses her entire family, all over again. When the police arrives, Jess is left shaken over her mom's body, covered in her blood and taking the blame for her death. Krysten Ritter (and Janet McTeer!) did such an incredible job in the season and this scene is just one of the many examples of her amazing performance. Kudos to cast & crew for their work on this emotional and heartbreaking story. And thank you for the hopeful ending after all the tragic events.

LEGENDS OF TOMORROW, "Amazing Grace", March 12, 2018, Actors: Luke Bilyk, Maisie Richardson-Sellers, Nick Zano and more, The Scene: Elvis Presley sings "Amazing Grace"
Justyna: In the middle of the chaos and fight with the ghosts, there comes this moment of peace in a form of "Amazing Grace" being sung by none other than young Elvis Presley. It wasn't just a beautiful performance but a truly heartfelt, emotional moment for a number of characters. Elvis gets his chance to say goodbye to his long lost twin brother. Mick feels all the recent losses when he has to say goodbye to his beloved pet rat. And Amaya and Nate find their moment as they dance to the song in the middle of the church. The power of music sends the ghosts away and everyone finds their peace and joy listening to Elvis and the choir. I felt like the episode and this scene especially did a wonderful job showing just how meaningful music can be to a lot of people. So much can be felt through the lyrics and the melody, and the right song truly has a power to change minds and hearts. If only for a little while. Kudos to cast & crew for great work on this hour!
Milo: Elvis Presley sings Amazing Grace to stop the Ghosts. Legends did their own Elvis storyline and it was lots of fun, and the highlight for me here was seeing Elvis sing Amazing Grace to send off the ghosts in the Church, defeating them using the power of music. It really fit the tone of the show, and his emotional farewell with his twin brother Jesse who died at birth was a great moment. This easily has to be one of the best uses of historical figures in the series, and I really do kind of wish that the crew had decided to take Elvis on board with them.

RISE, "Pilot", March 13, 2018, Actors: Josh Radnor, Auliʻi Cravalho, Damon J. Gillespie and more, The Scene: Ending Scene
Marko: The crew rebels and torches the stuff so they would get their director back.
Milo: Seeing the group torching the props for the Pirates of Penzance so they could get Lou back in the night was wonderfully done, especially with the use of I Believe. It was a great moment that brought all the characters together at the end of the episode, and it was a great way to ensure that the song was stuck in my head for the next couple of days.

RIVERDALE, "Chapter Twenty-Eight: There Will Be Blood", March 14, 2018, Actors: KJ Apa, Lili Reinhart, Camila Mendes and more, The Scene: The reading of the will
Jamie: This scene was wild from start to finish. In true Riverdale style.

SCANDAL, "The List", March 15, 2018, Actors: Kerry Washington, Darby Stanchfield and more, The Scenes: Abby and Olivia reunite & The press conference
Sam: Abby and Olivia reunite to dismantle the patriarchy. I loved this scene just because I feel like Olivia is starting to come back to herself after the stunts she pulled this season, and I love the fact that she and Abby are on the verge of becoming friends again, or at least teammates for the battle against Cyrus. They have one of the longest-running friendships out of everyone at OPA so it feels good and right to see them back together again.
Luana: The press conference. I like that this subject is being portrayed, and those moments ringed so true to what is happening right now, people finally speaking out and hoping it won't mean the end of their professional careers or even lives. A truly powerful moment accompanied by the knowledge every woman on the show is willing to put in the work and make a change.

SPEECHLESS, "One A-n-Angry M-Maya", March 14, 2018, Actor: Minnie Driver
The Scene: Maya's musical number
Marine: Maya's musical number at the beginning of the episode when she finds out she has to go on jury duty. It was as unexpected as it was fun and Minnie Driver did a great job. Also picked by Samantha

THE FLASH, "Run, Iris, Run", March 13, 2018, Actors: Candice Patton, Grant Gustin, The Scene: Iris finds her purpose
Naomi: Back at their loft, Iris and Barry have a heart to heart about heroism and finding one's purpose. Journalist Iris is making a comeback! This scene was so special because after experiencing the power of being a speedster (Violet Velocity- take that Cisco!), Iris fully understands the importance of The Flash's role to the people of Central City; in turn, she realizes that her way of contributing to the safety of the city isn't through the power of speed, but through the power of the pen.

THE FOSTERS, "Just Say Yes", March 13, 2018, Actors: Teri Polo and more
The Scene: Stef talks to the memory of her dad
Luana: This was so heartbreaking to watch, this has been a weight on Stef from the beginning and it is beautiful seeing her come to terms with who she is and what she has created.

THE GOOD FIGHT, "Day 415", March 11, 2018, Actors: Rose Leslie, Bernadette Peters and more, The Scene: Lenore takes the stand
Laura B: We obviously don't know what exactly Diane told Lenore before the AUSA called her to the stand as a surprise witness that made her change her mind from taking a deal, but it was nice to see Maia get both some justice and a sense of love from her mother after going through all of this. More so, despite if a viewer may call that genuine love or not, what was so compelling was that this is what Diane wanted for Maia. We never got to see Diane motivated like this on The Good Wife, so I'm really pleased to be able to see deeper underneath and see a story where Diane is both pulled apart by the times she lives in, but also that she is still inspired to help someone else.

THIS IS US, "The Wedding", March 13, 2018, Actors: Chrissy Metz, Milo Ventimiglia, Mandy Moore and more, The Scenes: Kate tells Rebecca that she is her way & Kate speaks to Jack's urn & Kate remembers talking to her dad about her wedding day & The flashforwards & The dream of Jack and Rebecca renewing their vows
Marine: Kate telling Rebecca that she is "her way." There is no doubt that those two have been through a lot and that their relationship is far from easy, but seeing Kate tell Rebecca that she has always wanted to be like her mother was great. In that scene, she reminded Rebecca that she loves her and that she sees her as a role model rather than an adversary, and that made the whole wedding day episode even more important for those characters.
Beth: I loved this scene! When this show started, we knew Kate and Rebecca's relationship was complex and had issues and honestly Kate has not made that easy. I loved this moment for Rebecca because she had accepted that Kate was always more Jack's and hearing her daughter finally acknowledge what her mom means to her was amazing to see.
Marko: Kate speaks to Jack's ashes/urn.
Saloni: Kate's flashback about how Jack told her younger self that one day, she will find someone perfect for her, someone even better than Jack and that he will be there to walk her down the aisle. It was one of the more emotional scenes in the episode and the parallels of grown-up Kate walking down the aisle, freer now that she's let go of her father a little was beautiful.
Diana: Great season finale. I love Kate and Jack's relationship. And I loved how the adult Kate "talked" with her father's ashes as she decides it's time to let him go because she has to make some room, in her heart, for Toby. Aw.
Jamie: The flashforwards. These have me totally hyped up and terrified for next season.
Claire: Jack and Rebecca renewing their vows on their 40th wedding anniversary. If only...

TIMELESS, "The War to End All Wars", March 11, 2018, Actors: Abigail Spencer, Matt Lanter, Malcolm Barrett and more, The Scenes: Lucy and Wyatt have a heart-to-heart & Lucy proves her allegiance to Rittenhouse & Lucy is reunited with Wyatt and Rufus
Kollin: Lucy and Wyatt have a heart-to-heart. This was a very tender scene that reminded viewers, after such a long hiatus, how much these two lost souls care for each other. We also got to see Wyatt take a big step forward emotionally, opening himself up more to the vulnerable and hurt Lucy. The chemistry between actors' Abigail Spencer and Matt Lanter felt so on point as usual. This was one of the more emotional high points on TV this past week.
DJRiter: Back in the bunker, Lucy is feeling upset and alone, that she's lost everything, and Wyatt sits down and hugs her and says, "You haven't lost me." Such feels and great indication where the show is headed in their relationship this season. It was a big step for Wyatt.
Bex: Lucy proving her allegiance to Rittenhouse by shooting the soldier in front of Emma and Carol. Abigail Spencer nailed the emotions Lucy was going through in that moment, breaking our hearts as Lucy's desperation to succeed in bringing down Rittenhouse, fuelled by the loss of her friends, forced her to take a life.
Beth: Lucy is reunited with Wyatt and Rufus. The look of relief on Lucy's face when she saw them alive and well was so sweet. They became a family and losing each other was so hard on all of them.