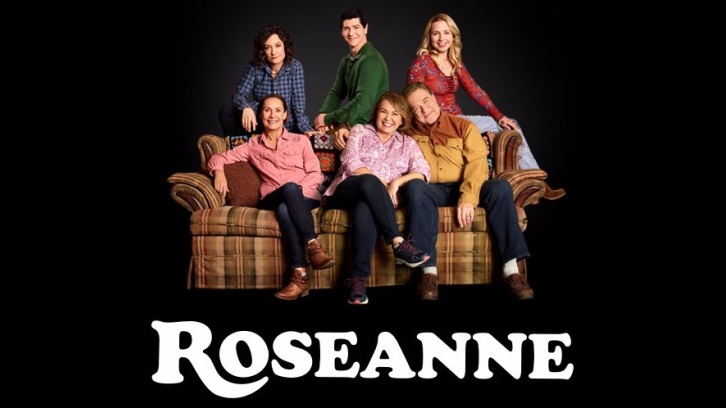 The nine episode Roseanne reboot premieres on Tuesday, March 27th at 8:00 PM Eastern Time on ABC.

From Executive Producers Dave Caplan, Whitney Cummings, Bruce Rasmussen, Roseanne Barr, Sara Gilbert, Bruce Helford and Tom Werner.
.
And, starring Roseanne Barr, John Goodman, Sara Gilbert, Laurie Metcalf, Lecy Goranson and Michael Fishman.

Welcome back to 714 Delaware Street. We've missed you Conners.

In this preview, I try to touch a little bit on what I gleaned from the first three episodes. I wish I could tell you everything, but, sadly, I can't. Sorry.

And, I have to be honest, I wasn't sure what to expect from this reboot. As a fan who watched all nine seasons on a first run basis from 1988 thru 1997 and then in perpetuity on TV Land and DVD, I was MORE than a little curious.

I even wondered if I could be objective. Well, objectively speaking, it is wonderful; like going home again. As Dan says: "the classics really do hold up." This is what all reboots should strive to be: a love letter to their loyal fans.

It's as if they took everything that was good from the original nine seasons and added some extra love to create something...beautiful. Time has passed, people have aged, but some things are timeless: love, family, friendship, respect, bickering sisters, smart-mouth teens...

The episodes, nicely, walk a fine line between updating viewers on what's happened to everyone and then touching on new stories and characters.

And, the new cast members quickly begin to feel like family, too: 9 year old Mark, 15 year old Harris (Darlene and David's son and daughter) and 6 year old Mary (DJ's daughter). They have come into this established group and hold their own.

Mary is especially cute: "I want to teach cats how to bark." So cute, too, that her grandkids refer to Roseanne as Granny Rose.

Dan's 'return' is dealt with and done quickly, but believably. Jackie (SO funny) is a pussy hat-wearing, 'nasty woman' shirt- wearing, Jill Stein-voting liberal in contrast to Roseanne's 'deplorable' trump supporter.

This should resonate with a lot of families; dealing with differing opinions in our current political climate. But, the political stuff is dealt with humorously, quickly and not with a heavy hand.

Everyone is struggling, but when they all sit down to dinner around the Conner's kitchen table, everything is made right, again. Jackie even brought salad and RUSSIAN dressing. Though, some dynamics have shifted.

It feels as if Roseanne has passed the torch to Darlene; as the harried, middle-class mother and she's accepted it beautifully. The affection, respect and understanding that Darlene conveys to her kids and, surprisingly, to Becky had me in tears more than once.

Darlene seems to be the glue; trying to keep her family together. Sara Gilbert really blew me away.

Finding that life hardly ever turns out how you expected it to, is not easy. Sometimes, you find yourself living back at your parent's home, two kids in tow, with no job or partner; feeling like a failure. And the big house you dreamed of owning one day is still just that...a dream.

But, you learned from those two people, who have now been married for 45 years, that every time you get knocked down, you have to get right back up, dust yourself off and keep going.

Like Dan said a few years back: "we're like those inflatable, boppy clown dolls that you knock over and they always bounce right back.".

It is a beautiful, flawed yet unfaltering portrayal of a loving, yelling, fighting family with money problems, failed marriages, deaths, Vicodin problems, kid problems, dead-end jobs, no jobs; that underneath all of the muck always have each other's backs.

Random thoughts: Remember, Roseanne can not help it that she is a charismatic, 'white witch' who is always right about everything. Dan has a very deep affection for ham, Becky would not listen to Dan and Roseanne about that Marky Mark tattoo, so why would she listen now about becoming a surrogate to Sarah Chalke's Andrea.

Andrea, a wealthy career woman who; upon meeting Becky, says that looking at Becky is like looking in a mirror, 'before she's put her make-up on.' Poor Becky.

And, Darlene's response to Becky becoming a surrogate: "why isn't anyone mentioning the fact that she is like...50?" Oh, sisters.

Easter 'eggs' to look out for: see if you can spot a returning character from the pilot episode, hint: Mark's classroom. Oh, and watch out for the 'crazy' Uber driver, Lanford's 'leading life coach', drywall does not make good nail polish, old manuscripts, keep an eye on that blue ice pack, too. I also noticed a stair lift, so maybe Bev is living with the Conners?

Also, check out my Roseanne quiz, premiering March 17th! Welcome home.