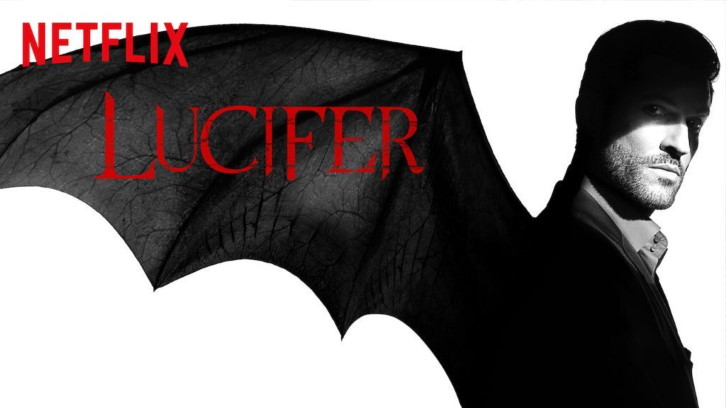 An unholy trinity strikes again. No, not the love triangle between Amenadiel, Linda, and Maze. This new one the writers are forcing upon us, between Lucifer, Chloe, and Pierce.


The Case:
With flashbacks to the 50s when Pierce worked the case of The Broken Hearts Killer, the format this week isn't so paint-by-numbers. The killer is not as obvious, and the case is more interesting because of it.
With the original killer from the 50s having recently died in jail, it's up to Chloe, Lucifer, and Pierce to uncover the copycat responsible for the recent chest-crushing murders. And despite Lucifer's distaste at having Pierce shadowing them, even he finally has to agree that the man is - somewhat - helpful.
The Symbolic Heartbreaks:
It's made clear at the beginning that Amenadiel needs to start talking to Linda again, or to confide more freely in Dan, because random strangers are now having to listen to his problems, and it's awkward.
Maze is struggling in the aftermath of the past few episodes and it's coming out in her behavior. She's acting out, and she may call Trixie a brat, but someone hold a mirror up to her, please. Where Lucifer manages a step forward in his growth this week, Maze is only going backwards.
It's interesting how pivotal Linda has become to their lives, how a disrupt in the harmony between these three characters has made them all seem lost.
Meanwhile, Pierce is disrupting the harmony between Chloe and Lucifer. The case is connected to one he worked on in the 50s, so he's shadowing Chloe, which means he's getting in Lucifer's way. Not just professionally. Lucifer does his damnedest to convince himself everything between he and Chloe will be fine.
"But regardless I've come to the conclusion that no matter what happens between you and Pierce, you and I are partners, detective, and nothing can come between that,"
Lucifer says as Pierce literally walks between them.
Subtle.
Lucifer spends a good portion of this episode projecting. His feelings about what Pierce is doing come out at crime scenes and in interrogation rooms. But, like he's shown in the past that he's capable of it, Lucifer comes to some mature realizations, and the character has some growth by the end of the episode. I just wish he hadn't. Because he's missing something rather important when it comes to Pierce's intentions with Chloe.
This episode made me realize Amenadiel hasn't seen Charlotte since the beach? He calls her "mom", confuses her with talk of the flaming sword, and then quickly backtracks when it becomes clear she doesn't remember him, and doesn't remember being a celestial being.
It's soon after this that Amenadiel finds out Linda knew about Charlotte, and he's less than thrilled she kept it from him.
"I assumed you knew,"
she tells him. Honestly, I did too. I think I missed an episode somewhere along the way because I don't recall this at all.
It's not ideal, but at least he's back sitting on Linda's couch.
He thinks Charlotte should know the truth, but Linda sees all the wrong in that idea and tells him to stay away.
That would at least make for interesting viewing: Charlotte working her way through those emotions, that life-changing news. And surely that would lead to Dan finding out the truth – which I am desperately hoping for.
We're building to something big in the finale, and my mind is in overdrive considering all the possibilities. It feels like Charlotte is organically finding her way to the truth. Remember how in season one the writers started to do that with Chloe – and then pulled back? I miss how fun that was. Charlotte's journey towards the truth isn't at all fun, but that reveal would shake things up – and lead to more.
From Charlotte, to Dan, to Chloe…
The episode delivers on one of those characters. Instead of backing away, Amenadiel and Charlotte are allowed one final scene at the end, where he tells her, "You were my mom." I'm not sure I approve of this conversation happening in such a public place, but I am excited it's happening. Whether she believes it remains to be seen, but I am so ready to watch the fallout.
There's an absolutely heart-wrenching scene between Maze, Dan, and Trixie that I'd rather forget than write about.
"If you want to live in the same home as my kid, you can't keep pulling stunts like this,"
Dan tells Maze, referring to the pot brownies Trixie accidentally gave her seventy-year-old teacher.
"Fine. I'll move out. Since none of you want me here anyway,"
Maze snaps.
"That's not what I'm saying."
"No. No, you would all love me to be something I'm not. Well I am not a babysitter. I am not a roommate. And I am sick of your goodie-two-shoes ex-wife, and that stupid little brat of yours anyway,"
Maze fires back.
"Maze,"
Dan says, drawing her attention to a crying Trixie, who then runs out of the room.
Sadly, we don't see Chloe having a heart-to-heart with Trixie, or have any idea of what happened in her home. There's a lot here that the show will likely work through during these last few episodes. The question is: will Maze face everything, or just run?
And then, from that heartbreak, we're bombarded with Deckerstar feels, and my emotions don't know what to do. During a dinner between Chloe and Pierce that was designed to draw out the Broken Hearts Killer, and serve as their second date, the room is filled with gas. The killer appears, ready to cave in their chests with a sledgehammer. Lucifer appears, just at the right time, and stops the man - who just happens to be the new owner of the original killer's house.
But it's the scene where Lucifer helps an unconscious Chloe that caves in my chest and grips at my heart. This man, the devil, actual Satan, who just moments earlier was so fierce with the killer, is gentle and careful as he gathers Chloe in his arms. It's a lovely moment, and one that makes me realize how starved I am for good Deckerstar scenes this season.
Dan was one of my favorite things about this episode. He has the protective father scene with Maze that's amazing, and then has a nice, quiet heart-to-heart with Lucifer about Chloe and both their relationships with her. I'd still like to see more growth from Lucifer here, would like to see him stop the bullying towards Dan completely. Will that ever happen? Probably not. But I'm tired of that behaviour and won't miss it.
Finally, I have nothing nice to say about Pierce (okay, fine.
He has nice arms
). He's using Chloe to gain mortality. This makes me angry, but you know who's going to be even angrier? Lucifer. All Hell is going to break loose when he figures Pierce out – and I can't wait.