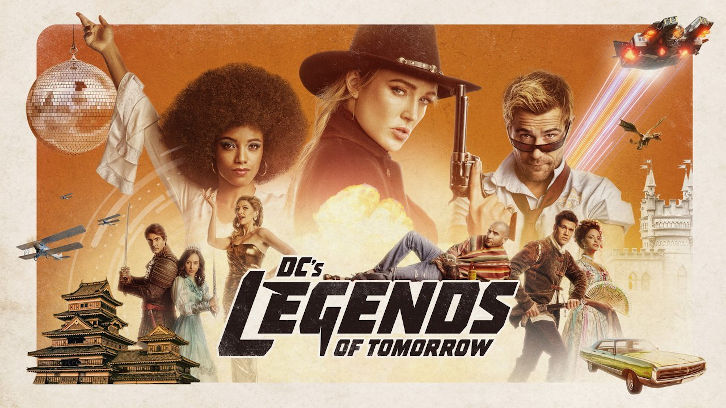 Legends has really been powering through since it has returned form break, and I'm loving the interrupted run that the CW is giving us. The show is really gaining momentum as season 3 reaches it's climax and these episodes, Amazing Grace and Necromancing the Stone were two episodes that helped to put more puzzle pieces in place for the showdown with Mallus that is incoming.


Amazing Grace
I'm not an Elvis fan by any means, and I live in Memphis, so I hear enough about him throughout the year, so it was pretty much a struggle for me to keep focus during this episode. The totem thing has really been driving the second half of the season and is supposed to be a huge tool to defeat Mallus, aka the villain we hear a lot about but still haven't quite seen. Since the mention of the sixth totem, I had been trying to figure out what it might be, and when it was revealed as death, for me it was a "no duh!" moment as I hadn't even thought of that. Again, not an Elvis fan, but the death totem being attached to the same guitar that Robert Johnson sold his soul to possess and that launched Elvis Presley's stardom was a dam good twist to integrate the totem. I know I've been burned by previous Arrowverse shows handling the mystic and the supernatural, but this episode that had Elvis paying a song in order to stop an army of ghosts somehow just made sense for me.
There was no clear villain in this episode and there was no race to find the totem faster than Mallus' minions, so while the episode kind of lacked in the threat department, it still blended together the ongoing Mallus plot with a romp of the week and added in great character moments, which is what we have come to love from Legends. Minus the racial elephant in the room( as if in Memphis, 1954 people wouldn't bat an eye at Nate and Amaya being together or treat Zari and Wally with that much respect) this was good episode for Nate and Amaya, if you're shipping them. (I am not) It was great for Amaya to introduce Nate to her music after Nate told her why music was so important to him. And despite being firmly against the two of them, I can't say I didn't smile when she told him she loved him at the end of the episode.
I think another great aspect of this episode came from mick dealing with Axl's death. Mick hasn't really had much to do or say this season other than be grumpy and provide comic relief, so it wouldn't surprise me if the Dominic wants out. Still it was nice to show that even Mick has trouble adjusting and dealing with all of the loss the Legends have dealt with recently. The best thing Legends has done this season was bring Wally on board and pair him with Zari. I wasn't initially sold on Zari and hw she jelled with the rest of the crew, but through her relationship with Wally, I'm warming up to her. I'm glad Keiynan(Who I'm so smitten with and I urge you to please support him by watching Love, Simon) is apparently really having fun and seems to be enjoying his time here. I like the show is showing that while having a speedster seems like it would eliminate the need for a whole team, it really kind ends up causing just as much harm as good. I am wondering with recent news of Constantine joining the wave rider should season 4 be picked up, what a possible season4 looks like with the crew. Once Mallus and the totems are wrapped up, does Zari return home? Will Amaya finally return to her time to make sure her grandchildren are born, and is Dom over playing Mick? These questions really loomed over me as the episode ended. So, while this was a fun romp and a great way to blend in the Mallus conflict, I did find my mind wandering a bit during the slow parts.
C.
Necromancing the Stone
Necromancing the Stone felt like another signature Legends bottle episode that pitted the whole team against Sara. It definitely played up the horror of being trapped and picked off one by one by a dark evil vibe for sure. I wasn't surprised that Sara was being called to the death totem by Mallus, as we warned by Constantine that she was susceptible by him. Sure, it was a predictable move for her to become possessed and to turn on the team, but that didn't stop it from being a thrill ride and a Sara Lance tour-de-force. Sara is already a bad ass in her own right, but giving her demonic supernatural abilities was almost cruel. She's easily able to pick off the team in one-on-one's by being able to pick at her team's vulnerabilities. It's jarring to see this silver haired Sara destroying her team, while the real Sara sits in Mallus' dimension with Nora who is trying to coax her to the dark side. (Which we all knew she wouldn't) Nora tried to tell her that death was a part of her but by siding with them, she could free herself of the guilt she felt.(Adding that scene where she watches herself kill a man in front of his daughter was brutal)
Constantine is back, much to the chargin of Sara's now girlfriend Ava, who learns of their tryst not even a mere couple of hours before she has to seek him out to help save Sara. Look, I love Matt Ryan as this character, and the show has been really good incorporating him in, but I can't wrap my head around him on the Waverider on a weekly basis. There was a lot of fun to be had watching him banter with Ava and Gary. I died at Gary's D&D comparison of the Legends and the reveal of John playing with him at the end. It helped soften the blow of that painful break up that Sara and Ava had at the end of the episode. Ava had to deal with a lot this episode, as did Sara, but I can't say I'm accepting of Sara ending things with her. Sure, there's this bug in her head that she's no good for Ava, but maybe she should let Ava decide that! Poor Ava, is broken up with her girlfriend who was just possessed by a demon and almost succumbed to it shortly after she attempted to save her with a guy she slept with three weeks ago. (Talk about Melodrama)
Otherwise this was a solid episode. We got to see a couple of legends overcome their vulnerabilities (Zari and Wally, who both are excelling recently) and one succumb to them (Nate, whose grandfather beats the crap out of him). Mick is now wielding the totem, while Sara has seemingly broken Mallus' hold on her and the death totem. There's only a few episodes left in the season, so I would like to see Mallus take a form of his own soon, because it really has been 15 episodes of possessions and off screen voices that have made his overall threats seemingly fall short.
B.
What did you think of the episodes? Were you surprised by any revelations? Sound off below!

The next episode of Legends of Tomorrow, I, Ava airs 3/26 on The CW!