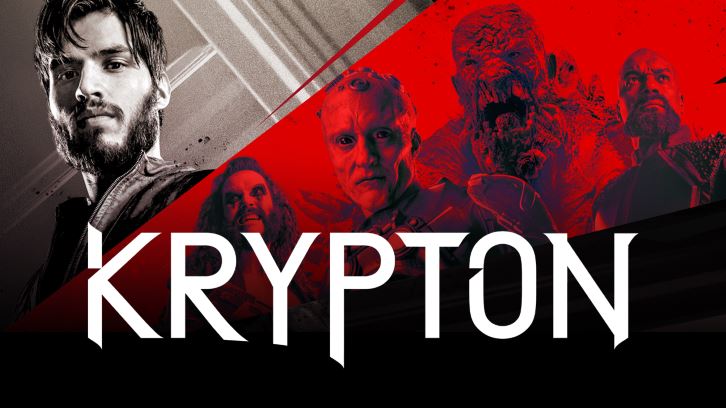 Krypton
Pilot
1.01

Show Premier:
On SyFy Channel
– Wednesday, March 21, 2018 at 10:00 pm Eastern / 9:00 pm Central


DISCLAIMER:
I don't read the comic books, but I do LOVE the movies and tv shows. So, if I miss some nuance, please forgive me.


The House of EL
This is the official synopsis, and between this and the episode itself, it was enough to pull me.
What if Superman never existed? Set two generations before the destruction of Superman's home planet, "Krypton" follows Seg-El (Cameron Cuffe), the legendary Man of Steel's grandfather, who is faced with a life and death conflict – save his home planet or let it be destroyed in order to restore the fate of his future grandson. With Krypton's leadership in disarray and the House of El ostracized, Seg finds himself in a difficult position. He must redeem his family's honor and protect the ones he loves while being challenged by familiar DC characters Brainiac (Blake Ritson) and Earthly time-traveler Adam Strange (Shaun Sipos).
"Krypton" is executive produced by David S. Goyer ("Man of Steel," "Batman v Superman: Dawn of Justice," "The Dark Knight Trilogy") alongside Cameron Welsh, who serves as showrunner. Based on the DC characters created by Jerry Siegel and Joe Shuster.
"Krypton" stars Cameron Cuffe, Georgina Campbell, Elliot Cowan, Ann Ogbomo, Aaron Pierre, Rasmus Hardiker, Wallis Day, Blake Ritson, Ian McElhinney, Shaun Sipos, Colin Salmon.
KRYPTON
Now that the technical stuff is out the way, here is my preview.
My first reaction while watching this pilot episode was, WOW! My second thought, darn I have to wait to finish watching it cause I had my day job to go to. But when I picked the episode right back up when I paused it, I was not disappointed and it was well worth the wait.
The visuals from the opening scene all the way to the last seconds of this episode were at times awe-inspiring and awesome. They helped set the tone.
The tone of this show is a cross between "Supergirl" and "Arrow". Not as dark as the "Arrow", but not as light as "Supergirl" with a little bit of "The Flash". It does a good job of setting up the story that will hopefully be this season.
Superman's Grandfather
Truthfully, this episode reminds me greatly of the genius of Syfy days gone past like "Farscape".
Will this season match the brilliance that once was "Farscape", I couldn't say.
So, I'm not actually able to go into any specific details, but I hope that I gave you some visual references.
Time Travel
And I hope these pictures below tell you more than I can say in words.
Let me what you think. Will you be watching it on Wednesday night like I will be? I hope this is SyFy coming home to their roots of great Television. I've missed them over the years. Though I do love the Canadian import of Killjoys!