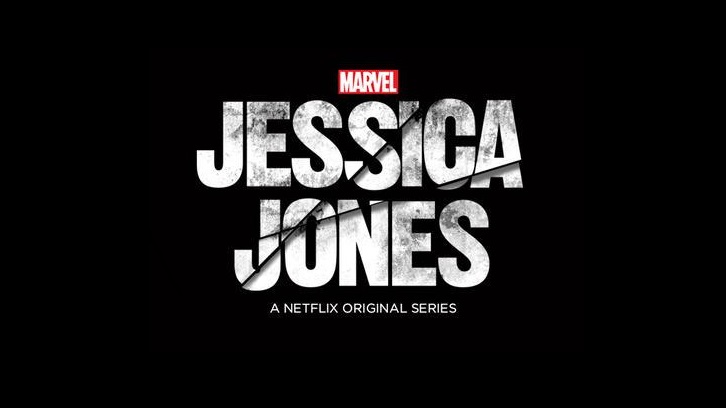 'I'll start at the beginning
My whole family was killed in a car accident, someone did horrific experiments on me, I was abducted, raped and forced to kill someone and I'm in here bouncing a goddamn ball.' Jessica in anger management therapy…

When last we saw Jessica Jones she was flexing her muscles in the Defenders, saving New York from destruction and propelling herself to heroine status.

This season we start off with Jessica trying to get back to being a good private investigator and getting on with her life. She has taken Malcolm under her wing as an 'Associate', however, it is Trisha's dogged insistence about Jessica's origin of her powers and using her own powers as Patsy in the first episode that sets Jessica on a very different journey this season. Jessica is reluctant to go there even though she has a gap and only brief flashbacks to her time after the accident where it's learned experiments were carried out to save her but also they gave her abilities.
At first, it starts off like all Netflix Marvel shows a slow build. A rival Private Investigator is trying to get Jessica out of business and Trish wants more than just Trish talk and the perfect boyfriend. Malcolm has cleaned up his act wants to be a Pi just like Jessica.
Soon Jessica's world starts falling apart but an ally is found in the new Building Supervisor Oscar and his Son. While they may get off to a rocky start they are soon helping each other out and Jessica may have found someone to love her after all.
A mysterious monster keeps killing people with the clues connecting to Jessica's past and other people with abilities.


Trish finds the inhaler, as we know from season 1 she has already had experience with the serum which proved almost fatal, but she now starts on a slippery slope into another form of addiction.
Between Jessica and Trish, the clues to Jessica's abilities lead them to a company called IGH and bring Jessica face to face with the killer/monster. Another experiment with side effects that include rages
As Jessica digs deeper she learns more about her past and what happened after her family's accident. We also learn the origins of her beloved leather jacket and just when you thought you had got 'It's Patsy' out your head its replaced by 'I want your cray cray'.
The body count starts to pile up and the kills are getting more brutal making it look like Jessica herself may be the killer. Jessica tracks down the Doctor only to find the killer.
Malcolm surprisingly, even after Jessica consistently pushes him away is the only one who keeps his head.
Jessica saves Trish in time, but Dr Malus kills himself by blowing up the lab to prevent it being used on anyone else. While Jessica called him the monster you realize he believed he could save people with his treatments.
Jessica's Mother Alisha has given herself up with Jessica's help but on hearing the news of Karl's death she breaks out of prison and has a new target, Trish Walker...
Jessica must race to save the only family she has had in Trish from her Mother as Trish's life hangs in the balance due to the experiment. Jessica stops her Mother, but Alisha kills a cop, leaving Jessica and Alisa to go on the run.
In the finale, Jessica is left with an impossible choice knowing the police want to kill her Mother and knowing she herself may be killed. Her Mother knows she is constantly fighting to kill the monster within and she tells Jessica she has to end it when we are faced with the biggest twist of all, Trish who has recovered extremely well (and I do believe has 9 lives) rushes to save Jessica when she overhears the Police plan to kill them both.
Trish shoots Alisa but Jessica takes the blame. The scene with her crying in the fairground is a haunting image and you know once again she has lost everything her newly discovered family and her family in Trish.

'Everything Changes and Nothing Changes
People die more are born and in-between we exist
I never wanted to do more than that just exist'
Jessica Jones
It ends with Jessica back to being a PI and taking out a robber with a bottle of bourbon, going home to find Trish pleading to be forgiven but Jessica is not having any of it. As Trish leaves a nice foot catch of her mobile leads us to believe she may be experiencing powers of her own. As for her motives, she believed she was saving Jessica. Now we know the serum made people aggressive we know it had side effects. Was Trish thinking clearly when she shot Alisa?
Jessica has lost Malcolm and Trish she gained Oscar and his son, the dinner scene at the end makes you have hope she does have some love back in her life.
Like I previously mentioned this season with its different tone and raw emotional scenes gave us some incredible performances. Each character is given their own arc with Jessica's past and her present woven through it.
Janet McTeer, an Academy Award-nominated actress, as Alisa Jones played a likable homicidal psychopath with glimpses of the loving and protective Mother that she once was.
Rachael Taylor gave us a very different performance as Trish Walker from spiraling addiction to confronting her own demons; her character took on a very dark edge.
Carrie-Anne Moss as Jeri Hogarth showed us a vulnerability in her character and a realistic portrayal of someone struggling with a terminal illness.
Kristina Ritter as Jessica Jones gave us one of the rawest performances to date even after all her character went through last season. In this, she gave us a Jessica Jones with the little girl lost inside.
What were your thoughts on season 2?
Trish and Jessica's relationship is in shreds what next? did you agree with her actions?