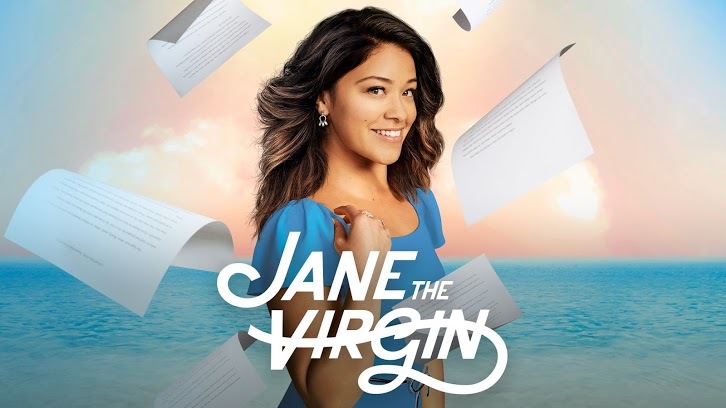 My apologies for neglecting
Jane the Virgin
and for this being a very short re-cap/review of not one but two episodes. "Chapter Seventy-Five" was written by Merigan Mulhern and was directed by Gina Lamar. I'm not going to lie. This wasn't my favorite episode ever of the show. "Chapter Seventy-Six" was written by Leah Longoria – this is her only IMDb credit to date – and was directed by the always wonderful Melanie Mayron. This episode introduced the very serious story line of Xo's (Andrea Navedo) cancer diagnosis. Look for this to be an important storyarc, likely for the rest of the season. It's the sort of storyline that the show does so very well and while I don't want Xo to be sick, I'm excited for the light that the show can shine on this topic and the wonderful storyline for Navedo.
"Chapter Seventy-Six" saw Jane (Gina Rodriguez) go back to try teaching after the book deal with Petra (Yael Grobglas) fell through. One of my problems about this episode was that it put teachers in a terrible light and seemed to be the antithesis of Jane's dreams. Jane stops to see Marlene (Melanie Mayron) about a position that's opened up at the college. It's clear that using teaching as a "stop gap" has destroyed Marlene's career. Is this the tale of those who can't, teach? What a horrible condemnation of teachers!
It was nice to see Adam Rodriguez back for a cameo as Jonathan Chavez – he's a busy guy with Criminal Minds where he's doing a great job! Instead of being a flirty, handsome eligible guy, he's now a creepy lecherous professor preying on his students! I'm not saying that never happens, but looking at the entire picture of what Jane sees as the wasteland of college teaching. I hope the show will find a better way to incorporate some of the other important social movements that are happening right now.
The episode also shows Jane and Rafael (Justin Baldoni) having a lot of fun sneaking around, leading to lots of hilarious moments – and lots of nice objectification of Mr Baldoni! I loved him sneaking out of Jane's closet while Alba (Ivonne Coll) slept and Petra almost finding them in the supply closet! By the end of the episode, Jane is ready to go public with their dating.
I did love Eva Longoria appearing as herself – So. Much. Meta! At least in relation to her own attempt at bringing the telenovela to mainstream television. Rogelio (Jamie Camil) and her screen test is utterly hilarious as the two discover how closely related they are and have zero chemistry. I was pretty unhappy when it looked like Xo was cheating on Rogelio – and happy to find an innocent explanation in the next episode.
There were lots of little magical realism touches in "Chapter Seventy-Six" that I really liked. The big gimmick was the "inner critic." This gives both Gina Rodriguez and Jaime Camil an opportunity to play dual sides of themselves. Jane is being paralyzed by her inner critic, but Rogelio actually gets a wake up call from his! Camil is fantastic as his inner critic shows him how he appears to Xo, ultimately helping him to dial back his persona a bit. It's one of the things I love so much about this show. Rogelio could easily become that larger-than-life, annoying caricature, but instead we see some emotional growth. It helps that Camil is such an outstanding actor.
It's hilarious as Jane and Rafael tell their family that they are dating – of course they all knew, and Alba wins the bet! It's adorable when Mateo's (Elias Janssen) little heart glows with happiness when they tell him. And the title card! It changes from Jane the Virgin to Jane and Rafael – complete with fireworks. In fact, this was the other magical realism gimmick as we get a few sets of fireworks and magical lavender smoke…
Petra meanwhile ends up bringing her fantasy to life as she finally admits that she has feelings for – or at least lust and sexual curiosity – for JR (Rosario Dawson). JR initially kisses Petra because she's being followed, but the two end up spending the night together. They don't make much headway trying to figure out who is trying to frame Petra, however. I loved the scene as JR says she doesn't want to be the guinea pig for the straight girl, and Petra insists that she's been with a woman before… until the next morning when she confesses it was her first time. Like Jane's family, JR wasn't fooled either.
Jane supports Rafael in his search for his biological mother. When they think they've found her, his excitement belies his repeated protestations that he's not that interested – suddenly he seems very keen on meeting her. He's devastated when it turns out to be a dead end – and then they find out that Luisa has bought all of the records from the orphanage. Jane refuses to give up though. Can we hope that Luisa has forgiven Rogelio and found out he had nothing to do with gaslighting her?
Rafael is once again Jane's biggest supporter with her writing. Alba also tries to help when Jane gets stuck on the one bad review of her novel. Rafael finally convinces her to use it as constructive criticism and gets her to take a step back and really look at what he said. It's not all bad and what he said could help Jane in the future.
Rogelio also tries to help her. First he shows her his bad review folder – which he keeps locked away. He tells her that he re-branded it to be a motivational folder! He also convinces her to take an Improv class to get her creative juices flowing again. Her first attempt is painfully bad, but she eventually gets the hang of it. Rafael advises Jane not to shut her inner critic up but to listen to her as she often has valid points! Jane realizes that improve isn't for her, but it might be time to take another writing course to get back on track. I also loved when Critic Jane decides it's time for her to go – before they overdo the magic realism!
Rafael is upset – and a bit worried – that Jane is still resisting when he wants to give her a night table by the bed, to carve space for her in his apartment – on the way to making it more permanent someday. Jane is still having some mixed feelings – including guilt over Michael's memory. Rafael reassures her, however. Jane thinks it feels "too right" and that that feels like Michael was just a stepping stone back to Rafael. Rafael reassures her by acknowledging the romance she had with Michael, and gently suggesting that now he hopes it's time for them to have their own.
Xo and Rogelio also have growing pains in their relationship. It turns out that Xo wasn't cheating, but she has taken Brad (George Akram) on as her competitive dance partner. As always, Rogelio throws himself in as supporter – with just a little too much gusto, leading Xo to explode at him. When Rogelio gets a dose of his own medicine from his Inner Critic, he comes back to apologize – and so does Xo.
She points out that for as long as they've been together, they've never really spent this much time together – especially since Rogelio became a stay at home Dad. Rogelio promises to dial it back a bit, and consequently shows up to cheer Xo on at her competition without going overboard. When Brad drops Xo from a lift, she breaks a rib and must go to the hospital.
This seemingly innocent event sets up a major storyline for the rest of the season. Don't expect Xo to have an easy or fun time with her cancer diagnosis. I'm really looking forward to the show tackling this issue because I'm sure that they can do an amazing job with it. What did you think of the episodes? Are you happy that Rafael and Jane seem to be end game? Is JR a good – and lasting – partner for Petra? Guesses as to who is after Petra? Were you shocked by the final scene? Are you looking forward to this storyline? Let me know your thoughts in the comments below!