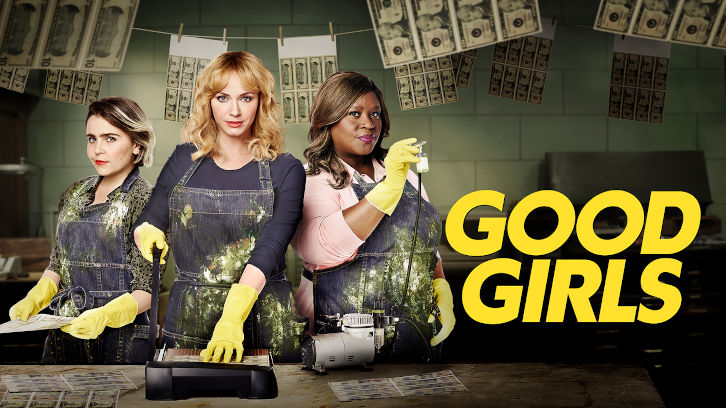 Halfmark point! And here we go. . . Episode 5 of Good Girls freshman run started a bit slow and dragging but as the episode progressed it got quite good and with some surprising moments turned the tide into its favor. So let's dig in / hint at what is ahead of us.

This week the girls are starting their business with Rio and how he delivers the fake money to them is quite hilarious. Beth`s face at the moment was priceless. I just laughed so hard. And while spreading the money had its difficulties, Annie`s careless actions are what brought in the danger in this episode.

As a viewer, I really appreciate the mess Annie is. The way the writers played with her this week was really great and worked so well with her character. Mae`s Annie is starting to grow on me a lot but overall is overshadowed by the other two amazing actresses.
And while Annie was a mess, Ruby´s life turned into one as her family situation took a turn for the worse. I can´t praise Retta enough for her wonderful performance as Ruby. She really takes it to another personal and so relatable level. Her family is such a gem and their interactions are simply wonderful.
Last but not least there is our darling Beth. She had her hands full of work but not in the good way, if you know what I mean. But we are getting there, if you know what I mean. Agent Turner made quite the turmoil in Beth`s life and the rollercoaster she went on was quite the bumpy ride. But it was all a great set up for another remarkable performance by Christina Hendricks.
The situation with her husband didn`t get any real progress at the moment but the sleazebag is still around creating trouble. One big plus of this episode, no Bummer!
FINAL TIDBIT:
A certain car scene will get you all like this. One wink was enough.
We are halfway through season 1 of Good Girls and I`m like it a lot so far! I hope you are enjoying it as well. Share your comments on previous outings and future expectations in the comment section below. Till next week. . .