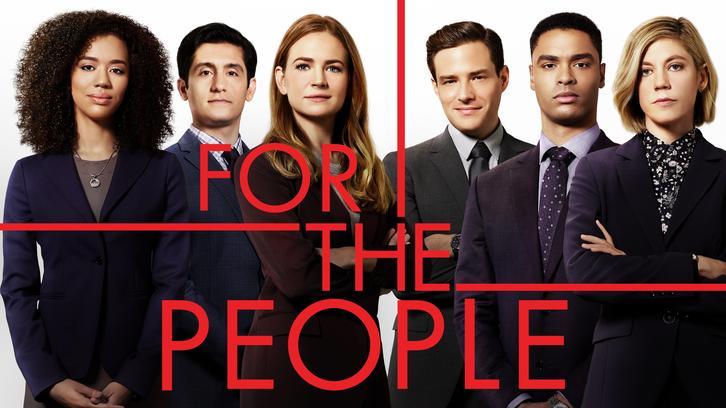 Another year another Shondaland entry. This year we are even twice blessed as the Shondaland production team is giving ABC two new show, the firefighter Grey`s Anatomy Spinoff, Station 19 & the rookie lawyer drama For The People. The first episode of For The People was written by Paul Williams Davies and directed by Tom Verica. The first part of this review will be a Quick Recap, followed by a Round Table Discussion featuring STV writers Yon (SJ), Jaz (JZ), Luana (LA) and myself (MK). Hope you´ll enjoy our take on the series premiere and don´t be shy we wanna know what you think.


The For The People Pilot introduces us to a new bunch of lawyers who are trying to make their careers happen at The Mother Court. The show introduces three lead Prosecutors (Kate, Seth & Leonard) and three Public Defenders (Sandra, Allison, and Jay) and their mentors Roger Gunn (Ben Shrikmann) for the Prosecutors and Jill Marcus (Hope Davis) for the Public Defenders.
The show is lead by Britt Robert`s character Sandra Bell, a fierce young lawyer who isn´t backing down from any challenge and she gives her best at the most difficult first case ever. The terrorism case was such a great case, pure Shondaland, challenging social norms prejudice and the slightly trappy FBI system of capturing the young Muslim boy, Muhamed Fayad. As someone who watched the original pilot the differences between Britt and Britne Oldford aren`t that big but Britt does bring that fierce underdog energy and made myself root for her. Sandra´s closing was impeccable and moving, Paul William Davies did a great job here and Britt`s execution was tremendous. Also introduced during the case was newbie Prosecutor Leonard (played by Rene-Jean Page). The handsome and cutthroat prosecutor stole himself the big case and played it cool throughout. Leonard`s ambitious side was appealing and repealing at the same time, still he has a complexity to him I can`t wait to see more exploited. The chemistry between Leonard and Sandra was on point and made following the case even more enjoyable.
The second case of the episode involved Allison and Seth, a couple fighting on different sides of justice. Seth felt like the only weak casting of the show and I was surprised Ben Rappaport wasn`t recast in the process. Still, the cat and mouse game between the two lovebirds was enjoyable and seeing each other pulling punches and how it affects their relationship was fairly entertaining. Allison eventually betraying Seth and their confidential relationship is a nice twist I didn`t expect to unfold the way it did. Seth did show some spine at the end of the episode and let's hope this leads to some quality character development for him and demanding my opinion on the need to recast Ben in this role.
Last but not least the fraud case involving Jay and Kate was truly hilarious. Jay and Kate were perfectly cast. They were really ying and yang to each other with Jay´s gullible believe in humanity going up against Kate´s (mostly) black & white approach to justice. Jay being played by his client so many times was just hilarious and heartbreaking at the same time. I enjoyed their heart to heart at the end of the day, she isn´t a mean girl she is just realistic and honest and she is just great the way she is. Also, I enjoyed Kate stepping up to Seth when he came for legal advice.
The supporting cast was well featured as well with the chemistry between Jill and Roger hopefully well used in future outings. Also, Anna Deavere Smith and Vondie Curtis Hall deserve a lot more screen time.
---
1. First Impressions
SJ:
It has the makings of an interesting show. I'm very much new to Shondaland shows & wasn't planning on giving this a watch since the trailer didn't impress me, but I'm glad I gave it a shot.
JZ:
The show is way better than the trailer, which is not saying much as I found the trailer to be bland. I enjoy the legal aspects of the show and I like how we get to see both sides of the courtroom equally which I think sets the show apart from others in its genre. I also appreciate how there's not "heroes vs villains" thing going on between the Public Defenders and the Prosecution. Both departments have their positives and negatives.
LA:
It's just so much fun! And I love how they make you understand both sides of a debate.
MK:
I really enjoyed the Pilot. I`m an avid Shondaland fan and I just enjoyed the fast pace, quirky one-liners, and emotional storytelling. The Pilot even though faulty at some points creates engaging stories that are used to show of our leads flaws and virtues.
2. Favorite Case/Character
SJ:
My favorite character, of course, has to be Britt Robertson's. Realising she was in this show is what convinced me to give it a chance. Favorite case is a bit more difficult, as they both had interesting aspects but nothing that really grabbed me.
JZ:
I enjoy Jay, as a law student myself I appreciate that the show is depicting the idealistic and hopeful lawyer archetype. He's such a sweet character and I look forward to seeing if he will crash and burn or if he'll be able to work the system while maintaining his heart. I hope he's able to do the later. The Ying to his yang would have to be the Kate. I enjoyed her binders and ability to stand her ground against the men with her bluntness. She's by far the standout character of the show and has an interesting dynamic with every character she interacts with.
Finally, I liked Leonard. I liked is demanding presence and confidence and seeing him kick the Hunter Parrish looking character off his own case was a bonus.
Case? I didn't really like one over the other, but I enjoyed how each of them brought a challenge to each character and showed the audience some of the moral and legal problems lawyers are met with every day of their job.
LA:
I'm loving everyone, but especially Kate Littlejohn. And I enjoy all the little cases but the terrorism one was especially intense.
MK:
Allison by far. I do love Britt`s Sandra Bell, she brought the right spark to the episode but Jasmin Savoy Brown brought the light and the dark to her character Allison and I look forward to seeing where her character will go from here on forward.
3. Negatives and Needs to get Fixed
SJ:
Characterisation and dialogue. Both of the case outcomes were predictable, but from the pilot episode we only really got to know Britt's character. I need to be able to get what makes these guys tick, their stories, what's driven them to the job they're in.
JZ:
A little more focus on the characters, I honestly can't remember their names and had to resort to cookie cutter/look-alike names, which I think is a bad thing. I'd also prefer a little less focus on the relationship between the sidekick and the Hunter Parrish look alike. It's just boring, bland and honestly, I want to kick the guy in the nuts for being a sulky bitch boy. Hopefully, the show delves into the reason why such a soft and insecure person chose prosecution. Perhaps there could be a redemption arch in his future.
LA:
Every issue I had with the Pilot is fixed with the next few episodes.
MK:
I didn`t have any major issues with the Pilot. The cast is solid and I enjoyed the stakes they´ve put up. I wish they would show more of the consequences/reactions to the convictions.
4. Comparison to other Shondaland shows
JZ:
I've only seen HTGAWM and for me, it has A LOT of the same characters you see on that show, which might be their purpose? Was this supposed to be the show that keeps HTGAWM fans tuned in while the show is on hiatus? If so then I think they may fail because the show pales in comparison because it lacks punchy characters and an intriguing plot.
LA:
I think there's a feeling of Grey's in the early years when it wasn't bogged down by being on the air so long, and some of HTGAWM when it gets to defend social justice. I'm loving it.
MK:
It does have a lot of Grey´s Anatomy vibes as the leads are rookies and look so tied up and sweet like the interns were back in early seasons. You can definitely see the Shondaland stamp on it and if you loved early seasons of Grey´s Anatomy and How To Get Away With Murder you should definitely keep tuning in.
5. Future Expectations
SJ:
A little less time in the courtroom and a little more time on personal drama. There have been a number of legal dramas before For The People & they'll be more on the air long after it's finished. If it wants to survive past the first season, it needs something unique about it and given pilot episodes are all about setup, I hope the show has some deliciously scandalous cases in the near future to sink its teeth into.
JZ:
They'll develop an overarching theme or mystery to the season because at the moment all I see is a case of the week show and with these near forgettable characters, I'd see no real reason to tune in.
LA:
Only to enjoy it as much as I have been, I hope they keep exploring the characters and they keep showing interesting and complex cases.
MK:
I expect for them to future more contemporary cases and dig deeper into these fairly interesting characters. Also, I wish they keep balancing the dark and light as well as they did in this episode.
That´s the wrap guys! What are your thoughts on the series premiere of For The People? Did it grab your attention or are you gonna drop it like a hot pan. Hope you´ve enjoyed the read and stop by in the comment section down below to share your thoughts with us. Till next week. .
.