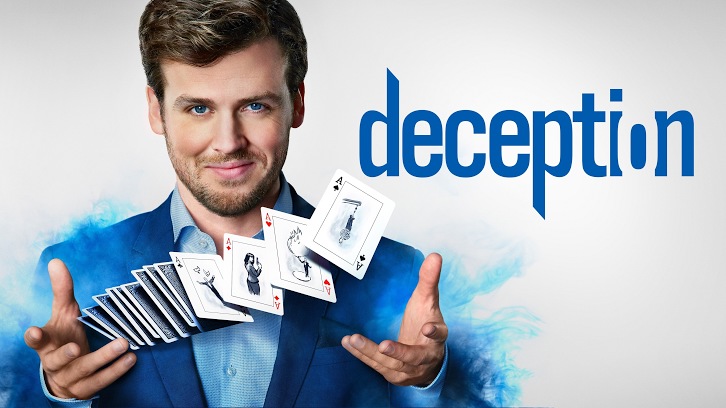 Look, the fancy new ABC drama, Deception, may not be the most original, must-see, groundbreaking series on network television. As anyone with a brain will tell you, the show is just another will they/won't they, he has fun/she does not procedural, the likes of which we have seen countless times over the years. Deception is clearly ABC's attempt to replace their much beloved and dearly departed, Castle.

All that aside, the series premiere worked just enough to consider it passable. The writing was quippy and humurous; the cast, though they may not be strong as of yet, was solid. In particular, the chemistry between the two leads, Scott and Hadera, had neither a spark but was not awful either. There is plenty of potential and plenty of room for this cast to grow.

Amaury Nolasco as Agent Mike Alvarez, in particular, was a standout. His "it's Cameron Black!" line shouldn't have been funny, but how he delivered it was classic. The show also did a great job of not overdoing it.

In addition, the magic aspects did add some freshness. The fact that the team was not solving a murder, but the escape of a convict through an illusion was a nice twist to the formula. Also, unlike Castle, where the murder in the premiere was solved by episodes end, in Deception we find out that the episodic plot was part of something not only bigger but personal to Cameron Black.

The pilot not wasting time to bring us into the overarching story was a major positive. The idea of an illusionist with a history with Cameron Black and his brother, always one step ahead of them, makes for an intriguing story. The show can thrive if each case of the week is connected.

As the saying goes, if it ain't broke, don't fix it. The show is as formulaic as can be, but nonetheless, the formula still makes for an entertaining 45-minutes of television, somewhat reinvigorated by the magic and the main story. On top of that, though the characters still have a lot to prove, they were solid enough for a first episode.

Verdict: Like an average illusion, there really isn't much to it when you break it down. But how it was done was glitzy and fresh enough, in its magic, to give it a slightly better than average grade.

7/10

What did you guys think? Please leave your comments below and vote in the poll!