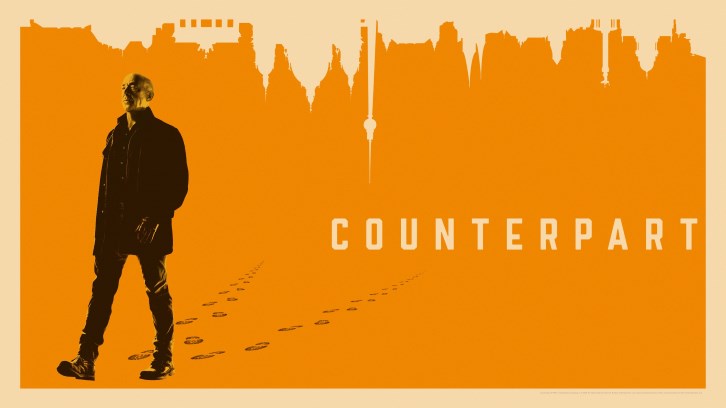 Counterpart 1.07 "The Sincerest Form of Flattery" - Review:
Directed by Alik Sakharov & Written by Gianna Sobol

The seventh episode of Counterpart took some time to explore and flesh out Clare's character, as we learned the journey that she took to becoming a key figure in the Cold War between the Alpha and Prime Earths. After the reveal that she was the mole in the last chapter made things incredibly tense between her and Quayle, it was always going to be an interesting hour with the secret finally out and the show once again delivered, splitting the action between Quayle's own birthday party and flashbacks, exploring Clare's life inside The School.

This was probably the best episode of Counterpart thus so far and that's saying something. The show mastered the art of tension and suspension for this hour that really was on a knife-edge. The decision to show much of the episode from the perspective of Nazanin Bonaidi's Clare was a good one, as previously we have seen little of her apart from as the handler for Baldwin, who she ends up betraying. This development of Clare's character coming at the crucial moment that we find out that she is a mole and has been manipulating Quayle all along was a fantastic decision, as it helped continue to transform her into a more well-rounded character and she earned some sympathy in the process. Her arc reminded me a lot of the recently released Francis Lawrence film Red Sparrow, and it's hard not to imagine that a character like Jennifer Lawrence's Dominika Egorova wouldn't look completely out of place in this show, and Black Widow would certainly find herself right at home here too.

The backstory of Clare was fascinating and a great way to learn more about The School that she spent most of her time training under, as we saw how the show deconstructed her character and broke her down before our eyes, transforming her into a different person from the one that could have been. It's clear to see just how different the Other Side is now, how they've been brainwashed into not being able to forgive Alpha side for their actions. Not all of them may know about the portal to the other world, but those that do don't forgive easily, and are brainwashed on a near daily basis. More differences about both worlds were revealed here too by way of a class, and it was interesting seeing some of the kids' reactions to finding out stuff about the other side.

The addition of Spencer made for an interesting development too, especially given their shared connection. He and Clare spent a time together as kids and whilst Clare most likely did go looking for him when she found herself given the near-unlimited freedom that another Earth can provide, it's not known whether she found him and what fate he was in - but from the moment they seperated, I wasn't expecting a reunion between the two.

The development in relationship between Clare Alpha and Quayle was an interesting one too, as we learned the point where Clare Prime came in as a replacement. It was a pretty devastating breakdown in the two's relationship as we learned that they weren't on the best of terms, and despite Quayle's womanizing habits it looks like he genuinely cared for Clare. The replacement and insertion of Clare Prime was executed (almost) without a hitch, as given that Clare Alpha had lost her virginity to Quayle where Clare Prime hadn't, she had to find a way to give that up too in order to keep her cover.

The tension-packed confrontation at the end of the episode suggests that not all is as it seems with Clare Prime, who may on the surface have genuinely fallen for Quayle in return, wanting to spend time with him, but given that this is a show full of mystery and intrigue we never know where Clare Prime's true loyalties lie, even though she has let the suicide pill expire because she apparently loves her new life. Is this just another con? Or is she about to switch sides? As much as I want her to switch, I don't think she will. But she's not the same person she once was, and things change, so this opens up a whole world of possibilities for the show to take going forward.

What did you think of the latest episode of Counterpart? Let me know in the comments below and check out the next episode on Starz this Sunday.