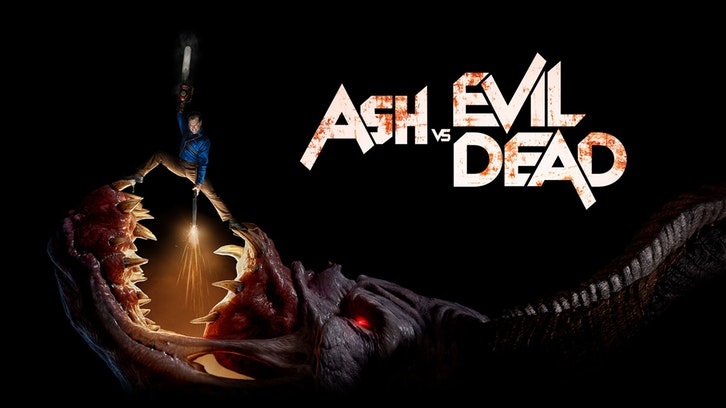 Ash is cleaning up the mess left after chainsawing Deadite Brock when Brock's ghost shows up. The show manages to redeem itself from one of my top 5 most hated clichés – 'The Interrupted Confession'.


Apparently, Brock was a bit of a hypocrite in condemning Ash for being a killer all those years ago. One of the Knights of Sumeria visited him back in 2012 to find Ash so that he could warn him about the prophecy. He had with him the lost pages of the Necronomicon.
Brock didn't believe him any more than he believed Ash when he tried to explain the Necronomicon. Brock punched the Knight and accidentally knocked him down the basement stairs. When the guy didn't respond to Brock's calls, Brock assumed he was dead, locked up the place and left. He never reopened the store again.
When Ash went into the basement to get the lost pages, he discovered that the guy had NOT died. He survived down there, eating SPAM and writing text, similar to that in the Necronomicon, on the basement wall. It seems that before he died, he figured out what the pages referred to.
As the fight continues, the Necronomicon, safely in Ruby's hide out, opens. When Ruby returns, on of the pages morphs into the image of a woman. I think this the former Knight of Sumeria, that Dalton told us was seduced by the book.
Ruby finds the open book and Gaia warns her that the rift has been opened. She also informs Ruby of Ash and Dalton's meeting. Ruby finally reveals her plan for Brandy. She intends for Brandy to kill Ash. It will give her so much power The Dark Ones won't be able to stop her.
My hopes that what we saw last week was a deadite
pretending
to be Dalton were dashed when Ruby dragged Deadite Dalton out of the woods. Ruby needs to ask Dalton a few questions. She performs a spell that returns him to human. Dalton is clueless about the rift. He blows his own head off to keep from becoming a Deadite again.
I'm pretty bummed about that. I wanted a chance to get to know the character. I wanted to see what he could bring to the fight. This feels like a missed opportunity to me.
Deadite Pablo takes a bite out of Kelly's calf that grows into a Deadite Pablito. I'm with Kelly. I hope she can save Pablo again. If Pablo can recover from being cut in half, he's got to be able to survive this, right?
Brock's visit, which ends once Ash discovers the portal, also provides Ash with the location of Ruby's hide out. He heads straight over there to stop her. He finds the hitchhiker there, still chained to the sink. She warns him not to wake the baby.
This episode was stuffed with information and lots of scenes that actually moved the story forward. That's something we didn't get as frequently as I would have liked, during the first two seasons.
Next week, I suppose, the show will take its time with the two battles for survival: Kelly vs. Deadite Pablo/Deadite Pablito, and Ash vs. his demonic offspring. I'm looking forward to it.
What did you think of the episode?