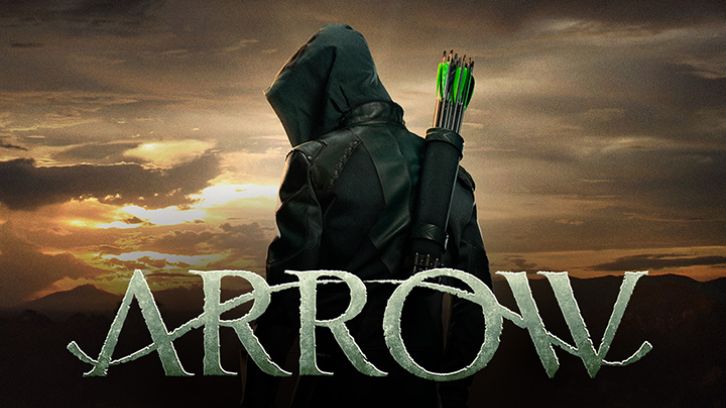 Arrow
"Doppleganger" was story by the team of Christos Gage and Ruth Fletcher Gage and teleplay by Speed Weed and was directed by Kristin Windell. It's just never a good sign to me to have that many people involved in a script. The Gages come to the show as writing partners from
Daredevil
. The episode features the pretty lame return of Roy Harper (Colton Haynes) – I was expected much better from the show in this regards. It also sees Thea (Willa Holland) put the Speedy suit back on – also not what I'd hoped for.
In general, this episode felt very unfocused and seemed to wander through a bunch of storylines. Laurel (Katie Cassidy) shows up at police headquarters claiming she was imprisoned and drugged. Of course, she's been outed as Black Canary – so how is that going to work? The press want to know if Oliver (Stephen Amell) is the Green Arrow, and she just smiles in response.
Oliver's lawyer, Jean (Teryl Rothery) thinks that the case against him is over because Rene's (Rick Gonzalez) testimony has been thrown out, but when they go to court, Armand (Pej Vahdat) has another witness – who turns out to be Roy (Colton Haynes).
Captain Hill (Tina Huang) suggests a solution for the missing money. She thinks the city can raise $30 million by auctioning off seized property. One has to wonder what angle she's working – and whether what she is suggesting is legal or is designed to get Oliver in more trouble. It turns out that when Laurel went to get the money, it was already gone, so Oliver is in a tight spot.
Hill gives Laurel's case to Dinah (Juliana Harkavy), who is still rabidly set on revenge. Harkavy continues not to impress. Happily, this episode didn't feature any Rene and only a smidge of Curtis (Echo Kellum) telling Zoe (Eliza Faria) that her father had been hurt. At the hospital, Dr Schwartz (Venus Terzo) is at a loss to explain Laurel's return. She pronounced Laurel dead and performed the autopsy! However, she assures Dinah that the DNA will tell the truth.
Laurel is ultimately taken by Diaz (Kirk Acevedo), and is it me, or does it suddenly seem like he has a romantic interest in Laurel? He's clearly not happy with her – family has to trust each other – but he also tells her that he doesn't want her to worry about Dinah or anyone else.
Meanwhile, Felicity (Emily Bett Rickards), Diggle (David Ramsey), Oliver, and Thea worry about how they found Roy. Oliver and Diggle find Roy. As a bit of side business with Diggle, we learn that he is very upset that Oliver hasn't given him back the Green Arrow suit. What?? Is this suddenly massive ego from Diggle? What happened to him wanting them to be a team? I am not a fan of where the show has taken Diggle.
Thea insists on suiting up to rescue Roy – even though she hasn't trained at all since coming out of her coma. I did like the fireworks arrow that Oliver used as a distraction. It was nice to see Thea and Roy reunited. Thea puts everyone in danger when she won't leave – and I loved Oliver roping her out with a trick arrow.
Oliver knows that there is a serious breach in the police department when he learns that Diaz killed James in the interrogation room. He asks Quentin (Paul Blackthorne) and Dinah to work together to find out who can be trusted in the SCPD – because they are getting along so well! And since when is Oliver going to trust psycho Dinah?
There is a nice scene between Oliver and Felicity as she checks in with him to make sure that he's ok. He's feeling guilty – still – about Roy having to go into hiding because of him in the first place and for not rescuing him. There's also a nice scene between Thea and Oliver when he wants her to find the same happiness he has with Felicity with Roy. He tells her that when they find Roy, she should just go away with him. He doesn't want to lose her, but her happiness is more important.
Laurel shows up at Quentin's and tells them that Roy is being held at a rundown casino. Ordinarily, I'd be complaining with how the fight scenes were shot – sped up and cut up – because I prefer longer continuous shot, but the last few episodes have featured such bad fight scenes, these were actually an improvement. Naturally, Thea ends up in trouble fighting Diaz because she's out of shape, but Oliver rescues her, and they get Roy out.
Oliver goes to see Laurel and thank her for not setting them up. But she's not their Laurel. She tells him that she is who she is, but she's willing to try – if they are. Oliver agrees to try… and then Laurel gets a "good work" text from Diaz. We also saw Diaz trying to recruit Roy – is he part of the plot?
Meanwhile, in the last scene, Thea takes Roy home…. And to bed. As the two get reacquainted, there is an archer watching from the neighboring building. She tells someone – "Master" – that she's located the heir of Ra's Al Ghul – that would be Thea… Really show? Another big bad this season?
So clearly, I was not a fan of this episode. What did you think? Are you looking forward to more League of Assassins storyline? Can Laurel be trusted? Can Dinah? Can we get rid of the B-team now? Let me know your thoughts in the comments below!