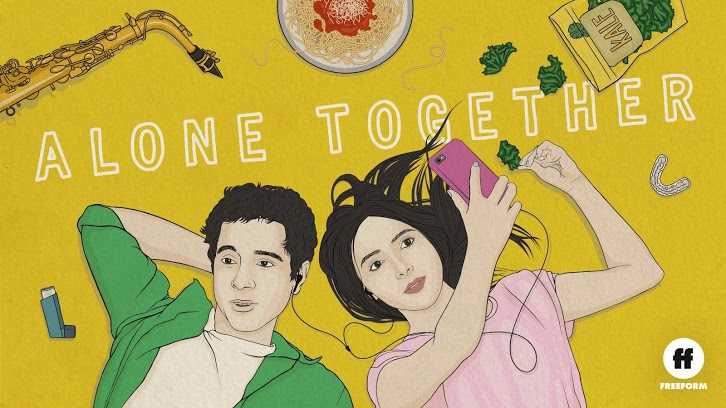 Freeform's Alone Together is the comedy series written by and starring Esther Povitsky and Benji Aflalo and produced by none other than The Lonely Island. It tells the story of two friends, Esther and Benji, as they navigate life and love together in Los Angeles

In this episode, Benji buys a fish while Esther waits in line to buy new make at a new pop-up store.

Yes you read that right. A majority of this episode is Benji staring at and talking about (and to) fish. I think at this point these individual episodes' plots are just being stretched out to 20mins. Which is fine by me, because these episodes aren't boring. They're weird, and struggle to be laugh-out-loud funny, but they're amusing enough to keep my attention span (there's a conversation about diapers, and I am immature).


I think I spent the majority of this episode confused. Mainly, because I don't wear or care for makeup, and everything that Esther said just blew right past me. But also, a lot of comments made were degrading and stereotypical to teenagers, of which I am one (ish). It was weird to hear Esther talk about being surrounded by 'the smell of teenage girls!', and I have to constantly remind myself that she is an (tiny and immature, but also very adorable) adult. Also, those teens were unnecessarily ferocious (Also, sidenote: I think there was a stereotypical millennial joke thrown in there, because a delivery guy turned up wearing flannel, shorts and was on a Hover Board, but you won't understand or pick up on up if you don't understand millennial culture. That and the Zendaya reference).
Something that this show does well is the banter between the two MCs. As weird as they are, Benji and Esther's conversations are natural, and don't feel forced, or even improved. It's just generic, sometimes humours retorts to and from each other, which is really nice to see in a comedy like this. Yes, Benji is impulsive and Esther is narcissistic, but they just work together. It's something I'll never be able to understand.
The guest appearances were pretty cool this time. Bobby Lee played Stan, the creepy aquarium store owner who gets high in his own shop and has some very interesting (WEIRD) conversations with Benji about fish; Jon Barinholtz was David, the cute EMT who was trained by Esther to know everything there is to know about makeup (which was super sweet, he is easily my favourite character in this show and if he comes back I'll be very happy); and finally, the queen herself Chelsea Peretti made an appearance as Tamra, the very pregnant, innocent bystander who gets into a 'waiting-in-line' fight with Esther. The cameos were definitely nice, but I wish they were utilised more (Its Gina Freakin' Linetti, come on!). I will miss David. Very much.
GRADE:
I'll give it a 7/10 overall, mainly because of the cameos. I am too biased about Gina, I love David a lot and Stan weirded me out, but in a good way. I think.
Would you stand in line and be a supportive soul like David, or go off and hang out with fish like Stan? Let me know down below!