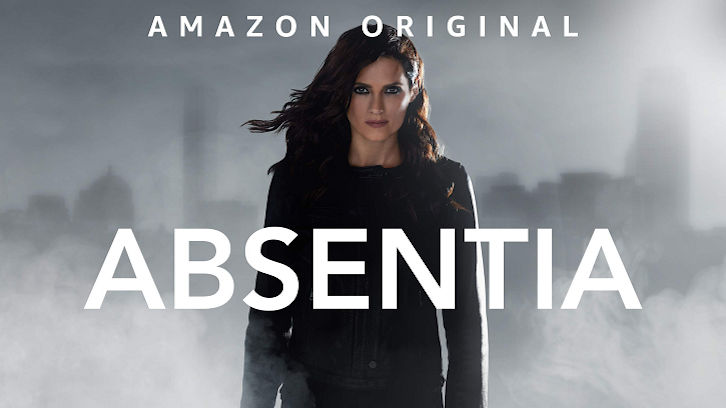 Amazon Prime announced today that they have picked up the show for a 2nd season too.


Amazon Prime Video Picks Up Second Season of "Absentia," Starring and Executive Produced by Stana Katic
Natasha Little and Matthew Le Nevez Join Cast for Sophomore Season, Now in Production in Bulgaria
Amazon today announced that it has picked up binge-worthy thriller Absentia for a second season, to debut in 2019 exclusively on Prime Video in the U.S., as well as in select markets globally, including Australia, Austria, Germany, India, Israel, Italy, Netherlands, Singapore, South Korea, Turkey and the U.K. Currently in production in Sofia, Bulgaria, Absentia was commissioned for Sony Pictures Television's international networks, is produced by Masha Productions and distributed by Sony Pictures Television.
Absentia, starring and executive produced by Castle's Stana Katic, centers on FBI agent Emily Byrne (Katic). In season one, Emily disappeared without a trace and was declared dead after hunting one of Boston's most notorious serial killers. Six years later, Emily was found in a cabin in the woods, barely alive, and with no memory of the years she was missing. Returning home to learn her husband had remarried and her son was being raised by another woman, she soon found herself implicated in a new series of murders. In season two, after tracking down and killing her abductor, Emily struggles for a tenuous new normal with son Flynn and ex-husband Nick. But her obsessive investigation into the questions that haunt her uncovers a serial killer and a spiraling conspiracy that threatens more than just her family.
New cast members joining season two include Matthew Le Nevez (The Widow) and Natasha Little (The Night Manager). Le Nevez will portray the character Cal Isaac, a rugged ex-Navy SEAL with a disarmingly upbeat disposition. Cal's familiar with the demons that chase Emily (Katic) and proves to be a loyal and sympathetic counterpart to the series heroine. Little will portray the character of Special Agent Julianne Gunnarsen, an accomplished, enigmatic and beautiful FBI Profiler with a chilly efficiency who joins the ranks of the Boston FBI Field Office after a deadly terrorist attack rocks the city. Patrick Heusinger returns for season two as Emily's ex-husband and Special Agent Nick Durand.
"Absentia really resonated with our Prime Video audience who were enthralled by the thrilling storyline and complicated characters," said Vernon Sanders, Co-Head of Television, Amazon Studios. "Stana Katic is immensely talented and we look forward to her peeling away the layers of a twisted conspiracy that is deeper than her character "Emily" could have ever imagined in season two."
"From its inception on Sony's international networks, Absentia has been a hit with global audiences," said Marie Jacobson, EVP, Programming & Production, Sony Pictures Television Networks. "We're thrilled to push our story forward into season two and couldn't ask for a better home than Amazon for our signature Sony Networks series."
The series is executive produced and directed by Oded Ruskin (False Flag), alongside executive producers Julie Glucksman, Katic and Maria Feldman (False Flag, Fauda). Directors also include Adam Sanderson and Kasia Adamik. The series was created by Gaia Violo and Matt Cirulnick and is based on a pilot script originally written by Violo.
In addition to Katic, Heusinger, Le Nevez and Little, Absentia's internationally renowned ensemble cast includes Cara Theobold (Downton Abbey), Neil Jackson (Sleepy Hollow), Angel Bonanni (False Flag), Paul Freeman (The Dogs of War) and Patrick McAuley (The Conjuring 2).
Read more at http://www.thefutoncritic.com/news/2018/09/13/amazon-prime-video-picks-up-second-season-of-absentia-starring-and-executive-produced-by-stana-katic-387105/20180913amazon01/#6VrTbmM7h9ikVx02.99
---
Thanks to DDe for the heads up.
June 19th:
Per Corus Entertainment's 2018/19 Slate Announcement, Absentia has been renewed for a 2nd season in Canada.
CORUS ENTERTAINMENT DELIVERS ROBUST SPECIALTY SLATE FOR 2018/2019
Top Entertainment Specialty Channels W Network and Showcase Debut Standout New Scripted Series:
All American, Charmed, Pretty Little Liars: The Perfectionists, Legacies and Roswell, New Mexico
New Seasons of Scripted Hits: Marvel's Runaways, Outlander, The Sinner, Absentia, Supergirl, grown-ish, and More
Absentia – Season 2 (10x60min) – NEW SEASON
Former FBI agent Emily Byrne (Stana Katic, Castle) strives to reconcile her trauma, family, and identity until a deadly mystery from her past threatens her fragile stability.
---
Absentia, toplined by former Castle star Stana Katic in her return to television, has tapped a new showrunner, Samantha Corbin-Miller (ABC's Conviction) as the Sony Pictures Television Networks' crime thriller drama is plotting a second season, sources said.
No one is commenting but I hear that Absentia is in the process of being renewed by Amazon Prime Video, which is the series' exclusive U.S. home and also carries it in several international markets, including the U.K., Australia, Germany, India, Israel, Italy, Austria, Netherlands, Singapore, South Korea, and Turkey. According to sources, Absentia may be getting a multi-season renewal for seasons 2 and 3.