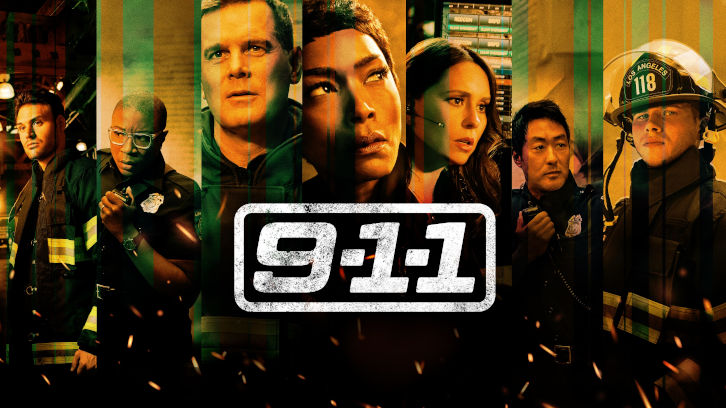 9 1 1

Season 1 Episode 8

Karma's a Bitch

You can say many things about FOX's mid-season hit 9-1-1 but boring is not one of them.
This show entertains, it gives you one compelling story after another. Almost all of the characters are, by now, well developed and we're starting to know them better and care for them. In this weeks Karma's a Bitch the show plays with flashbacks. We see the responders go to a scene and get flashback to why the person in question deserved what happened to them. Good things happen to good people, bad things happen to bad people or in other words 'Karma's a bitch'.

We begin with the soothing words of Abby responding to a call from a guy who got shot, or so it seems. We switch to a flashback of a woman hanging from a tree and we see Bobby and Hen trying to unsuccessfully resuscitate her. Turns out the woman who hanged herself is the wife of the guy shot in the first scene. It becomes pretty clear that this guy is an abusive asshole. In a flashback scene we see a fight between husband and wife and the wife tries to shoot her controlling husband but misses. The bullet ends up stuck in a tree. In the next scene we see the husband trying to explode the tree by shooting at it. And yes, go with us here.. that same bullet that was stuck in the tree ends up ricocheting and killing the husband.


At the fire station Chimney is organizing a blood donating event. Everyone apart from Bobby donates blood, our hero Bobby is afraid of needles but some peer pressure and a well executed guilt trip make him change his mind. We check in with Athena who's getting her kids off to school. Her husband Michael is acting all cocky and saying they are doing a great job pretending everything is fine. Michael's pushing his luck and telling Athena he wants their kids to meet his boyfriend. Athena is not having it.
There's Abby's voice again.. but where's Abby? At this point in the episode I'm already missing her. A girl calls in a case where a guy at a gym/tanning salon is frying up on a tanning bed. It seems he's the owner. Bobby, Hen and Chimney respond to the call. This show is trying it on with the disgusting gross imaginary. The guy's skin is literally coming off! To stay in the theme of the episode, this person deserved it as well. Who leaves their dog in a hot car? Shame on you!
And now we get to the scene we've all been waiting for. If you read the press release for this episode you knew Bobby would get some news regarding his blood. I will cut to the chase so we can share a collective sigh of relief. Bobby is not sick, it's good news! Apparently his blood can save the lives of many babies. I will skip the details on this. So for the babies a good thing, for Bobby maybe not that good? Turns out Bobby has a repentance plan in mind. The fire, he indirectly caused, killed 148 people, when Bobby has saved the lives of 148 people he wants to quit this world and be done with it, yes suicide. Hopefully his visit to the hospital with Chimney at this end of this episode, where he gets thanked by a father for saving his child, will make him re-think his plan. Bobby, please stay with us!
A woman who steals packages delivered to porches falls down and breaks her hip, yup Karma. Hen and Athena have a conversation about their relationships. As you can tell, I was not invested in this 9-1-1 call.
On to the next and definitely more exciting incident. We get a glimpse of Abby taking the call but that's it, unfortunately. We see a man (Sean) with his sons at a Zoo trying to get a picture of a tiger. The tiger is hiding behind a tree, he might be camera shy so leave him alone. But alas, they do not. They throw pine-cones at the tiger to get him to move from behind the tree. This obnoxious behavior results in the tiger escaping and running around freely. A panic breaks lose and everyone is running towards the exit. Mr. obnoxious himself gets out of the toilet building unaware of what is happening. Go get 'em tiger! Lets just say, things do not end well for Sean. Who turns out to be an ever bigger douche than we thought.
We end the episode with Athena telling Michael she wants a divorce before she really starts hating him. They can end their marriage in a civil way and as friends of a sort. Athena is devastated by her own decision but luckily for her she gets hit on in a bar on her first night out as a soon to be single woman. If you ask me, Athena deserves to feel desirable again.
Hen is on her way to tell Karen that she cheated on her with Eva. She doesn't even get a chance to come clean as Karen has received a letter in which Eva sues for custody of their child. Eva, and all her tattoos, is claiming that Karen and Hen provide an unstable home environment for their child and is linking this to Hen's infidelity. Karen runs out leaving Hen behind.. stunned. So there's where things end with Athena and Michael and Hen and Karen. I guess we have to wait until the next episode for some update on Buck and Abby's relationship.
A few random thoughts on this episode:
- Not enough Abby! I need my weekly Connie Britton fix!
- There wasn't much of Buck but oddly enough I was okay with this. His character needs a bit more development and depth for me to really care for him.
- I'm glad they didn't give Bobby some kind of illness. His story-arc is interesting enough.
- 9-1-1 loves to sprinkle appropriate songs through an episode. In this episode we get, amongst other Culture Club's Karma Chameleon and Instant Karma By John Lennon. I'm not sure yet if I find this extremely well thought of or just very easy and on the nose.
So I would love to hear your thoughts on this episode.
Hit the comment section below!