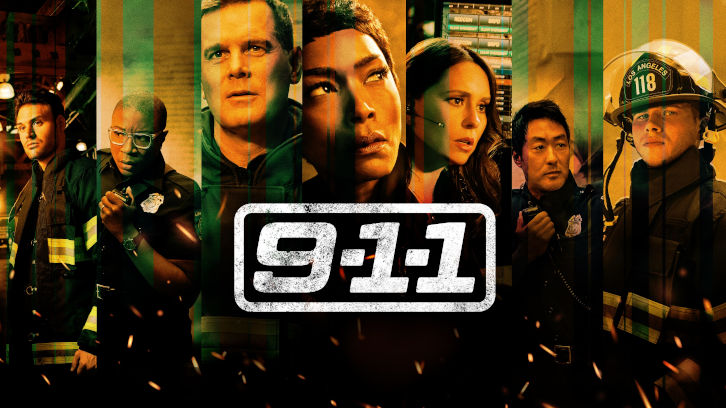 9-1-1

Season 1 Episode 7

Full Moon (Creepy AF)

After last weeks hiatus I was happy to delve back into the lives of our favorite 9-1-1 emergency responders and the crazy things that can happen in one night. Call me crazy but I love this show. Yes, 9-1-1 demands that its viewers leave some kind of reality check at home but I'm down with that. I go into this show enjoying all the outrageous things that happen and I stop myself from thinking too much about the credibility of it all.

So lets dive into this weeks episode. We start off hearing Henrietta 'Hen' Wilson as a voice-over describing the night ahead and the full moon "..It's set to create chaos and cause people to do things they would never normally do". We see Hen sitting on a beach that looks like somewhere between Venice and Santa Monica. Side note, I love the occasional shots of Los Angeles we get in this series. Hen looks distressed and is crying. We'll find out later what is the cause for this.

The night starts off with Buck saving a little girl who's trapped inside a toy claw machine. Something that seems to happen weekly according to my viral Facebook feed. Feeling all good about himself and chipper Buck calls Abby and starts howling on the phone. Abby finds this cute and rather childish at the same time… as do we Buck, as do we. Buck and Abby talk about their disastrous first date and plan to repeat it but without the emergency tracheotomy. I love that Buck makes Abby giddy.


Back at 9-1-1 headquarters Abby gets her first emergency call of the night. An elderly lady calls in regarding an intruder outside. The intruder looks Creepy AF, that's the first image of the night that draws back to the episode title. Athena, Hen and Chimney are called to the scene. Turns out that intruder was not outside but he was in the house, standing behind Nora. Thanks to Abby we get the women's first name. Abby is so good at her job, she's calm, asks the right questions and comforts the person on the other line.
Next up Abby gets a call from a woman named Kathy who is also reporting an intruder, this time the intruder is IN the house and slamming in the door. We hear a lot of screaming and then.. nothing. We are left wondering what happened and cut to Bobby and Buck responding to a call from a Yoga centre.
In a yoga class for expecting mothers we have one pregnant women stuck in a yoga pose that does not seem comfortable. Bobby's diagnosis; a slipped disk. Then things get from worse to even worse. One woman after the other starts going into labor. Bobby is calm and taking care of shit and Buck is a bit frazzled. I love Bobby. Bobby is the male Abby in my world, hence why I believe they belong together.. but more on that later, Buck and Abby shippers, please don't stop reading.
We're back at Abby's workplace. She's talking to her supervisor about her last call with Kathy which seems to not have ended well. In this line of work silence is something you don't want to hear. A detective walks in and asks to talk with Abby and wants to hear her call with Kathy. Kathy is dead, that's a given now, but who killed her? Abby is determined to find out. She's not going along with the easy conclusion by the police who pinpoint this to Kathy's abusive ex-husband.
Onto the 2nd image of the night that gives justice to the title Creepy AF. Athena, Hen and Chimney have another call together and encounter some insane person covered in blood eating off someone's face. Athena keeps no prisoners and after a few warnings she shoots the guy in self-defense, kind of. Athena gets put on desk work for now until her name is cleared of this 'self defense' shooting.
Still at the scene, Hen gets a call from her ex-girlfriend Eva who now seems to be out of prison and wants Hen to come over. Eva looks like an extra from Orange Is The New Black. She's covered in tattoos and definitely has that trailer park vibe going on. Athena gives Hen some good advice and tells her to work on her marriage instead of being on the phone with her ex-girlfriend.
Abby is still trying to find out who killed Kathy and tries to persuade the detective that it's not the ex-husband. Abby calls Athena for some background checks and finds out that a Nora Curtis is involved. This Nora Curtis seems to be the daughter of the Nora from the intruder call earlier that evening. She calls Nora and hears that Kathy ran a support group for domestic violence victims and that Kathy helped Nora out with a place to stay and to hide from her abusive husband. Turns out the intruder is young Nora's ex-husband who was looking for Nora at Kathy's place and ended up killing her. And, low and behold, he shows up at Nora's place while Abby is still on the phone. This time things end differently as Nora gets a baseball bat and kills her ex-husband. Later that night, the detective comes to see Abby and apologizes for not believing her.
Ok ladies and gentlemen, we now get to the most disgusting scene you will see on your screens this week, this month or even year. A man calls in complaining of severe stomach pains and expressing that something is inside of him.. but hold off calling a priest for an exorcisme because the thing inside of him is not the devil but a tapeworm. We are given a gross scene in an ambulance where Buck is pulling out the tapeworm, all 7 feet of it. Yuck!
We end this crazy episode with Buck dropping by at Abby's with a bottle of wine. And yes they get it on. They look good together and the scene is Sexy AF. Lets hope Buck doesn't get all weird now that they have slept together. Abby deserves a decent guy. I think that guy is Bobby but for now Buck and Abby may have some fun until they find out they're not exactly compatible.
The last scene of the episode directs back to the first. Hen ends up knocking on Eva's door and they have sex. So instead of going home to her wife Karen, Hen cheats on her.
Will Karen find out about Hen's infidelity? How will Buck and Abby handle their first night together? Is Bobby going to be jealous ? Will Athena be exonerated? Stay tuned!