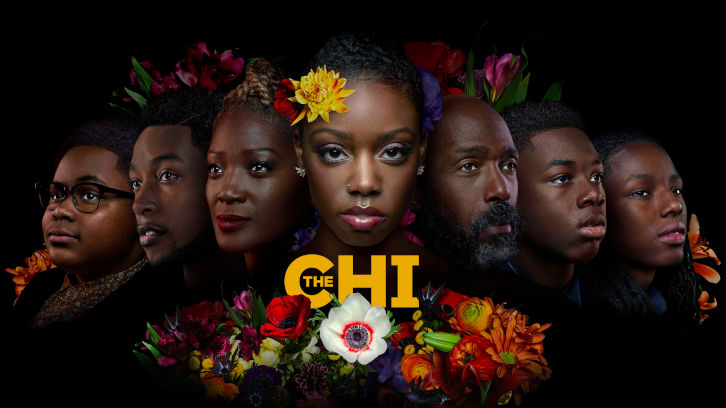 Episode aired on SHOWTIME Sunday, January 28, 2018

I have been complaining about how this show was starting to lose me but this episode they reminded me why I had loved the pilot.

Let's talk about what happened in "Quaking Grass"…


The entire story through this episode was from a flashback perspective. The episode opens with a gunshot, and we see Ronnie trying to get himself to safety. Brandon and Kevin are trying to escape. We go through a flashback of the confrontation between Ronnie and Brandon under the bridge with Kevin watching. I had convinced myself in the previous episode that Ronnie followed him, but when Brandon asked Kevin if he had set him up, he confessed to doing that. I know that Kevin is young and is making terrible decisions, but he set up Brandon, so I didn't feel sorry for him. Brandon manages to send Kevin home, but then he is stopped by two cops as he walks home. The scene with the police was heartbreaking to watch. However, this is the norm for many black men walking on the streets. The police will question you for being human and for just trying to walk home. It was the epitome of street harassment but from those that are supposed to be protecting you. He manages to talk his way out of getting arrested by booking the police a table at the restaurant where he works.
Ronnie, on the other hand, manages to get to his grandmother's house but collapses because of how much blood he had lost. This scene is where things got a little interesting; she knew not to call the police but, called Jada instead. I appreciated the fact that as much as Jada didn't want to fix Ronnie she still had the heart to help because of his grandmothers ask. I also think they touched on something about Jada and pain medicine that might be interesting as a storyline, however, will see how that goes. There was a terrific conversation between Ronnie and his grandmother about her concerns for his well-being. She has a clear vision of how life would shorten for Ronnie, and she made sure he understood that he was looking at death. This scene was powerful; it showcased the contrast between the two characters and how they viewed the world. I will not be surprised if we see Tracy in the net episode since Medrick gave Ronnie Jason's phone he will want to take it to her and reconnect. The relationship with Tracy will not end well for him though because she is the one that caused him all this trouble.
Jerrika kicked Brandon out which is understandable since he came home with a gun and blood on his shirt. She didn't seem irrational before so it was a little shocking to see her reaction to what she believes Brandon might have done. She does tell her friends about it, and they refer to Brandon as "ghetto" so I hate her friends already. Their relationship looks like it will not last long and I will be the first person to say good riddance. Brandon needs someone who is a little bit level-headed because I honestly believe he is smarter than she thinks of him. Someone else that I think will be causing Brandon trouble is his mother's boyfriend. He is a little bit controlling and is trying to take advantage of Laverne who is in a vulnerable place. He is pushing her towards selling her house even though she doesn't need to do that. Stealing the gun Jake gave to Kevin from Brandon was also a red flag for me, so I need him gone.
Kevin was also having flashbacks of the incident with Ronnie, but he had other things to worry about because of Jakes gun that Brandon lost. All this time we still did not know who shot Ronnie and I will tell you the reveal surprised me, and I didn't expect that. I didn't like Jakes brother and I felt bad for Jake who has to live in those conditions. It was totally inappropriate for his brother to have an adult hit him like that. I didn't think it was funny at all and I honestly wouldn't care if his brother disappeared. Unfortunately, Jake now is recruited into his brothers' dirty business, and Brandon will owe him. This arrangement will put the final nail in the Jerrika and Brandon relationship. Thank the heavens that Andreas cousin the bully was nowhere in this episode; I think someone listened to my prayers. Andrea is good for Kevin so no need to mess that up with interference from the bully. I enjoyed the scene with the kids dancing especially Papa who showed the others how great of a dancer he was.
Detective Cruz cannot catch a break with Wallace breathing down his neck and not being able to find Ronnie. Ronnie's grandmother scaring him with her shotgun was a strange scene, but I will not get picky here the acting was fantastic even though I cringed when she brought out the gun. I told you Wallace was dirty and harassing Cruz is just a cover-up for his shenanigans. Finally, DQ's appearance is starting to make more sense, and I am glad he is shaking things up and making Wallace's cronies begin to sweat. It will be interesting to see what exactly happened between him and Alderman Martinez because he was a little rattled when DQ came into Sonny's restaurant. His story might be interesting so I will wait to see what they do with him. The episode ended with Brandon talking to his cousin and flashbacking to the fight with Ronnie where we finally see Kevin shoot Ronnie.
I enjoyed this episode more than I would like to admit. Even though there was the same number of scenes the pacing was excellent and we got to experience the agony that Brandon was feeling as well as what Ronnie was feeling. I thought Kevin was great for a young actor Alex Hibbert gave an excellent performance, he showed confusion, stress, fear and the scene at Andreas party just showed how much he wishes he didn't have all this burdening him. He just wanted to be a kid and enjoy his life, but that's not what he has been dealt with right now. I loved the directing by Tanya Hamilton she took time with each character and the close-up shots made us feel their pain. My favorite shot was of Jerrika's gazing in her apartment while her friends were there. You could see that she is hurt and confused about her relationship, it was a good job. I doubt anyone missed Emmett, but we did get Keisha with an excellent supportive moment for Kevin so, a win all around.
Now that the show has is renewed for season two, I would like to see in the next episodes some focus on Jada. I feel like the writers are teasing us about what's going on with her so I would like to see how she's dealing with the aftermath of stealing drugs to help Ronnie and how that is affecting her. I need the investigation of Jason or Coogie deaths to take the front line. Right now focus is more on the other people that were affected but I need to see some movement on that end.
8/10
Don't forget to watch The Chi on SHOWTIME Sunday, at 10 PM ET/PT.
I would love to know what you thought of "Quaking Grass" so comment below…