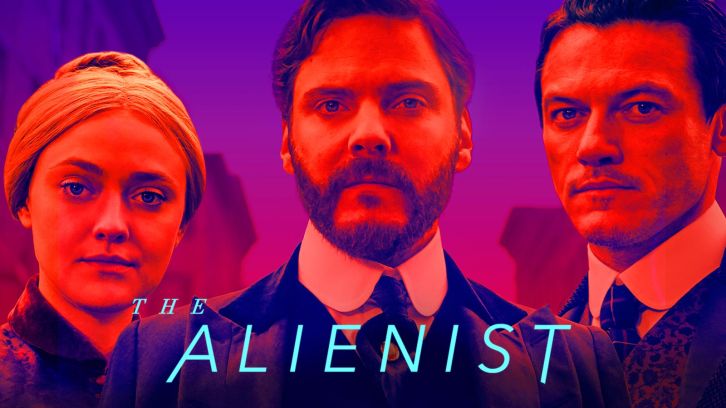 The opening scene of the third episode of The Alienist temporally subverts viewers from finding out what happened to John Moore, as the previous episode left his fate on a bit of cliffhanger.

As a segue, the scene introduces us to the wealthy parents of a young man named Willem in connection to the corruption between the elite Fifth avenue tycoons, the children's' brothel, and Captain Conner's corner of the Police Department. It becomes astounding to watch the pair being warned during their lunch, as the husband seeks to reprimand the gentleman for discussing such things in such away in front of his wife, all while she sits there unflinchingly stark-faced, rapidly fanning herself! This scene at first seems little and of no real consequence, but it pairs nicely with later scenes, especially one towards the end of the episode, featuring Kreizler coldly reprimanding his house-keeper Mary.
Moore then awakes from a nightmare about a living-dead & eyeless Sally back in Gorgio's room at the brothel, where in reality he finds himself at Dr. Kreizler's office in his school accompanied by Sarah Howard. Moore does not remember what happened, as Kreizler explains that Stevie followed him and found him in the alley way near The Tenderloin and was brought back to Kreizeler's school. Moore soon leaves to go to his parent's house, and Sarah follows soon after, admitting to Kreizler she has engagements elsewhere, though she would prefer to stay and discuss the case further. The Issac brothers too are sent on an errand to try and see if they can find a print off of Gorgio's corpse, only to learn that the body has been removed from it's coffin and taken elsewhere, presumably on Captain Conner's orders.
There are then several little scenes with each of the main characters in their own demeans that clearly serve to give more backstory information to each of them, while dealing with other close friends or acquaintances, ultimately reflecting each character more deeply.
For Sarah Howard, her friend's engagement announcement party comes off tedious task, as her friend refers to them as "old maids" and where Sarah is pressed a bit more on her love-life, but interesting, she admits to having feelings towards Dr. Kreizler. There is also an exchange between Sarah and Roosevelt's daughter that reveals how her mother died early, her father then raising her like a son, and allowing her privileges that most women would not be privy to at such a young age, such as hunting.
John Moore in the meantime is also confronted by his mother, whom too thinks John should finally settle down. She throws a small gathering of eligible women, where Moore not only doesn't pay attention to their names, but also cuts through one girl's attempt at making light of a conversation about the drowning of his brother, further revealing his own unsettled feelings about his father's disapproval of himself. A bit later, he watches a dove fly from the window, in which he begins to remember what Sally said. Eventually he and Kreizler find Sally in alley. The conversation makes them believe that Gorgio may not have been murdered in his room after all, but rather he died on the bridge in the arms of someone he trusted.

"God created life, but he also created murder. And if you try and figure out why, you'll go mad." - Cyrus


As for Dr. Kreizler, his scenario is a bit different, as his conversation revolves around the reveal that he spoke at his valet's, Cyrus Montross' trial--a trail about Cyrus witnessing a man abusing a women, setting Cyrus in a rage. According to Kreizler's testimony, it reminded Cyrus of what happened to his own mother, resulting in Cyrus murdering the man!! From there Dr. Kreizler pushes Cyrus for how Cyrus felt when doing so, and Cyrus reveals the pleasure it gave him, leaving Dr. Kreizler surprisingly unsettled, leading to another scene with his other silent servant--his housemaid, Mary, catching him frantically taking off his ink-stained shirt, where the characters are then intensely near-intimate, before Stevie bursts in with news of another boy's murder!
From here on out the remaining half of the episode picks up greatly, once again encapsulating the intensity, intrigue, and eerie Gothic atmosphere of the series' pilot!


Dr. Kreizler, Sarah Howard, & John Moore arrive at the crime scene together. It was a former immigration station now turned into an aquarium. They walk through the building learning that Commissioner Roosevelt is already on the scene, as Sarah wonders where the body is, until suddenly in flash of lightning, she sees it from a rooftop window above! They also learn that the building was locked. No one could get in and no one could get out, as there were no keys missing.
Back at the police department, Captain Conner finds himself in a bit of a panic, when he is finally informed that there was another murder and that Roosevelt was already on the scene. His lot scrambles to their horses and/or carriages to get to the crime scene as soon as possible!
"Ancient cultures believed fingerprints reveal the secrets of the soul, just like palmestry."
The Issac brothers are also on the scene, as Roosevelt must answer to the newspaper journalists, giving Kreizler's team little time to examine the body, which turns out yet again have the trade marks of the former murder victims. Sarah Howard, however finds herself taken aback after looking at the corpse. She walks a bit a away across the roof top with Moore following behind her. She admits that although she has seen death before, this is not the same, ---but her distress does not stop her from making observations, observations that tie murders together even more closely! As the Isaac brothers try and take a print they think will not turn out due to poor lighting, Sarah returns to tell Kreizler about her findings, in which he infectiously agrees--the killer likes heights and there is an association to water, but that also the killer is no longer afraid to hide his work. The killer is "evolving".
Note: an earlier scene shows what might be the killer watching boys swim at an indoor pool.
Soon thereafter Captain Conner's gang converges in, forcing Kreizler's team to flee the scene, while the audience is aware that the killer is also still there hiding on the rooftop. John Moore drops his book of sketches and, inwhich, the killer takes a recent illustration. He is later seen stroking it with found fixation towards the end of the episode. Moore finds a key to steal so they can get out through a back door, where Cyrus and Stevie await with the carriages.
"Only on the assumption that there is some meaning to his actions." - Sarah Howard
By morning Dr. Kreizler arrive with Howard and Moore at his school, when they walk in on Mary preparing a breakfast table for them. Dr. Kreizler is very displeased and reprimands Mary and orders her to return home. Sarah Howard stands there and says nothing, while Moore tries to soften the blow by telling Mary, "Thank you.". Moore, after Kreizler pushes for infromation about how Sarah delt with her father's suicide, insists that pressing them for more information when they have had no sleep, seems senseless to him. And although Kreizler strongly rebuttals that notion, he ultimately dismisses both of them, as if they were bad school children.
"Come back when you are able to look inside yourselves." - Dr. Kreizler
On the carriage ride home, Sarah and John have a moment, one where Sarah justifies Kreizler's reasoning, which prompts John to reveal to Sarah that Mary was once the doctor's student and that she burned her father alive! Sarah tells John that he's pretty entertaining when he wants to be and John leans in to kiss her upon her cheek, where she coolly reacts with little to no expression, only looking straight ahead. John believing to be rejected, also sits up straight and looks ahead.
This episode really tried to get a lot in and was much better balanced than the previous installment. It gave a decant amount of substance & texture to the characters, while also managing to suck viewers into it's darker murderous and pyschosexual tale.

All three of the main leads continue to surprise. Luke Evan pleases greatly as he continues to convey Moore's tremendious sense of romanticism, which ironically doesn't stop him from speaking his mind or wanting some honestly, despite his disgust with the whole notion of what's behind these murders. His concern for Howard is charming and shows how a persons' regard for another can over ride other feared concerns. Dakota Fanning has been steady with Howard by walking a fine line of portraying a women whose unconventional, verses trying to convince others she is, when perhaps she still has some modesty and innocence one might associate with the average women of similar standing to Howard at this time. Daniel Bruhl continues to give an intentionally murky, but outstanding performance as man so well-versed in philosophical and psychiatric prose who seems, in front of a certain audience, to delight himself in flaws and improprieties of others unscrupulous habits, but yet still finds himself torn apart by both talk of God and with actual confessions of a murderer's delight.