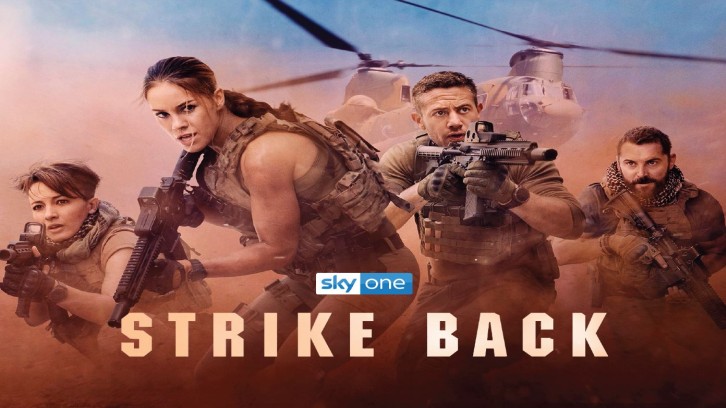 Strike Back has returned, fully rebooted with a new cast, after a two-year absence. But it feels like its missing something, and something that comes in mind its the spirit of its predecessors.

This time, there are four main characters. While one would assume that these should be rich with complicated pasts and rough personalities, they fall short when it comes to comparing them with Stonebridge (Philip Winchester) and Scott (Sullivan Stapleton).

The new season starts with British Sergeant Thomas McAllister (Warren Brown), who ends up getting his entire squad killed when they try to extract a radical terrorist, Omar Idrisi (Don Hany). Idrisi's men pose as allied Libyan soldiers until they ambush McAllister and his men. This opening scene is reminiscent as far as intensity and suspense goes with Denis Villeneuve's Sicario, with a haunting score playing as McAllister starts to sense the possibility of an ambush. After a massacre unfolds, everyone but McAllister are killed as Idrisi decides to spare his life after running out of bullets. McAllister returns to base with the bodies of his men and unleashes his anger at one of his superior officers, risking court martial.

Awaiting for the proceedings, McAllister is visited by a Colonel Donovan (Nina Sosanya), who invites him to join to "Section Initiative", a literal reboot of the disbanded Section 20. Promised vengeance by Donovan, McAllister agrees to join without batting an eye. Straight to business, he is tasked on his first mission to rescue and rendezvous with Samuel Wyatt (Daniel MacPherson), an American soldier who is posing as an informant. Wyatt is being tortured by a Lybian army General (Selva Rasalingam) as McAllister sneaks into the military outpost posing as a Lybian soldier (irony?). Creating a distraction, McAllister rescues Wyatt and both escape in a stolen vehicle. Soon after, they run out of gas in the middle of nowhere. The pair bicker and complain at each other until they are picked up by a British operative named Gracie Novin (Alin Sumarwata), who happens to know the lay and language of the land. The trio manage to get back to base safely.

Meanwhile, Idrisi reunites with his small army and his wife, Jane Lowry, played wonderfully by Katherine Kelly. Back with our heroes, Wyatt meets with his superior, Major General Davis (Corey Johnson), who uses him as a pawn in exchange for something Wyatt did in the past. Davis tells Wyatt that he has to continue to work with the Brits if he ever expects to return home. With no other option, Wyatt complies. After a steamy encounter with a stranger (because the show wouldn't be itself without it), Wyatt meets with his colleagues. Donovan assigns them to meet with Captain Reynolds (Roxanne McKee) at a night-club, where she would try to get close to Prince Khalid (Zaqi Ismail), who is apparently funding Idrisi's army. The meet goes awry when Idrisi's men crash the club and open fire on everybody inside, kidnapping Khalid.

Now all reunited, McAllister, Wyatt, Novin and Reynolds track down Khalid's whereabouts and attack one of Idrisi's compounds. After being tortured by Jane, Khalid transfers funds to Idrisi's account. The team crashes the compound soon after. Idrisi and Jane escape (of course), while the team engages their men in a close-quarters firefight. McAllister rescues the rest of the team from being pinned down and they succeed in retrieving Khalid. Meanwhile, Idrisi and Jane make contact with a shady guns supplier, who seems to have a massive arsenal in stock.

Even though Strike Back has been rebooted, while it should feel like a rejuvenation, it feels like the show has run out of fumes. I like to compare it as if a young person had taken over his/her father's young business and try to change it, but failed because of over-confidence and cockiness. The new cast seems to be forced and lacks chemistry. The two male leads seems like dull stereotypes and recycled copies of Scott and Stonebridge. Both can't stop bickering at each other, and while Scott and Stonebridge had a friendly and competitive banter, McAllister and Wyatt sound like a couple of crybabies while they try hard to assert bravado.

Another flaw of this episode is continuity issues and convenient writing that result in choppy editing and low-quality storytelling. I understand that writing has to be simplified to have all these characters introduced, but it could've been done in more creative ways. While the concept itself seems fresh, modern and attractive, the story seems forced and stale. Stakes don't seem to be high enough and there's poor coordination between the team while the enemies seem to be even less capable and threatening.

While this reboot seems to have some sort of familiarity to the past seasons, I can't help but to be concerned. The first few seasons of the show did not focus much on the action but instead on character development. As the series progressed, stakes became higher and it turned into a pattern, which could seem repetitive and tedious at times. I hope the writers go back to the origins of the show and try to take a few step backs before giving the mantle to four protagonists who have yet to prove themselves to pick the legacy that Scott and Stonebridge left. Whether the show gets better or not, remains to be seen, but I have high hopes because it usually gives some pleasant surprises.

Cons:

-While chased by the Libyan army, Wyatt tells McAllister not to kill anybody. Yet a few seconds later he jumps into one of the chasing vehicles and causes a grenade to go off, which could've potentially killed everyone on board.
-Captain Reynolds is sexualized, while Corporal Novin takes the trope of the "looney" woman, who everybody is afraid of and no one understands.
-As mentioned before, Wyatt and McAllister bicker like a couple of crybabies, which you wouldn't expect from two men who have been trained to withstand any grueling conditions.
-Predictive storytelling.
-Confusing editing, for which, in a TV series that should clearly show effective tactical situations and firefights.
-Cliche plot elements.

Pros:

-Likable villains. Both Idrisi and Jane are charismatic. I almost rooted for them.
-Night-club scene. McAllister and Wyatt get to be more dynamic with each other while they are undercover.
-Novin mocking Wyatt after he walks out of the shower naked. She tells him "Cold shower huh?". This bit is funny and ironic because it implies that Wyatt will have a hard time putting Scott's big boy pants. Novin continues by giving Wyatt a small towel, saying "That's more your size".