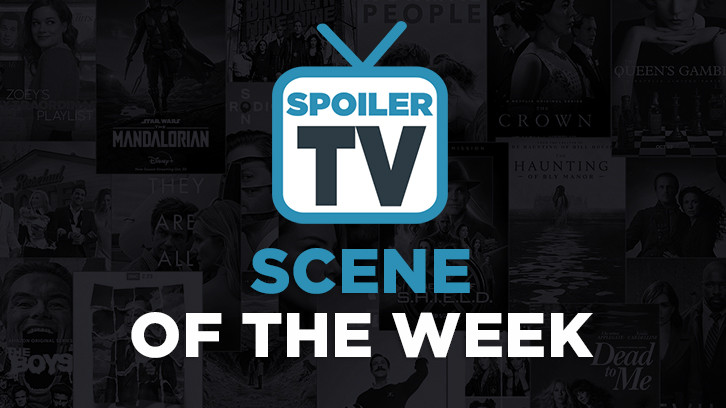 A weekly feature in which we're trying to find the most compelling, best acted, written, directed and just generally great, memorable scenes that we've seen in past seven days on TV.

ANDI MACK, "Cyrus' Bash-Mitzvah!", February 23, 2018, Actors: Peyton Elizabeth Lee, Joshua Rush, Sofia Wylie, The Scene: Cyrus tells Andi he likes Jonah too (also picked by Laura)

BASKETS, "Sweat Equity", February 20, 2018, Actors: Zach Galifianakis and more
The Scene: Chip stands up for his mom
Claire: Chip standing up for his mom, at church, to her 'friends'; who are saying mean things about her. Chip has grown a heart!

CHANNEL ZERO: BUTCHER'S BLOCK, "All You Ghost Mice", February 21, 2018, Actors: Andreas Apergis and more, The Scene: Robert Peach dances down the hospital hallway
Claire: After a vicious showing of cannibalism last week, the dapper, well-dressed Robert Peach dazzles us with a lovely dance through the almost empty hospital halls. He is very good, spinning and swaying to Mozart. Again, the genius of this show is making the monsters so pretty! Andreas Apergis as Robert Peach. This show is superb. I wish I could nominate every scene!

COUNTERPART, "Shaking the Tree", February 18, 2018, Actors: J.K. Simmons and more, The Scene: The ending revelation
Milo: The ending revelation that Emily Alpha had been cheating on Howard Alpha left an impact. After the build-up to believe that Emily Prime had cheated on Howard Prime, this was an interesting twist that Howard Prime found out after initially expecting Andrei to be an operative. This will no doubt effect Howard Alpha when he finds out, and it creates plenty of interesting story possibilities given how little we know about both characters.

EVERYTHING SUCKS!, "My Friends Have Been Eaten by Spiders", February 16, 2018, Actors: Peyton Kennedy, Jahi Di'Allo Winston, The Scene: Kate tells Luke he's not the only one having a hard time
Jamie: This was one of the more serious moments of the show. Both kids were pretty great in this scene. This scene made me emotional. And it was about time Luke got the reality check he needed.

HERE AND NOW, "It's Coming", February 18, 2018, Actors: Holly Hunter, Tim Robbins and more
The Scene: The parallel police searches
Luana: It was a great, not overly dramatic, way to show how different these situations can be.

LEGENDS OF TOMORROW, "Here I Go Again", February 19, 2018, Actors: Tala Ashe, Caity Lotz, Brandon Routh, Dominic Purcell and more, The Scenes: Fun Montage & Zari explains the time loop to Sara who offers help & Zari and Ray hear Sara talking to Ava
Justyna: It was such a great episode. I watched it twice already and there's a number of scenes I'd love to highlight. But I did decide to go with the montage where, for a little while, Zari stops trying to save everyone and just uses the opportunity to spend time with her friends. There's a real bond that she's developing with the Legends and these light-hearted moments are exactly what's needed in between all the confusion and fear. There's so many little things in this montage, from the costumes, through the book reading and the hilarious cue cards at the end, everything just works perfectly together. Until "nothing is fun anymore". Tala Ashe did such a wonderful job in the episode, both in the dramatic moments and the funny ones. Now I'd love to see more focus on Zari. Glad to see her fully embracing the team. Sometimes on the shows I find it surprising when after just one adventure people can suddenly grow very close together, so it made sense to me that Zari needed this simulation to find her place with the Legends. Kudos to cast & crew for the great work on the episode!
Jamie: Zari holding cue cards behind Ray & Mick. There were a lot of hilarious moments in this episode and this entire montage was great. But the scene with the cue cards was absolutely hilarious. And her facial expression during this scene just makes it perfect.
Jennise: Zari holds up descriptive cards as Rory and Ray argue over laundry. Nate talks Zari into doing a "fun montage" as a way to manage the stress of the time loop. She takes his advice. The montage ends when she holds up post cards quoting Mick and Ray as they bicker in the laundry room. Right down to Mick's grunt.
Samantha: After Zari tries to kill herself, she explains the time loop to Sara who offers help. This was an episode full of a lot of funny moments, but this scene really stuck out for me. Reliving the same time over & over again is a trope TV shows use often and it can have really amusing results, but here we saw the dark side of it as Zari struggled with the fact no matter what she did to try & change their destiny, the Waverider still blew up at the end of the hour & they still all died. She was at such a loss and basically being driven insane by being the only one caught in the time loop, and that gave us a glimpse of a different side to Zari. When she failed, she explained the situation to Sara, who believed her this time and quickly put a plan into action. Considering how the two began the episode, it was a really nice moment as Zari was almost in disbelief that this time she'd managed to get through to Sara.
Diana: The scene in which Zari and Ray hear Sara talking about Zari and how she is a valuable member of the team. Very sweet of Sara.

NASHVILLE, "Sometimes You Just Can't Win", February 22, 2018, Actors: Jonathan Jackson, Charles Esten, The Scene: Avery tells Deacon he's done with Juliette
Sam: I thought this scene was an important one in terms of Juliette and Avery's relationship. Juliette has put Avery through so much since they got together, Avery even lists all of the things that Juliette has done, and this cult thing now looks like the straw that breaks the camel's back.

SEVEN SECONDS, "That What Follows", February 23, 2018, Actors: Nadia Alexander, David Lyons and more, The Scene: Nadine recognizes Diangelo at the police station
Luana: The tension in this scene was off the charts, while KJ recognizes Diangelo's car, Nadine realizes he's a cop. And Fish recognizing the fear on her face and putting two and two together was everything, from this point on, I could not take my eyes off the screen until the season was over. And, at the same time, Latrice sees Jablonski on the street, there's only so much my heart can take.

STAR WARS REBELS, "Jedi Night", February 19, 2018, Voiced by: Freddie Prinze, Jr. and more, The Scene: Kanan's sacrifice
Milo: This was a big moment for Rebels this week as it took one of its most important characters off the board, giving him a triumphant send-off that marked an excellent end to the episode. The build-up to his death was superb, and he went out on a high, essentially cancelling the production of the TIE Defender.

THE ALIENIST, "Hildebrandt's Starling", February 19, 2018, Actors: Luke Evans, Dakota Fanning and more, The Scenes: Moore and Sara tease each other about an engagement & The killer is almost caught
Claire: Moore and Sara have a light-hearted, tender moment teasing each other about an engagement, in the future. I definitely want these two to get together and it was nice to see Sara let down her guard a little. And when Moore gives up drinking, you know he's serious. Dakota Fanning and Luke Evans as Sara and Moore. Terrific show!
Luana: The killer is almost caught.