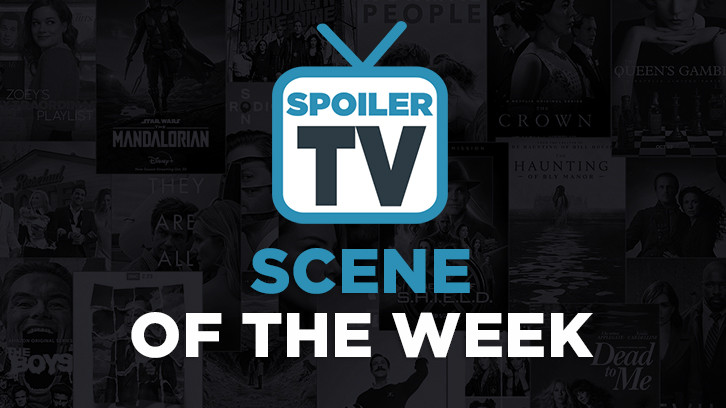 A weekly feature in which we're trying to find the most compelling, best acted, written, directed and just generally great, memorable scenes that we've seen in past seven days on TV.

ARROW, "The Devil's Greatest Trick", February 8, 2018, Actors: Michael Emerson, Kirk Acevedo, Katie Cassidy, Paul Blackthorne and more, The Scenes: Cayden finds out his son is dead & Quentin talks to Black Siren & Richard Diaz kills Cayden James
Justyna: This was such a brief and emotional scene in this action-packed, high stakes episode. While the reveal at the end is the most important part in terms of the story, it's the flashbacks and the memories of Cayden James that got me the most. Though his pain and loss could never justify death and destruction that he has caused, I found myself moved by the events surrounding his son's death. I think it might not have been the case if this character was played by any other actor, because there's a certain emotional depth that Michael Emerson brought out in Cayden, especially in this hour. I feel like, for most part, he wasn't given too much to work with but in this one episode, his villain was at the center of the attention and he ended up revealed as a broken man full of regrets. I wanted to highlight the moment when Cayden learns of his son's death mostly because of Michael Emerson's performance there. The shock, heartbreak and quiet despair are written all over his face and with the sound of his voice breaking, he actually made me feel for James, the same person who almost destroyed an entire city in his grief. I'm interested to see where the show will lead us next but I will definitely miss seeing this excellent actor on my screen. Kudos to cast & crew for great work on the episode.
Sam: Richard Dragon kills Cayden James. This scene was a game-changer for the season. I knew Dragon was going to be a bad guy for this season, but I didn't know he was going to rise up to the main big bad like this. I really expected Cayden to last longer. Although I will miss Michael Emerson on the show, this was an exciting twist and I look forward to see what Dragon's going to do next.
Marko: Quentin talks to Black Siren. The chemistry between Paul and Katie is always so engaging and their scenes together have such an emotional charge that just elevates not only their scenes but the episode itself.

BASKETS, "Crash", February 6, 2018, Actors: Louie Anderson, Ernest Adams
The Scene: Christine starts to break down while trying to help Eddie
Claire: Christine starting to break down while trying to help alcoholic, cowboy Eddie. She was trying to save him like she did for her alcoholic father, as a child. Louie Anderson is amazing!

BEYOND, "Six Feet Deep", February 8, 2018, Actors: Eden Brolin, Alex Diakun, The Scene: Charlie can't bring herself to kill Arthur
Samantha: This scene started off quite humorous with her secretly following him around the house, trying to build up the courage to kill him. But when the moment came, despite how much Charlie evidently hates & wants him dead, she couldn't pull the trigger. Beyond is far from the best show in the world & some of the acting leaves a lot to be desired but Eden Brolin is superb. She effortlessly balances the humor and more serious elements of the storylines presented to her, and this helps make Charlie a likeable character with so many different and complicated layers.

BLACK LIGHTNING, "Black Jesus", February 6, 2018, Actors: Nafessa Williams, Damon Gupton, Marvin "Krondon" Jones III and more, The Scenes: The dinner debate & Jill and Tobias have a discussion during an embalming
Naomi: At a family dinner, Anissa and Inspector Henderson debate about the role Black Lightning plays in protecting the community. This scene was so perfect for the dramatic irony. As Anissa passionately argued that the community needed Black Lightning's brand of justice, her father looked on with a knowing smile. On the flip side, Anissa was on the brink of exacting her own superhero style justice, and no one had a clue. Also picked by Laura
Jennise: Jill Scott and The Albino have a discussion during an embalming. It was creepy enough that these two were having a discussion, over a body as she's (I can only imagine) embalming it, about Whale losing respect/control over his territory. At least I think that's what they were talking about. Just after Whale left, the camera pans down so we can witness the "body" opening her eyes.

CRAZY EX-GIRLFRIEND, "Trent?!", February 9, 2018, Actors: Gabrielle Ruiz, Vincent Rodriguez III
The Scene: Valencia and Josh do "The Royal" together
Laura: Valencia and Josh do "The Royal" together, reconciling their shaky ending and making the party an awesome one. Valencia has finally had great character work this season and this was another showcase of it.

GREY'S ANATOMY, "Harder, Better, Faster, Stronger", February 8, 2018, Actors: Kelly McCreary, James Pickens Jr., Ellen Pompeo, Camilla Luddington, The Scenes: Maggie and Richard talk about the first anniversary of Maggie's mother's death & Meredith tells Jo that she'll be her partner for the competition
Patrycja: Maggie and Richard talk about the upcoming first anniversary of Maggie's mother's death and Richard shares what happened on important first anniversaries in his life.
Max: Meredith tells Jo that she'll be her partner for the surgical competition and assures her that she's now free from Paul. Jo tells Meredith to use Brooke as her middle name on the proposal for the competition.

JANE THE VIRGIN, "Chapter Seventy-Four", February 9, 2018, Actors: Yael Grobglas, Gina Rodriguez, Ivonne Coll and more, The Scenes: Petra has a sex dream about the other Jane & Jane takes her abuela to a sex shop
Jamie: Petra has a sex dream about the other Jane. Petra is bi, this made my week! I was already starting to ship this, unsure if it was queerbaiting or not. And honestly, the narrator's line about sexual awakening made it even better.
Luana: Jane takes her abuela to a sex shop.

LAW & ORDER: SPECIAL VICTIMS UNIT, "The Undiscovered Country", February 7, 2018, Actors: Raúl Esparza, Mariska Hargitay, The Scene: Barba and Benson say goodbye
Katherine: Barba and Benson looking across the street at the courthouse, where Barba tells her how much Benson has changed his life. This is the character's last scene in the series, and to call it memorable would be an understatement. His last scene with Benson was the best thing I've seen in a long time; the way he spoke about how his life was once black and white but she slowly introduced colors into it had me in tears. Give this man an Emmy.
Shirleena: When Barba was saying goodbye to Benson and explaining to her why he had to leave the DA office.

LETHAL WEAPON, "An Inconvenient Rush", February 6, 2018, Actors: Damon Wayans, Keesha Sharp, The Scene: Roger and Trish fight
Jennise: Roger spent the whole episode trying to make himself feel young. As expected he wound up in the hospital. Trish is so angry she leaves him at the hospital. When he returns home he refuses to apologize. Trish blew a gasket. She made it clear that after 20 years it's not about him being the cop, it's the fear of having to get another phone call like she got before his heart surgery. It was a little surprising for them to have real fight and even more exciting for it not to be settled before the episode ended.

NASHVILLE, "Beneath Still Waters", February 8, 2018, Actors: Maisy Stella, Kaitlin Doubleday, The Scene: Jessie and Daphne talk
Beth: Jessie has navigated this very emotional situation with such grace. Instead of avoiding Daphne and letting Deacon fail at trying to figure out what is going on yet again, Jessie took the reins and told her that, no matter what, she is not trying to replace Rayna and never could replace her. I have liked Jessie from the beginning and this just made me like her even more.

RIVERDALE, "Chapter Twenty-Six: The Tell-Tale Heart", February 7, 2018, Actors: KJ Apa, Marisol Nichols, The Scene: Hermione welcomes Archie to the Lodge family
Diana: At the end of the episode, Archie finds out the whole FBI's plan has been plotting by Veronica's mother, who gives him a "hot" welcome to the Lodge family. Feels like the Godfather at some point.

SCHITT'S CREEK, "RIP Moira Rose", February 6, 2018, Actors: Annie Murphy, Dan Levy, Natalie Brown, The Scenes: Alexis persuades Heather to let David sell her products & David and Alexis talk in the car
Samantha: It's been obvious for quite a while that Alexis is still in love with Ted, and I am willing for them to finally come back together because they are really sweet but this scene was amazing. I was expecting it to be full of awkwardness and watch with my head in my hands, but Alexis instead used Heather's appreciation to her advantage and secured the deal for David. It was a great moment for her, and shows how far she has come as a character since the show began. It was also a really good sibling moment as David could obviously tell Alexis was uncomfortable but couldn't really do anything about it, and that turned into appreciation for his sister at securing the deal.
Laura: David and Alexis talk in the car, where David finally asks Alexis to straight up admit that she's in love with Ted, which she does. Annie Murphy was so great here; this episode was some of her best work yet.

STAR TREK: DISCOVERY, "The War Without, The War Within", February 3, 2018, Actors: Shazad Latif, Mary Wiseman and more, The Scene: The Crew (mostly) forgives Ash
Milo: This was very classic Star Trek in the crew's forgiving of Ash this week as they accepted that it was Voq who was responsible for Hugh's death and Ash had nothing to do with the crime. Seeing their initial hostile approach turn into a welcoming and friendly one was executed well, especially with Tilly being the first one to approach him back. And at the same time, I liked how the people most affected by Voq's move didn't immediately forgive Ash either, with Stamets and Michael not being as willing for their own personal reasons.

SUPERGIRL, "Both Sides Now", February 5, 2018, Actors: David Harewood, Chris Wood, Katie McGrath, Odette Annable, The Scenes: Mon-El opens up to J'onn & Sam blacks out in front of Lena
Beth: J'onn and Mon El talk over alien moonshine. I feel that this was important to get insight into what is going on in Mon El's head since his return. J'onn always has a knack for seeing when someone needs his council and this time was no different. Also picked by Luana
Jamie: Sam blacks out in front of Lena. This scene was very well acted by both actresses. You could tell by Sam's facial expressions exactly when she woke up.

SUPERNATURAL, "Devil's Bargain", February 8, 2018, Actors: David Haydn-Jones, Jeffrey Vincent Parise, Richard Speight Jr., The Scene: The reveal about Gabriel
Klutzy girl: The reveal that Gabriel is alive (but being tortured). I definitely did not see this coming, and while I'm worried for him, I'm so excited to see what happens next.

THE ALIENIST, "Silver Smile", February 5, 2018, Actors: Dakota Fanning, Luke Evans and more, The Scene: Aquarium rooftop scene
Laura B: I thought this episode was a much better episode than last week's--much more on par with the Pilot. I chose this scene because of both the intensity of the limited time Kreizler's team has, and the interesting reaction we get specifically from Sarah Howard, as her character continues to hover the line between the typical and the unconventional. Her dynamics here with Moore being concerned and following her, and her confidence in him, but then she suddenly recognizes a pattern with the murders and goes running back to Kriezler, where he is affectiously in agreement with her theory was just really nice writing by using an atmosphericly morbid situation as a means to infuse a love triangle. Perfectly Gothic.

THE GOOD DOCTOR, "She", February 5, 2018, Actors: Freddie Highmore and more
The Scene: Shaun understands in the pool
Marko: Once again Shaun's trip during this episode was a great call out to the society that doesn't understand. And with the social limitations Shaun has he is still open minded enough to challenge himself and try to understand.

THE LIBRARIANS, "And the Echoes of Memory", February 7, 2018, Actors: Rebecca Romijn, Noah Wyle
The Scene: Eve and Flynn tether to the Library
Klutzy girl: Eve and Flynn tether to the Library and essentially get married. While I'm not exactly happy about the whole season being erased via time travel, I'm still glad everything was fixed - including this. It was a great, emotional moment.

THIS IS US, "Super Bowl Sunday" & "The Car", February 4 & 6, 2018, Actors: Milo Ventimiglia, Mandy Moore, Justin Hartley and more, The Scenes: The Doctor tells Rebecca that Jack died & Rebecca and Dr. Katowski's talk & Rebecca tells Miguel that Jack is dead & Randall gives the "hamster eulogy" & Kevin talks to Jack at his tree & Kevin calls Rebecca & Jack saves everyone from the fire & Jack saves the dog & The Pearson family scatters Jack's ashes at the tree
Samantha: I don't think this show is going to be satisfied until we're all out of tears to shed. From my days watching teen movies I've known Mandy Moore was a great actress, but This Is Us has taken that to another level. From casually greeting the Doctor, to eating her chocolate bar, denial as the Doctor delivered the news that Jack had died, going off to his room to see him & then ever so gradually falling to the floor as reality set in. It was absolutely phenomenal acting.
Marko: I always liked Mandy Moore, she has that sweet, endearing energy that makes U smile while watching her on screen. Ever since she joined TIU I'm massively surprised by her acting skills and her reaction to the news that her husband is dead was purely heartbreaking. She took us on an emotional road trip in such a small time period. I gasped with her.
Marine: Rebecca finds out Jack just died. The entire sequence was brilliantly directed and written, from the moment you see Rebecca is on the phone but bad stuff is going down in the background, to the moment she enters Jack's hospital room and we see the reflection of his body in the door window. Mandy Moore is amazing throughout this whole scene as the focus is mainly on her character rather than on Jack.
Saloni: Rebecca and Dr. Katowski's talk. I loved that he showed up for Jack's funeral and was there for Rebecca in her time of need. His speech was definitely something else, talking about Jack's fears and how he kept coming to him for help and then assuring Rebecca she's strong. He was a sight for sore (and tear-filled) eyes.
Diana: Mandy Moore is an incredible actress. Last week, she provided by giving one of her best performance, and this time she kept doing an amazing job. Her pain feels real, I couldn't stop crying while watching her during Jack's funeral.
Gina: Rebecca tells Miguel that Jack is dead and if he can't handle that to take a walk around the block cause she needs to be strong for the kids.
Claire: Randall giving the "hamster eulogy." He loves Super Bowl Sunday, like Jack did, and it makes him feel connected to his dad. But talking about loss was just too much for upbeat, Super bowl crazy, apron wearing, dancing Randall.
Beth: Kevin talks to Jack at his tree. Kevin in my opinion, had the most guilt from how he left things with his dad. Seeing him finally speak to Jack directly as an adult and acknowledge to his father the battle he is fighting was extremely powerful to me.
Klutzy girl: While talking to Rebecca at Jack's tree, Kevin asks her if he can be really honest. When she tells him yes, he informs her he's not sure he's even at the right tree. This moment provided some levity during an emotional episode and Rebecca telling her son that Jack sent her him this year killed me. It was so sweet, funny and heartwarming.
Luana: Jack saves everyone from the fire.
Jamie: Jack saves the dog. Since I thought this would be when he died, I was extremely nervous during this scene. Loved how it was executed.
Sean: The Pearson family scatters Jack's ashes at the tree. Rebecca tells Kevin and Randall they should just be teenagers and not worry about filling the void left by Jack, then assures Kate that Jack's death wasn't her fault. Rebecca was really strong for her children in this moment.