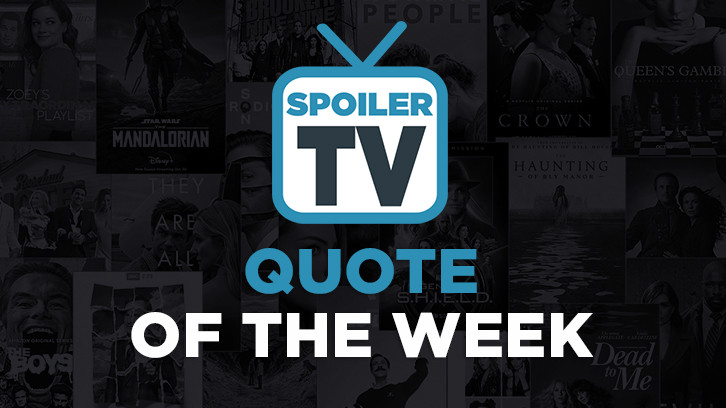 A weekly feature highlighting the best quotes on TV as picked by the Spoiler TV team. Since there hasn't been a lot of TV in the last few weeks, here's our favorite quotes for the month so far. We'd love to hear your picks too so please sound off in the comments below.




Baskets
:
1. Chip: "Don't ever talk about my mom like that, behind her back!" It was heroic of Chip standing up for Mama Baskets to her mean friends, in church. He has gained so much heart this season!" (Claire)
Channel Zero
:
1. Joseph Peach: "Eat something. You'll feel better!" ~~~An innocuous saying, but since he has 'cured' her schizophrenia, she has developed authophagia: self cannibalism! (Claire)
2. Joseph Peach: "Come, we're waiting for you. Sit down. Welcome, we hope you're not vegans!" ~~~welcoming Alice Woods and Louise Lispector to the family dinner, consisting of a buffet of various meats. But WHAT is in that meat? (Claire)
3. Edie Peach: "We're just a real special family!" ~~~Edie Peach trying to convince Zoe Woods to come over to their side; consisting of the dead and cannibalism. But Edie is so sweet and kind, always smiling. Special is a good word to describe the Peach's. This show is superb with evil disguising itself behind beauty. (Claire)
4. Louise: "I like silent companions!" ~~~Nathan asking Louise about her taxidermy hobby. She is always shown being so respectful to her little critters. Louise is real and honest. I love her response. (Claire)
Counterpart
:
1. Howard Alpha to Anna Prime: "I'm sorry. I know I made mistakes in the past and I'm so sorry. I regret so much and I know I can't just suddenly fix everything. For a few minutes, can you just pretend you don't know me? And I'm not your negligent father, the guy who left and hurt you and ruined everything. Can we start over? Just tell me everything about you and I'll just listen. I won't say a word. Please. Tell me what I've missed." (Milo)
Here and Now
:
1. Audrey about her husband, Greg: "I look at him and love him so much, it literally hurts; so much that I think it might injure me. And in the same moment, I want to slap him in the face, repeatedly, with big, wet fish." ~~~Being married for 25 years, totally get it! (Claire)
Legends of Tomorrow
:
1. Leo: "Gay, not blind." (Jamie and Prpleight) ~~~I think it was the physicality that accompanied that line that made it extra awesome. (Prpleight)
2. Mick: "Quiet! Haircut take the new girl find Blondie, Fake Smart and Trench-coat! Amaya, the Med-Bay! Pretty, the library! Water B*** stays in the Freezer!" Haircut: "You know, Mick, you're really showing some management potential." (Prpleight)
3. Zari: "Kill me now." ~~~In the midst of a time loop where the ship continuously blows up and kills everyone onboard, Zari gets the timing of it just right when she overhears Nate and Amaya having private time. Disgusted and ready to leave this mortal coil, the ship complies with her request to kill her. I could not relate to Zari more than I did in this moment, and it was a really funny one to include.
Star Trek Discovery
:
1. Burnham: "The only way to defeat fear is to tell it 'No'. No, we will not take shortcuts on the path to righteousness. No, we will not break the rules that protect us from our basest instincts. No, we will not allow desperation to destroy moral authority." (Laura)
2. Emperor Georgiou: "What's wrong? Are you scared, Number One? Where I'm from, there's a saying,'Scared Kelpian makes for tough Kelpian.' Have you gotten tough since we served together on the Shenzhou, Mr. Saru?" Saru: "Affirmative, Captain. Very tough. So much so that many find me simply unpalatable." (Laura)
3. Georgiou: "You talked them out of it, didn't you?" Burnham: "Of planetary slaughter? Yes." Georgiou: "Oh, don't be so dramatic. When I did this in my universe, it didn't wipe out the Klingons. A decent number should be able to save themselves. Plus, they'll have an advantage. No Terran ships firing on them as they try to escape." Burnham: "Turn it off." Georgiou: "Has it ever occurred to you that I was doing this for you? By ending the war, and setting you free from the guilt and pain you carry because of it." Burnham: "Not buying it." Georgiou: "Worth a try." Burnham: "You really are nothing like my Georgiou, are you?" Georgiou: "No. And I never have been. She's dead, Michael. There are no second chances." Burnham: "No, I suppose not." Georgiou: "I do like you. Why not join me? The bomb is in position." (Laura)
Star Wars Rebels
:
1. Kanan: "That was one your better crashes." Hera: "Kanan Jarrus, you know I never crash. I have…" Kanan: "Very exciting landings." (Milo)