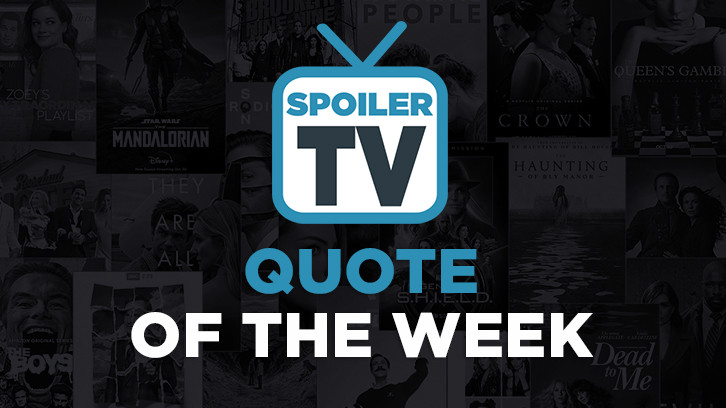 A weekly feature highlighting the best quotes on TV as picked by the Spoiler TV team. We'd love to hear your picks too so please sound off in the comments below.


The Alienist -
1. Moore: "The water was innocent, Caroline. It wasn't rough seas so much as an unsteady sailor."
2. Sara: "They don't have the appetite to approach matters from this new perspective of yours: the why rather than the what." Kreizler: "Every new thinker is condemned at first by those for whom change is more terrifying than the murder of children."
3. Moore: "I'm sorry you had to see such a thing." Sara: "I've seen death before, but never like that."
4. Lucious: "The rich will always choose dead children over social scandal."
5. Moore: "How about those secret panels you use to rob clients?" Sally: "You clients rob yourself when you walk in the door." (Laura B)
Counterpart -
1. Baldwin [to Howard]: "You think you're better than him, but someday you'll find out what I mean. You cannot escape who you are." (Milo M-J)
Dynasty -
1. Colhain [to Fallon]: "I love you." (Joel Leaver)
The Flash -
1. Iris: "You're home."
Barry: "You're my home." (Naomi Anna)
Fresh Off the Boat -
1. Bryson: "I had no choice but to detain him for having unpermitted doves." Louis: "Doves? But walking in a mesh tank top with fireworks is okay." Bryson: "It's Florida. That image was almost our state flag."
2. Emery: "Happy Year of the Tiger, dad." Louis: "Yeah, yeah, lots of luck and profits. What the heck is this? You know how much I love school dances. Why didn't you tell me?" Emery: "I'm sorry. I totally meant to tell you but I forgot." Louis: "So this wasn't a deliberate attempt to rob me of joy?"
3. Louis: "Emery, we need to have a serious talk...which is impossible while you're wearing a mesh tank top." (Dahne)
Grey's Anatomy -
1. Richard Webber: "Good God, I created a monster." (Patrycja)
How to Get Away with Murder -
1. Annalise: "I didn't ruin you. You were that way when we met, probably your whole life. And if there's anything that you've taught me, it's that I can't make anyone who they don't want to be. So you go ahead. You choose your drugs. You do whatever, but this is the last time I'm gonna help you."
2. Nate: "You don't know me at all. I am no liar so hear me out. We lost your case, but you're not losing me. Cause no matter how hard you try to scare me away, I'm gonna keep coming back here, visiting you." Senior: "So you don't hate me?" Nate: "We're good now."
3. Bonnie: "You think I'm a threat. Well you should, but if you want me dead, gone, cut the brakes on my car, set my house on fire - this and every other conversation we've had since I started working here will get leaked to the press." Denver: "You're bluffing." Bonnie: "You'd be taking a big risk to test that theory so here's what's gonna happen. Drop your investigation into Isaac Roa - no arrest, no charge. Jorges Costello got what he wanted, custody of that child, so end the witch hunt or lose your election from jail." (Dahne)
Jane the Virgin -
1. Narrator: "Wow, that's one kind of sexual awakening." (Jamie Coudeville)
Law and Order SVU -
1. Olivia [to the man who will be prosecuting ADA Barba for second-degree murder]: "I sure hope you suck." (Katherine Meusey)
2.
McCoy: "A man shouldn't do what he can, he should do what he must." (Shirleena)
Riverdale -
1. Jughead: "Hey can I talk to you about last night?" Betty: "Why? What about it?" Jughead: "Nothing. I just thought we had this really nice night and then you hung up on me so I kind of got nervous and maybe you felt we were moving too fast or I don't know, maybe it wasn't enjoyable?" Betty: "Oh my God! No, no, not at all. Last night was amazing." (Aja Hoggatt)
This is Us -
1. Beth: "Mr Giggle is in the kitchen."
Randall: "Ohh great."
Beth: "He ain't giggling anymore."
Randall: "Oh snap." (Marko Pekic and Claire Serowinski)