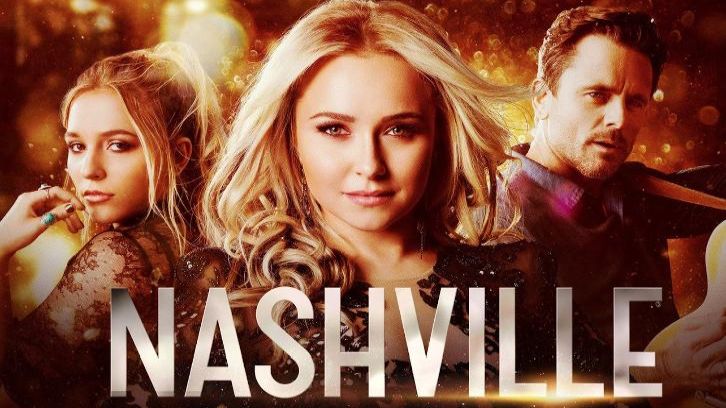 "Sometimes You Just Can't Win" is Nashville's final midseason finale. Just writing that sounds weird. When this show premiered, I was in my junior year of high school, and as it's ending I'm an employed adult.* It really does feel like we're on the precipice of the end of an era. From my weekly readers, you know I've had a love-hate relationship with the series, calling it out on all the bullshit it has put viewers through and praising some of the actors' performances. As for how this episode measures up, it's pretty standard of what we've come to expect from the series at this point. I wish I could tell you it lives up to the glory of its former seasons, but it's just another average episode. That's not to say it's all bad. There are two cliffhangers and another great storyline involving Avery. We also have to deal with pointless Scarlett stuff, but what else is new? So without further ado, let's dive in.


In the midseason finale, Daphne seeks to establish her career and auditions for a country music competition. The only caveat being it's Brad's country music competition, and not exactly how Deacon wants his daughter to launch her music career. As this season has repeatedly shown us, Brad is a huge asshole and shouldn't be trusted with anything, let alone the music career of an impressionable 14-year-old girl. From his treatment of Jake to him trying to poach Alannah, the guy looks out what's best for himself, and while the idea of Daphne as a solo artist is certainly intriguing – she is Rayna James' daughter after all – how long will he stick around if things get rough or if Daphne wants to go in a different direction. All he cares about is the bottom line, and not the best interest of his artist. And while Deacon said he had big things planned for Daphne's career in "Can't Help but Wonder Where I'm Bound," Daphne's not exactly keen on waiting for that ambiguous time in the future. While it makes sense the show would want to feature Daphne exploring music as a solo artist – with this being its final season and all – she's still only 14. In season 4 when Maddie made a big push to pursue a solo career, she got a lot of blowback from her parents, causing her to go as far as get emancipated. And as much of an obnoxious brat she was at the time, she was 16. So if that's how Rayna and Deacon reacted when their 16-year-old daughter wanted to do things her way and on her own terms, I'm pretty sure Deacon's not going to be thrilled with Daphne's approach, especially since she's two years younger than Maddie was.
As if things weren't tense enough between Deacon, Jessie, and Brad, they become even more heated after Brad makes a unilateral decision to send Jake to boarding school. Brad has primary custody of Jake, so he essentially can send his son away without getting Jessie's consent. As viewers have seen in the promo, Brad essentially knocks down Jake's door and grabs his son by the arms, and that's only the beginning. This guy has been a huge thorn in everyone side, and we've seen how he's verbally abusive toward Jake. So if and when he crosses that line, things could get very ugly. As shown in the promo, Brad's decision to send Jake away could have been impacted by Deacon and Jessie's relationship. While we don't know a ton about Jessie and Brad's marriage, he seems to get off on torturing her. We know it was a messy divorce and Brad nearly turned everyone in Jessie's life against her. So after dealing with an abusive prick like that for so long and being miserable, Jessie has finally found happiness. She's taking online classes and pursuing a career in psychology. She's dating a great man who really cares for her and treats her son with respect. The world is coming up Jessie, so what better way to make her suffer than to send the person she loves most in the world away. We've seen Brad do some truly asinine things, but this may just take the cake. He claims to love his son, but his actions would speak otherwise. While I can't say much more, I will leave you with this. The situation didn't play out exactly how I expected; in fact, the direction the showrunners took was better. The way the writers' leave things at the end of the episode is really smart and sets up a whole bunch of potential problems for the final eight episodes.
The Last Highways, formerly known as the untitled supergroup, have a lot of drama going on this episode. First and foremost, the band gets invited to perform on late night TV, but things hit a snag when a certain member of the band *cough* Will *cough* continues to let his jealousy get the better of him. As I mentioned in my review of last week's episode, I thought we would have to wait longer, but we finally get an actual answer as to why Will has been acting so weird. While it does make sense, it still doesn't really excuse his behavior over the past couple of episodes. Speaking of Will, his choices finally catch up with him in this episode. Unless you've been casually watching, his steroid
use
abuse comes back in a big way, and that's all I can really say. Again, I know I'm being somewhat vague, but if this storyline interests you, you'll not want to miss the last few minutes. Even if it doesn't, I would highly suggest you take a seat because what happens is a doozy. Like it may be bigger than the situation with Brad, but in a different way. Lastly, we have Avery who is still dealing with the fallout from what happened or didn't in Bolivia. This prompts him to make a decision, and he ends up finding solace in an unlikely source. If someone had told me Avery would find an unexpected kinship with an unlikely source, I wouldn't have guessed who or what it might be. It was surprising, but it actually turned out to be a highlight for me. Part of that is due to Jonathan Jackson's stellar performance, but it's always interesting to watch unusual pairings or things happen when they work out well.
Some stray thoughts:
- For those of you wondering what about Scarlett? Well, she invites Sean to see live music and that goes about how you expect it would with a war veteran with severe PTSD. It's not really worth my time mentioning at this point.
- * = sort of
So hit the comments below to let me know your thoughts. Is Daphne making the right decision? How do you think the situation with Brad plays out? What happens to Will? Who or what is the unlikely source Avery finds solace in?