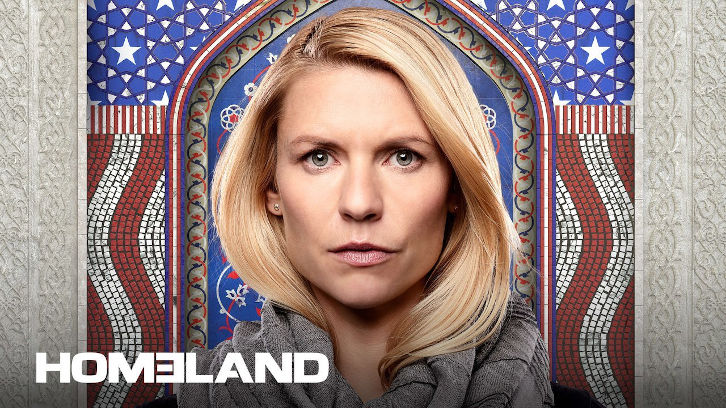 You're an enemy. He's an enemy. Every one's an enemy.

The Homeland season 7 Premiere takes place 2 months after the events of the season 6 finale, day 52 of the Revolution. Carrie is back with her sister, she has gotten back the custody of her daughter. Saul is being detained in a federal prison and Peter Quinn is still dead. By the end of the sixth season, no one was the clear winner. Yes, and attack had been prevented, but the episode did not have the same victory feeling the past finales had. "America First" pointed to a bleak future and that's exactly what we got in this week's episode. The president's witch hunt is causing the country to crumble.

Carrie will not stand down as her friends are prosecuted, as the constitution is being forsaken. While working for the office would have been the highest honor of her life once upon a time, the government she has protected all her life has turned its back on everything she believes in. The country is in free fall and she is not going to let it happen without a fight.


"Is the spy shit really necessary?" – Janet
The answer is yes. All that spy shit is necessary. Carrie is back to her old ways, and it's great. The episode was tense and well executed. The set up for this season seemed different than all the other seasons. It isn't related to terrorism in its proper sense. The storyline seemed different, or so I thought. That was until Carrie's sister pointed out the similarities. The show is essentially circling back at its beginnings, where there is a vast government conspiracy and Carrie is the only one to save the day. Maybe not the only one, but if she doesn't do something, who will? That's the thing with civil disobedience. Homeland comes back to its first loves, but with a far saner, more centered Carrie. But for how long?
The season will seemingly focus on civil disobedience, working outside the system, outside the agency. Carrie is jobless, fired by a regime that jails free-thinkers, and that doesn't seem to bother her. She's got 40,000$ in debt under eight different alias' but she's not going to be one of the collaborators to a fascist government. What is great with this show, is having no idea where they will be taking us, and this season is no exception.
With Quinn dead and Saul in prison, Carrie is working alone. She has so little help that she, at one point, turns to her 16 year old niece for help. While girl is politically engaged and more than willing to help, Carrie's sister is not happy about it and it's understandable. This ties back to Carrie learned about herself last season when child protective services took Franny away. She takes some questionable decisions where she is unaware of how it will affect her child.
Another aspect that Homeland does right is integrating a child into the storyline, even after four seasons. In too many shows, after one of the characters has a baby, said baby is hidden and never mentioned again until plot needs them to have a baby. This is not the case here. The existence of the child is constantly taken into consideration.
Last season, Dar Adal had told the then president-elect not to war with her own security establishment because it was a war she wouldn't win. She still started that war. Now, there are more than 200 detained, including Saul.
"I will not carry water, or make excuses for a woman who can't rise above her own vindictiveness." -Saul
Saul proved to be a strong character in "Enemy of the State." Wellington pays him a visit in prison without the President's knowledge. He's there to ask him a favor, because with everything happening within the government, Elizabeth Keane needs an ally. Wellington wants that ally to be Saul. He's offering him a job as the National Security Advisor. He's offering this job to someone sitting in prison, by their doing. Saul has his demands and despite having spent two months in jail, he is not in a hurry to get out. The first one is that he gets direct access to the president. The second, non-negotiable demand is to release the second wave of arrests. He will not go against what he knows to be right, even if he has to rot in jail. He's seen worse. It was great to see Saul still has morals, it's sometimes hard to predict in this show.
Speaking of unpredictable characters, Dar Adal didn't make an appearance in the season premiere. He was the one to have called it last season, about the president "There is something off about her, something dogmatic and dangerous." Do we know his fate? Is he going to end up like the General? He's going to be missed. Not because he was a particularly endearing character, but because he was always the wild card. His only consistency was knowing that his character could go either way, it was almost impossible to predict where his alliances truly stood, and that made for some great shock factor.
A portion of the episode was also dedicated to Brett O'Keff and his team. There is a warrant for his arrest and they are on the run. It's weird how the tables have switched on this character. I couldn't stand him last season, as he was fabricating narratives in order to tell the story he wished to tell instead of the story that had truly happened. This season, he seems to be the one with the truth.
It's always difficult to see who is good and who is bad, and I guess that in a show like Homeland nothing is ever black or white. What are your opinions on his character? I'm really curious to know.



"Now to those who would try to excuse this behavior yet, blame it on hormones I say this, yes it iis true Elizabeth Keane is in menopause, I've see the medical records. But this isn't about hot flashes my friends. This is a ruthless political machine, hell bent on steeling the country, right under our noses." – Brett


Attacking the president because she's a woman was definitely a cheap shot, but it's also a call he regretted saying as soon as it came out of his mouth. This acknowledgement soften his character and his incredibly tough exterior. There have been a lot of posts on the internet about Trump and his "tiny hands" and I guess it's pretty much the same type of insult. What's your take on this?

Brett has been continuing his broadcasts on secure lines, continued to speak his mind, and call out the president. Their storyline had a real Nazi Germany Second World War feeling to it: not knowing who to trust, who will be willing to help and who will turn them away and lead the authorities to him. After being stuck in a roadblock, the team set out to find an ally in a small town. They find a mattress store were they do their broadcast. Later in the night, authorities are on their way to get them, but they get the unexpected help from some policemen.





"I know you thought fighting terrorists was going to be the most important thing you've done in your life. But what if this is?" –Carrie


That last line seemed less directed at her source, and more directed at herself. She feels like this is the most important task she's ever had: Saving her country from itself.

In summary, this was a pretty strong episode of Homeland that opens up to great possibilities. With so much of the original characters gone, they are going to need to develop the new characters which has a lot of potential. As much as I enjoy watching Carrie spin out of control, I can't do it for 50 minutes straight.