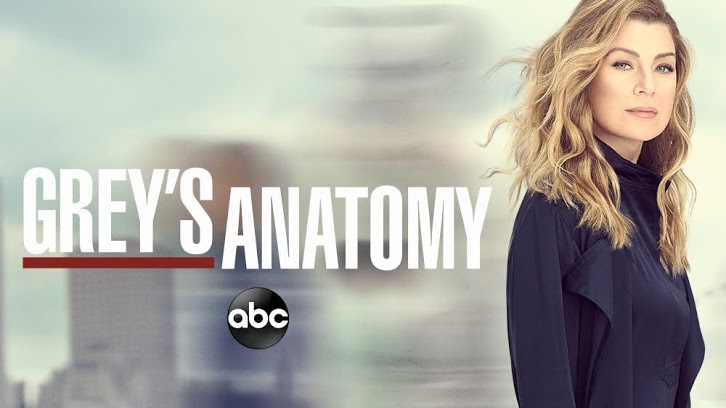 Finally, the light-hearted tone that was promised at the start of the season has returned to Grey's. Not that I didn't love the serious episodes which I thought were very important, but I did miss the jokes, friendships and competitive doctors.

The main focus of the episode was the Grey Sloan Surgical Innovation Contest. Obviously, all the doctors turned on their competitive mode and rushed to find something which would change the medical world. The rules of the contest as stated by hungover April (who was hilarious by the way) are: anyone competing must submit a written proposal within three days, twenty-five proposals will be selected and given money. From those twenty-five projects, a further five will be selected and given a million dollars to carry on until one final project is chosen and given five million dollars in funding.

So, straight away the doctors get to work. Jackson is obviously very excited and has already started his project; spray on skin. As cool as that sounds (also maybe a little bit creepy in my opinion), Catherine Avery has different plans. She introduces Jackson to Dr. Michelle Velez who wants to reinvent vaginoplasty surgery. At first Jackson is hesitant and believes that an already successful surgery doesn't need to be reinvented. However, as torn as Jackson is between his project and Dr Velez's, he chooses Dr Velez's proposal.
Webber also enters the contest and is inspired by Maggie after she accompanied him to ballroom-dance lessons so that he could surprise Catherine on her birthday. Maggie becomes slightly overwhelmed because of the approaching first anniversary of her mother's death who died of cancer. We get to learn a bit more about Webber when he mentions how difficult the first anniversary of his mother's death was or the anniversary of his sobriety. Maggie tells Richard that she doesn't have the magic wand anymore which would make her feel okay again after a single wave when she wanted to forget something bad. I loved this Maggie and Richard interaction because we've not seen much of it lately and their moments together are always very sweet and funny. So, later when Webber showed Maggie his prototype of the 'Path Pen' which is a tool that can distinguish between healthy tissue and cancer invested tissue through touch, and she compares it to a magic wand I couldn't help but tear up a little.
Out of all the doctors, Meredith is the one feeling the most pressure to deliver something amazing after her Harper Avery win. She discovers that her splenectomy patient from the cyberattack has returned with a larger number of tiny spleens (yes, you read that right), and Jo is struck with inspiration and the proposal is born. I really love the friendship that has developed between Jo and Meredith after the Paul storyline however this might be short-lived. Before the two find out that they made it into the top 25, Meredith realises that the entire project hinges on a polymer which is patented and extremely hard to get. The look on Meredith's face most definitely says that she does not have this patent.

Sadly, not every Grey Sloan doctor who submitted a proposal made it into the top 25. During the episode Alex and Amelia joined forces to treat a young girl named Kimmy who has the voice of an angel and sadly a huge brain tumour. Her only dream is to be healed by Alex and Amelia so that she can audition for a musical. However, when they get into the OR they realise that the tumour is far too close to Kimmy's speech centre to be removed safely without damaging it and Kimmy losing her ability to speak. Therefore, Amelia and Alex recommend chemo and radiation meaning that the audition is out of question. When told about this Kimmy looks sad for less than a second before finding a sliver lining; after being through so much I can't believe how strong this 12-year-old girl is. Being inspired by Kimmy's amazing voice, Amelia and Alex come up with the idea of having a special frequency that would shatter the tumour just like glass. Sounds crazy but possible, but then again, I'm not a doctor. Without funding this is going to be very difficult to achieve and I'm excited to see how Amelia and Alex will deal with the blow.

Other notes

The episode began by showing April after another hook up with the Intern. The self-destructive behaviour is becoming very apparent, this is no longer the April we knew and grew to love. I'm excited to see more of Dark April because I know that Sarah Drew will do a fantastic job but to say that I am also worried about her is an understatement.

I'm glad Arizona's prosthetic leg was shown at the beginning of the episode, it seemed as though the show was sort of forgetting about it.

I hated seeing Arizona so upset over Karen's death, but it led to a brilliant idea to save mothers all over the US and even world, so it was worth it. I'm excited to see Carina and Arizona work on the project together however I'm still not quite convinced with their developing relationship. Maybe it's because of Calzona but it'll probably grow on me sooner rather than later since Arizona seems very happy with Carina.
I'm a little upset about the fact that Arizona and April's friendship has essentially disappeared, and that Arizona didn't listen to April when she was upset. That interaction will definitely push April more towards her dark side even though later Arizona did say (more than once) that it wasn't her or April's fault that Karen died.

I didn't enjoy seeing Bailey out of the hospital but her enlisting the help of Glasses and him thinking she was wanting to do something inappropriate with him was hilarious.

I loved seeing Maggie on a date with someone who doesn't work in a hospital but the interaction between Maggie and Jackson when they talked about her date, Clive, tells me that they still have feelings for each other and that something may happen. Let's hope I'm wrong.

I'm still not enjoying this whole Sam and DeLuca storyline at all. It just hasn't been very interesting so far.

I loved the intern who said "I love you too" after Jackson walked away from her and I'm hoping to see more of her.

Let me know what you thought of the episode in the comments below!