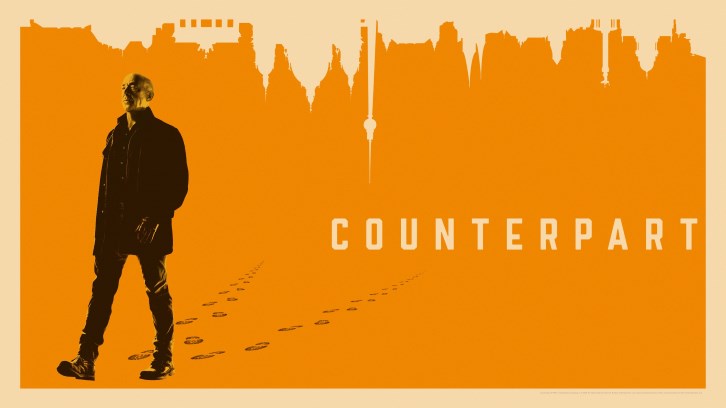 Counterpart 1.02 "Birds of a Feather" - Review:
Directed by Stephen Williams & Written by Justin Marks

Counterpart debuted with one of the more promising pilots of the year so far, hitting the ground running by creating an intriguing world and atmosphere with an excellent performance by JK Simmons. Birds of a Feather continued to follow up on that excellent form, opting this time to focus on the two different versions of Sara Serraiocco's Baldwin in an hour that also allowed more time in the other world, spending a bit more time with Emily 2 after her teaser appearance at the end of episode one.

The subtle hints and backdrops about the other world continue to come through as we learn more about it's creation, through entirely vague statements. Newcomer, Alexander Pope, played by V for Vendetta actor Stephen Rea, wonders if there will ever be a reckoning and whether our world will have to face up to the unknown consequences of what it did to theirs. It's also telling as well that Churches aren't used for religious practises anymore, suggesting things have taken a very different turn elsewhere. These little hints are enough to keep our interest hooked, and it's amazing that given how well the show has established both worlds so far and their rules, we know so little about the other side. There is plenty of unexplored history there it's so far turning out to be a great decision not to tell us everything that happened straight away.

Emily 2 herself is an interesting character that we get to explore more of after learning that she was in a much more stable condition than Emily 1. She's in the spy agency with Harold 2, but there's plenty of love lost between the two characters who didn't share the same connection that Harold 1 did with Emily 1 before she got hit by a car. Emily 2 it turns out is cold blooded and ruthless, much like Harold 2 - and is not afraid to take out her ex-husband without questioning orders. It's a failed attempt of course, as Harold 2 is more than capable of taking out the men sent to do the deed, as we get a further example as to just how deadly Harold 2 can be. He reminds me a lot of John Wick in that regard, and is the perfect example to just how different Harold 1's life could have been. It's also a good idea to bring up the someone who shares a common connection with Emily 2 and Harold 2 even if they don't particularly get on well with each other here, in the form of Pope. Pope is a character who shouldn't be ignored and he's almost set to show back up again in the future in a larger role, and much like everything else in the show, he comes with no small amount of intrigue concerning his history and allegiance. Can he be trusted? He seems to know both Emily 2 and Howard 2, meeting both in the Church, and does an effective job at showing off that shady vibe that characters like him tend to do.

The main objective for Harold 2 this episode focused on getting to Baldwin via her counterpart in Harold 1's world, Nadia. Nadia has everything that Baldwin doesn't, a life as a successful violinist, living in an impressive apartment. A job that doesn't involve killing or anything shady, at least on the surface, but the more we learn about her, the more we learn about both characters' pasts. It seems they shared an identical childhood up to the point where Nadia and Baldwin left their father on the train tracks, and as a result, they then dealt with it in plenty of different ways. Nadia cut herself, whilst Baldwin became an assassin. But no matter how different they are, they both share that same common childhood trauma.

Howard 1 wasn't in the picture as much as he was in the premiere this week, but he did at least get a long overdue promotion. It'll be interesting to see how he copes with his new role and how much time the show decides to balance the relationship between both characters. It's interesting to see as well that the show is offering different perspectives to past events, with Howard's observation about a single action being able to change everything sharing a contrasting viewpoint to Nadia's who still opted to become a violinist even though her father was an abusive teacher, because it is who she is. Showrunner Justin Marks has done an excellent job at creating fully realised and powerful characters.

Finally, it's also worth mentioning that one thing I love so far is just how different Counterpart is to shows that have explored alternate versions of characters in the past in whatever form, be it clones or alternate universe counterparts. It's very tonally different from Orphan Black for example, and different again from Fringe and Battlestar Galactica. It's carving out its own unique voice as a slow-burner that actually feels more comparable to The Americans in tone and style, despite essentially being a sci-fi show. This combination of sci-fi with old-fashioned espionage continues to provide a fascinating backdrop for the show to explore, making it compulsively watchable, especially now that it's pretty clear the show has wasted no time in set-up, plunging us straight into the thick of the action, making up for its slow paced premiere almost immediately.

What did you think of Counterpart's latest, Birds of a Feather? Let me know in the comments below and check out the next episode later tonight on Starz.