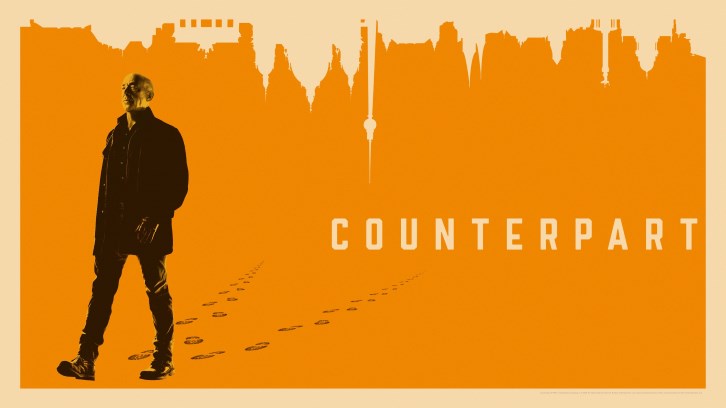 Counterpart 1.06 "Act Like You've Been Here Before" - Review:
Directed by Jennifer Getzinger & Written by Justin Britt-Gibson

Say what you want about Harold Alpha, he's quickly turning out to be a fast learner. This episode he could have very easily cracked and broken cover under interrogation from Shaw, but he held his own for the most part, passing the tests in part due to how much he didn't actually know about what was going on. Shaw should have been able to figure that this was a move that Harold Prime would play given his position and the fact that Emily Prime spotted him easily, but for now Harold Alpha seems to be holding his cover, even if Anna is a little suspicious but puts it more down to illness than anything. As things stand, it looks like Harold Alpha stands a better chance of keeping his cover intact than Harold Prime.

It makes a bit of an odd choice for Starz to pair Counterpart with Ash vs. Evil Dead on Sunday nights, but you cannot deny that it makes for a pair of two awesome TV shows that demonstrate just how unique the network is capable of being. One's a hacking and slashing comedy horror series spinning off a beloved movie franchise, whilst the other is almost a polar opposite, with the comparison between Counterpart and John Le Carre still feeling very relevant even six episodes in, as the show hasn't abandoned completely its slow burner approach, but at least we get a major gamechanger this week.

The big game changer came in the form of Clare being undercover as Quayle's wife. Someone with high clearance was leaking intelligence to the other side and now the audience knows something that our characters don't, with Harold Prime and Quayle only being able to figure it out that it was someone who Quayle was talking to after the death of Heinrich. I had initially expected it to be Aldrich at first especially with the higher level clearance, but last week's episode canceled out that theory and revealed that it was Clare herself. She's certainly becoming a major player in this series so far, but it's only a matter of time before Quayle catches on. Or at least you'd hope, given just how out of depth he really has proved himself to be in these past six episodes.

The show continues to drop minor differences about both worlds, throwing in a nice touch about Prince still being alive on the Earth Prime and has released a new album, bumping Earth Prime up on the list of fictional places I want to visit. The nice touches of humour bookended the more serious moments when Harold Alpha lashed out in anger at Shaw, saying that Emily Prime essentially has a type and Shaw is no better than he is. Of course, Shaw comes up with a rebuttal that he actually remained by her side when everyone else including Harold abandoned her. Luckily for Harold Alpha, Emily Prime arrives just in time to prevent Shaw from getting an answer to Harold Alpha about whether or not he still loves her, which would have been skewed by the fact that Harold Alpha very much does love his version at least, of Emily. And that he cares a lot for Emily Prime too.

It's interesting that Anna has been kept in the dark about why her father is suddenly acting so different towards her. She doesn't know anything that's going on with their work at all, and is constantly looking for reasons as to why Harold's more caring and understanding. I'm not sure if she's going to find out before the end, but it'll certainly put her in an interesting position indeed.

Meanwhile, Baldwin is continuing to become closer with Greta, the woman who was able to give her handouts at the cafe. They end up sharing a bed together, and this time, Baldwin doesn't take any chances, bringing a gun with her just in case. She's understandably paranoid and isn't going to trust anybody any time soon. She is however, willing to go back to Clare in order to carry out the remaining kills for money.

I loved how unpredictable the revelation of the mole was and the fact that it genuinely took most people by surprise. It's annoying when you do correctly guess a twist before it happens as you're spoiled the surprise, but the very fact that it was surprising was a welcome breath of fresh air, and was the perfect way to end another excellent episode. This Sunday can't come quickly enough.

What did you think of the latest episode of Counterpart? Let me know in the comments below and check out the next episode on Starz this Sunday.