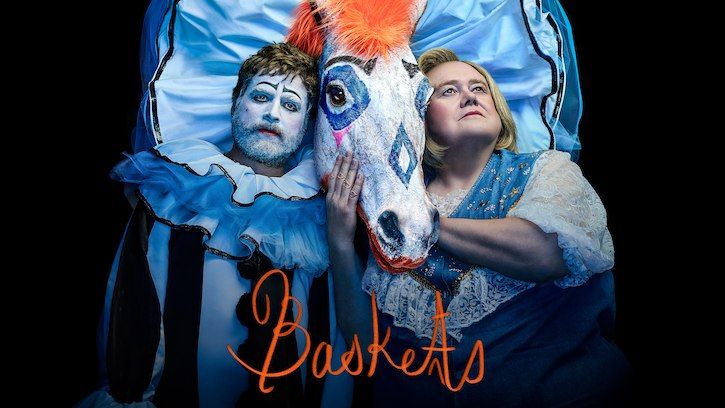 Episode 2 finds us back at the Baskets Family Rodeo once again; written by Karen Kilgariff and directed by Jonathan Krisel

The rodeo workers are not happy with the way the Baskets are running the show. So, Chip and Martha go in search of 'crazy' Eddie. He may be nuts, but he knows how to run a rodeo. They all agree on that.

I just love these road trips. Martha likes to think of the duo as detectives, 'like on Law & Order.' They visit Eddie's hang outs and eventually his AA meeting; where 'Martha B' is just not sure if she is or isn't an alcoholic: "I get a headache after only two drinks, but I still have those two drinks."

They get a tip from an AA member who seems smitten with Martha. And why shouldn't he be? She's awesome. She also tells Chip that she already has two boyfriends. And I think that Chip 'doth protest too much.'

But, Chip responds: "I'm not one of those boyfriends? Right?"

They find Eddie living with an eccentric, older lady in a small castle on a hill. She is an heiress to the Hires root beer fortune and likes to smoke cigars. She is a hoot! And it's a good guess that he's swindling her out of her money.

Martha and Chip are also being terrorized by a crow, locked up by Eddie's lady friend and you just don't want to see Martha on the verge of a nervous breakdown. They are having a rough time.

Meanwhile, Dale decides he has to go to Jim Jack and get his money back after being swindled with drugged up horses. Mama offers to go with him, but he knows he has to stand up for himself.

Christine spends most of her time talking with Ken via skype and meeting the next door neighbors; a church member brings her carrots for the horses. Mama thinks they are for her and contemplates a vegan diet; for two seconds. She pretends to chew on the carrot: "aw, what's up doc?" ala Bugs Bunny.

Chip and Martha convince Eddie to come with them and help out with running the rodeo. The 'crazy' lady is sad to see Eddie go (her kids are not), but Martha and Chip are sure that she was going to murder them; crazy attracts crazy, I guess.

While Dale is at Jim Jacks, demanding his money back,
Chip and Dale's paths converge. Eddie walks into Jim Jack's office and starts shooting up the place. No one swindles Eddie's friends. No one is hurt except for maybe the flat screen television.

Dale runs out of Jim Jack's office, Jim Jack's goat in his arms (now they are even), and Eddie comes out and waves Chip and Martha on. He is taking care of business and will meet them at the rodeo.

Martha wants to go meet her shepherd boyfriend, but isn't sure how he'll feel about her. Dale convinces her of her 'sweetness' and that the shepherd or her OTR trucker boyfriend, who she's never met, would be lucky to have her as a girlfriend.

It looks like there might be hope, yet, for the Baskets Family Rodeo and the Baskets.

Another terrific episode!

Favorite quote - Mama Baskets: "never trust people with three names; Jim Jack Mahoney, Lee Harvey Oswald, John Wilkes Booth, David Lee Roth..."


Does Chip actually have a heart? And if he does, will he finally put it into the family business? I've always hoped he would fall in love with Martha, but though he was kind of sweet to her; he was actually pushing her towards another guy. Who knows? What do you think? Is there hope for Chip, yet?