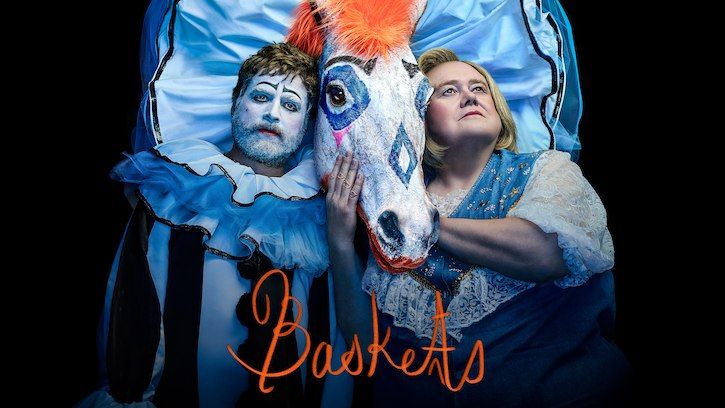 Episode 3 of Season 3 of Baskets was written by Jonathan Krisel and Danica Radovanov and directed by Jonathan Krisel.

The opening of the rodeo is fast approaching and Chip needs to find some clowns. What better place to look, than Arby's?

His former co workers, Trinity (Claire) and Jody, are not interested. Jody is up for a manager's promotion. Martha suggests they hire the animatronics from Chuck E. Cheese's, but she has no 'ins' there; so much for those brilliant ideas, Martha. Even offering to help him trash the Arby's doesn't make Chip feel any better.

Eddie is doing a fabulous job of training the horses; so well that Mama Baskets wants him to train her cats. The opening is a huge success, but the next morning, Christine is summoned to the church next door. She finds the tiny, clown car, crashed through the front door of the church.

Eddie has had a drunken, wild night with one of the rodeo clowns, Cindefella. Christine finds them still at the church, drunk and vomiting. She has a real soft spot for Eddie (he reminds her of her dad) and offers him a place to stay at her home.

She tells him of a car accident she had while driving at age 11. She laughs about it. It's later revealed that her father was an alcoholic and she was driving him to the hospital with her little brother when the accident happened.

Also, Christine feels pushed out of her friends' weekly card game, but she has a sweet moment with Maggie. Her friend misses her because she's been so busy with the new business. Christine offers to host the next party with her 'famous' cheese and crackers. "It's all in the triscuits."

The party doesn't go over so well, though, when Eddie crashes it. Cowboys are crude, rude and they smell like manure.

Christine makes everything better with the church and wants to 'save' Eddie. But, he shows up at her house, drunk again, with some new 'friends.' She keeps flashing back to her car accident as a child; the past and the present are juxtaposed with drunk Eddie and her drunk father.

Christine has had enough. She takes him to an AA meeting; wishing her father had gone to one when she was a child.

Chip's Arby's friends show up at the rodeo to be clowns. Claire is pregnant (very obviously), but insists on being a clown. 'Claires' don't like to be told what to do. Jody follows her, out of love.

She tells him about the baby and he talks her into going back to Arby's, after falsely accusing Chip of being the father. You can't beat the Arby's benefits package; three months paid maternal leave!

Random thoughts:
Christine is such a fixer and always thinking of others. It's about time that she starts thinking about herself. And, Chip has got to find some reliable rodeo clowns!

The fine line this show walks between funny and sad is beautifully walked.