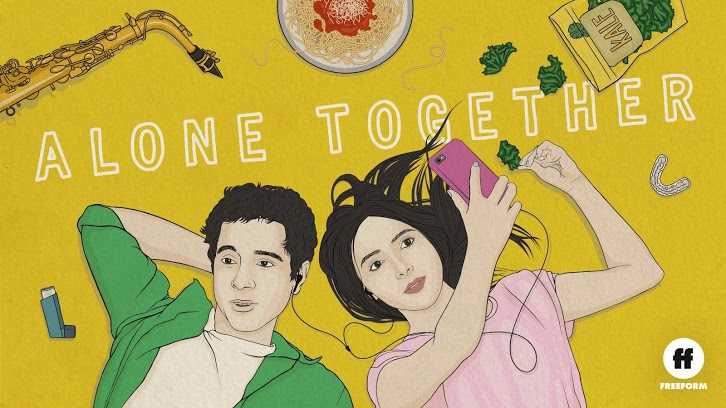 Freeform's 'Alone Together' is the comedy series written by and starring Esther Povitsky and Benji Aflalo, and produced by none other than The Lonely Island. It tells the story of two friends, Esther and Benji, as they navigate life and love together in Los Angeles.

In the pilot episode, which was made available to the public on Freeform's website a week in advance of the premiere, Benji desperately tries to figure out how to dump his newly-obtained girlfriend, Charlotte, played by Justine Lupe, who just so happens to be an escort. Meanwhile, Esther tries her own hand at being an escort, and realises it isn't all it's cracked up to be.


I must admit; this show can be amusing, for 22min-long episodes. Both dysfunctional adults, Benji and Esther seem to just tumble awkwardly and head-first into trouble, a lot of which is predictable. There is one scene where they both mutually agree to give up escorts, then the next day, Benji arrives at the local bar to meet up with his escort date, who turns out to be Esther.
That signature dead-pan, self-deprecating, dry, millennial-directed humour seems to be the show's strongest asset. However, a lot of the jokes made simply don't land, which is a shame. There seems to be too many jokes jammed in together, to the point where you're not sure at what point you're supposed to laugh. A show like this should have me crying with laughter, not letting out one or two chuckles under my breath.
Besides the two protagonists, there are a few other characters who cameo in the show's opening. Chris D'Elia plays Benji's older, clearly more successful brother, while Ginger Gonzaga plays Benji's older sister, the CEO of a famous fashion company who Esther tries to persuade to hire her. Jim O'Heir plays Warren, the guy who hires Esther as an escort, who seems friendly enough, if a little creepy, and continuously buys Esther food, clothes, and anything else she desires, which pleases her greatly. Finally, Edgar Blackmon plays Jeff, Benji and Esther's funny, mutual friend. He seems quirky and normal enough character and appears again later in the season, much to my delight.
One aspect I do like about this show is Benji and Esther's friendship. That bantering and bickering that only old, dear friends share is so nostalgic and entertaining to watch. The fact that the two are also such good friends in real life means that they manage to nicely bounce lines off each other and truly depict misfit millennials (yes, my favourite scene is the "you're a talking penis" scene, because that is absolutely something my friends and I would've done at some point in our lives). I sincerely hope the season doesn't follow the typical 'best-friends-since-kids-turned-sudden-lovers' troupe that most media of today follows; I'd rather a show depicting real platonism over forced romance any day.

GRADE:
Overall, I would give this episode a 6/10. Pilots are notorious for being pretty average, so I hope this season sees some improvements down the track.
Let me know what you thought of the pilot episode in the comments below! Is this show a hit or a miss for you?