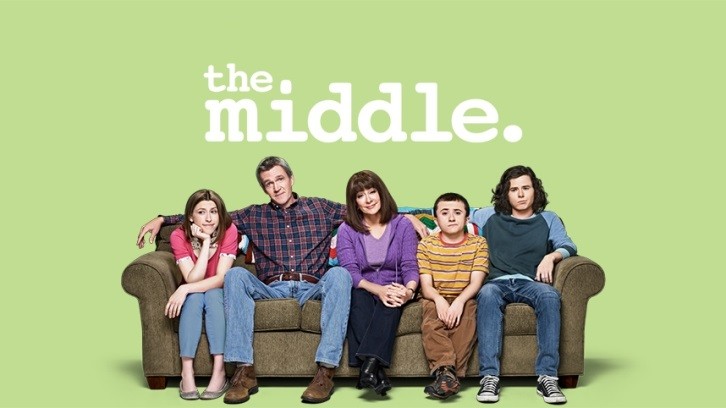 This week's episode of The Middle, "The Other Man", featured two different stories: Axl and Mike spending quality time together, and Sue continuing to date Aidan, even though most of us forgot who he was.

Let's start with Sue. Everyone was disappointed at New Year's when Aidan showed up and Sue kissed him instead of Sean. While she and Brad do exercises, she tells him that she's just not feeling Aidan right now. They go to watch Aidan's band play, and she has every intention of breaking up with him until Brad realizes that Luke, the drummer in the band, is gay. Brad begs Sue not to break up with Aidan until he's gotten to know Luke. Sue reluctantly agrees, and they have dinner with Aidan and Luke. The date goes horribly wrong because not only is Brad boring, but Aidan sends pepper flying into Sue's eye.

The next time Brad sees Luke he's had way too much coffee and talks insanely fast. While Brad is trying to impress Luke, Aidan pushes Sue out of the way of a bicycle and hits her in the face. Then he shuts her hand in the door after leaving the ER. She really needs for Brad to hurry up and impress Luke so she can break up with Aidan before he kills her. Brad suggests he and Sue play pool against Aidan and Luke. Aidan ends up throwing the pool ball into Sue's head. Then he hits her with the pool cube and bumps into a waitress who spills beer all over Sue.


You would think after all this Sue would break up with Aidan, but no. She liked kissing him, and is going to stay with him for a while. And apparently Brad and Luke have hit it off, too. Now, this story would have been fine a season or two ago, but it annoys me that it's happening now. We're getting down to the final episodes, and I feel like this is just wasting time.
The Middle
needs to go ahead and put Sue and Sean together so we have some time to enjoy them.
I liked the other story this week better. Axl started his new job, and Frankie is excited about it. Axl talks to Mike about his day once it's over, but he's too tired to talk to Frankie. The two have dinner together the next day after work, and Frankie feels a little left out especially after they ignored her texts. Then she finds out that they started watching The Walking Dead without her. She finally loses after they go to Taco Jason's and didn't get her any food. She would like to be included in their dinner plans, and she goes a step further by telling them if she's drowning she wants to be pulled out of the ocean. She would also like them to take her pulse after stepping over her dead body. I thought her rant was funny.
Frankie is so happy when Mike asks her if she wants to get a burger for dinner. She thinks it's just going to be the two of them, but Axl tags along. He had a burger for lunch and wants Chinese. The two of them get into a huge argument, and Frankie leaves. She forces Brick to get in her car and go eat dinner with her. I laughed when Brick said he'd rather have Chinese. She begs Brick to share something that they can bond over, but he's got nothing. After sharing that she's feeling left out, Brick tells her the only person you can depend on is yourself. Other people can't make you happy. I was pretty impressed with Brick, and thought his advice was insightful. This makes Frankie feel better, and they finally end up going to get that burger.
I love that Frankie got Brick seven pieces of cake to represent all the birthdays she missed. I thought it was nice that Brick was the one that made her feel better. And it looks like Mike and Axl's bonding time is coming to an end. Lexie's back from Colorado, and Axl would rather be with her than his parents. Mike is now stuck watching
Outlander
with Frankie.
What did you all think of "The Other Man"? How do you feel about Aidan? Did you enjoy the ending with Frankie and Brick? Leave a comment, and let me know!