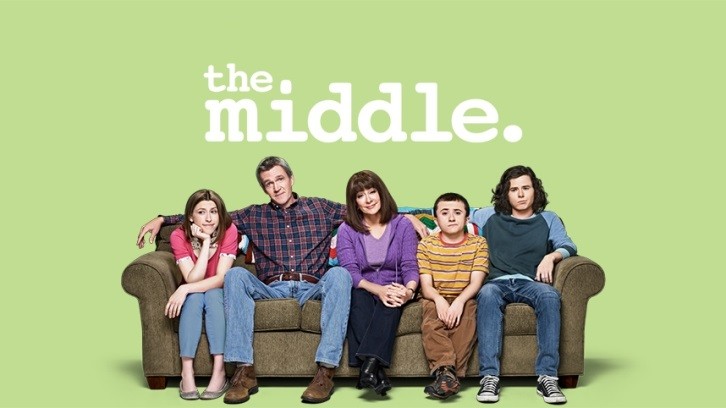 The Middle returned with a new episode this week, and, as you probably guessed from the title, it revolved around New Year's Eve. I had some mixed feelings about the episode, but I loved Sue's story.

At the beginning of "New Year's Revelations", Sue confides to Frankie about Sean and tells her they kissed at the Christmas party. She's worried that Sean doesn't like her, but Frankie tries to assure her that he does. Not convinced she talks to Brad, and he tells her to text Sean. After laughing about Sean and Sue's awful texting, he comes up with a plan for them to kiss again: a New Year's Eve party.

Frankie reluctantly agrees to host another party and throws together some food and decorations. I love that the banner had "Happy Birthday" crossed out and replaced with "Happy New Year". Brad and Frankie spend the entire party trying to get Sean and Sue alone together. Brad pulls Nancy away from them and Frankie makes Carly leave to take care of her baby. Just when Brad finally thinks he has everything under control, Bill walks in with Nicole. I thought it was funny that Frankie tried to cover Nicole up with a blanket.


Nicole ruins everything by pulling Sean away from Sue, but Brad once again saves the day by asking Nicole where she got her top. Sean tries to find Sue again, but it seems as if everyone at the party wants to talk to him. Just when we think everything is going to work out and they're going to kiss, Aidan shows up and kisses Sue instead. It took me a second to remember who he was, but I definitely did not want to see him. It made me so sad that Sean and Sue didn't get their New Year's kiss.
Sean's speech to Axl at the end almost makes up for the disappointment. He stands up for himself and says that he and Sue will happen. I'm so glad he's going to fight for her. I know I've said it a million times, but I just love the two of them! I'm also glad that Frankie is involved in this now. And, of course, Brad always makes the episode more entertaining.
The other story this week involved Mike taking his dad on a drive. The destination is unknown and he's not very excited so he forces Axl and Brick to ride along. Axl and Brick aren't very happy either. Usually Grandpa Big Mike barely talks to them, but on this car ride he starts sharing stories and doesn't stop. He eventually tells Mike to stop the car: he wants them to drop him off at the tree and leave him to die. Brick, Axl, and Mike are confused. Grandpa says that the next few years won't be great so he just wants to get dying over with.
Mike drives away, and Axl and Brick beg him to go back. Mike isn't actually going to leave his dad to die; he just wanted to scare him. Mike turns the car around and talks his dad out of dying. Dying would be a burden, and Grandpa Mike doesn't want to bother his family. I'm going to be honest: I could have done without this story. I thought it was silly, but at least Brick and Axl appreciate their grandpa a little more now. I did think it was funny when Axl said he's lucky he got his mom's genes. And he's right: he and Brick have no hope of being normal. But I think we already knew that.
What did you think of "New Year's Revelations"? Did you like the Grandpa Mike story more than I did? How did you feel about Sue and Sean's story this week? Leave a comment down below!