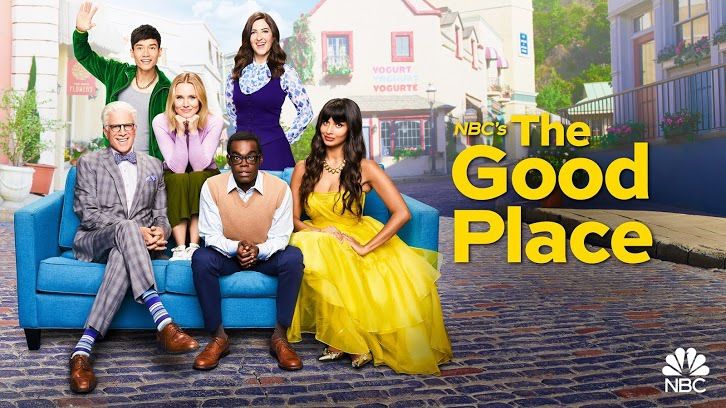 During the midseason finale, we left off on this huge cliffhanger of Shawn sitting in Michael's office. I incorrectly assumed Shawn had discovered the 800 failed iterations and was there to punish Michael. I was so consumed with how Shawn had found out or turned Michael in that I didn't even consider that Shawn could have been there to congratulate Michael on successfully torturing the core foursome. It's these sort of twists and turns that keep me on my toes and make for such a deliciously fun series. The Good Place is one of the best series on television right now, and the reason it's been so successful is it doesn't play it safe. A second season could have been a repeat of the first, but this show has managed to flip the script several times. Instead of resting on its laurels, it takes real risk and the audience on an engaging ride. So without further ado, let's dissect "Leap to Faith."


of
to faith. It's interesting that Eleanor, who was vehemently against teaming up Michael in "Team Cockroach," is the only one to believe in him. Even Chidi, who tries to see the good in everyone and has repeatedly helped Eleanor every time she asked, doubts Michael. Yes, being constantly tortured by the guy isn't exactly reassuring, even while he's studying ethics with them, but after Eleanor and Michael's heart to heart in "Derek," she sees a different side of him. That was essentially the first time Michael was real and vulnerable with her. It was a plain and simple conversation with any sort of ulterior motive; just two people talking honestly about something. It was a sweet moment that truly showed Michael was capable of change, and Eleanor remembered that.
four
over 1,200 clues for the gang. The plan included freeing Derek from Janet's void, having the imp call them a train, driving said train to Mindy's house without them on it, and hiding underneath the new train so they wouldn't be detected when Bad Janet scanned the neighborhood. Simple enough, right. It was entertaining to watch the core foursome put the pieces together, but things could have gone wrong if they had missed any more of those clues. Thankfully, the group has Eleanor to rely on. While she wasn't exactly a team player on earth, she has come through more than once in the afterlife. Besides consistently figuring out they're in the Bad Place, she is the glue that holds the group together. I honestly doubt the core foursome would have been this successful without her. As Michael pointed out, she was the one variable he didn't account for. With the group presumably going to the real Good Place, they're going to need Eleanor more than ever. With Shawn and the demons gone, or at least temporarily gone, they have an actual chance. The group has been working toward this goal for a few episodes, but I still have no idea how they are actually going to get there. I mean, if it were as simple as walking through a door or creating a portal, wouldn't they have done it already. The argument can be made that the group wasn't "good" enough or didn't have enough points until now, but as we've been told, only the 1 percent of the 1 percent of the 1 percent go to the Good Place. After studying ethics for several weeks, have they changed enough or amassed enough points to gain entry. With Shawn and the demons looking for them at Mindy St. Clair's, the group only has a short amount of time before the torturers figure out they're not in the Medium Place. They need to safely get to the Good Place before it's too late, but it doesn't seem like it will be that easy. If it were, it wouldn't make for very good television.
Some stray thoughts:
- There really is no limit to the different Janets D'Arcy Carden can place. We've seen Good Janet and Bad Janet, and this episode we got the return of "drunk" Janet.
- I would totally watch a bottle episode of just Mindy St. Clair and Derek. The trouble those two could get into is endless.
- I'm glad the romantic entanglements were briefly mentioned. It's nice to know that they're just being put on the backburner instead of being forgotten.
- I laughed when Jason suggested the gang go to the cops. He's such a loveable idiot.
So hit the comments to let me know your thoughts. Did you doubt Michael's loyalty? How much of the plan did you put together? What exactly are they going to get to the real Good Place?