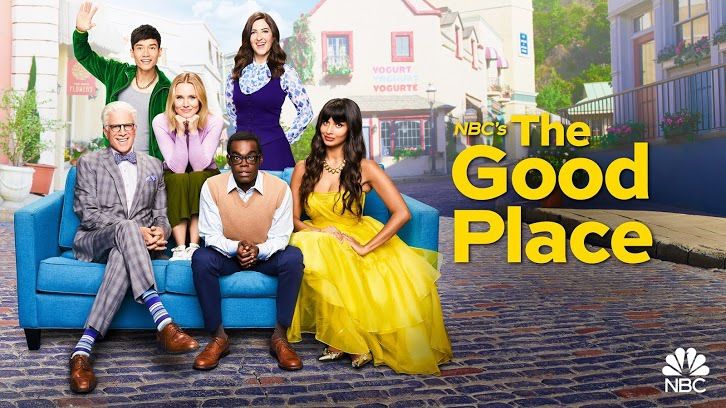 "The Burrito" was another great episode that perfectly managed to balance the comedy and drama of the situation the gang finds themselves in. The core foursome spends the episode in the Judge's chambers, and hilarity ensues from the moment they arrive. From trying to get the Judge to hear their case to the actual tests themselves, there are heartfelt moments that make viewers proud, at least those moments made me proud, of how far our characters have come since the pilot. We also get to see Michael in all his glory, whether it be from channeling his inner Eleanor to explaining where he came up with ideas from his faked torture reports and ending the episode with a splashy entrance. This episode does a great job setting up the season finale. So without further ado, let's dive in.


core foursome
Chidi is spiraling, the "all-knowing" Judge pops up behind them, which would have been a good thing, except the Judge can't hear their case. The main quartet just showed up without paperwork or an advocate, so she, unfortunately, has to deny their petition. So it looks our anti-heroes will be sent back to the Bad Place, but after an impassioned plea from our favorite humans, she decides to take their case. It's not like she's super bored because she hasn't had a case in 30 years, and taking their case allows her to put off whether or not she would watch
Bloodline
. Oh wait. So the Judge agrees to give each of them a test to see how much progress they've made, and if they pass they get to go to the Good Place. If they fail, well let's not think about that. While Eleanor wants the group to be tested together – after all, they wouldn't have made it this far without each other – she has to settle for them being graded together, which is the brightest idea considering Jason is on their team, but she still gets points for selflessness.
New Yorker
magazines, or he would if not for Good Janet, who has secretly been pretending to be Bad Janet this entire time. As much as I can predict plot points on other shows,
The Good Place
always manages to surprise me, and it did just that with the Good Janet twist. With Shawn out of commission, we end the episode with Michael and Janet arriving at the Judge's chambers just as the core foursome is about to be sent to the Bad Place.
Some stray thoughts:
- I thought Maya Rudolph did a great job as Judge Gen. I definitely wouldn't mind seeing more of her in future episodes.
- I also love that Gen is short for hydrogen because it was the only element in existence when she was born.
- My favorite part of the episode was the pop culture references, which included the Judge trying to decide whether or not to watch
Bloodlines
because she couldn't see Kyle Chandler as anyone but Coach Taylor and when Michael told Shawn he based most of his torture reports off Stephen King novels and
Pretty Little Liars
. They were such unexpected but amazing lines.
So hit the comments to let me know your thoughts. What were your thoughts on the Judge? Were you surprised on Eleanor passed? What was your favorite part of the episode? What will happen in the season finale?