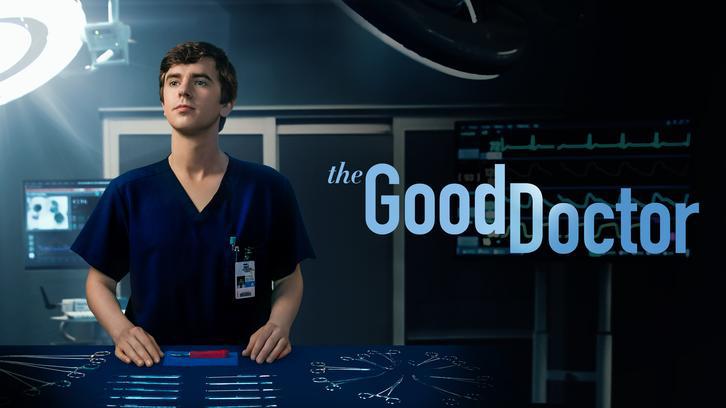 TGD's second 2018 outing wasn't only an improvement over last week's excellent outing it was a true heartbreaker and healed the relationships left broken back during the midseason finale. The episode was written by Thomas L. Moran and William Rotko and directed by Cherie Nowlan.

First, lets talk about Jared suing the Hospital so he would get his job back. I hope the writers deliver a bit more on his motivation cause I really wanna know if he made his move cause of his feelings for Claire or cause he really likes to work at St. Bonaventure. Jared worked on a really thin line there, but he the hospital did wrong and he was right to fight for his position. And while he did play the race card, he played also the human card. If there are rules the amount of money you bring to the Hospital shouldn't matter. It is a nice parallel to the recent Sexual harassment claims, not sure if the writers intended to make this parallel but it transfers to this issue very well. Hollywood covered for many sleazebags cause they brought in money and that should never be right. I'm intrigued where Andrew's and Kalu's relationship will go from here. Andrew's speech at the end was quite harsh and deserving at the same time, Hill Harper killed it and we need more of him in these situations. I find it unnecessary for the writers to cast so many new doctors and faces when they have Hill Harper there.


The case of the conjoined/unconjoined twins is the most heartbreaking story the show has told so far. Everything about this story was gut-wrenching and emotionally draining. Major kudos to the twins, played by Elizabeth and Emily Hinkler. Emily was so fragile during her performance but also so strong and empowering at the same time. All the twists the writers were throwing at us made me just gasp so hard. And I were literally tearing up when Katie woke up. I was so hoping for a happy ending for the two and the writers really had to break my heart at the end.
I was really happy to see Necar Zadegan again as Dr. Ko. Loved her interaction with Shaun and how much she respected his ideas and looked passed his inabilities and appreciated him as the genius he is. Also, the twins mother, played by Kerry Sandomirsky just hit me right into the feels. The moment Claire came to tell her about Jenny's faith and asked her to talk to Katie just turned me into Niagara waterfalls.
And even though I hate the relationship drama between Jessica and Neal, I'm really glad Jessica took her own faith into her hands and made a decision for herself. And while I'm sure the drama isn't over with this current break up, I'm glad Jessica stood up for herself. Wouldn't be surprised if Jessica now ends up pregnant. Not really excited about more drama but let's see what the writers have in mind for these star-struck lovers.
Last but not least there was Shaun's part of the story. Shaun came back to St Bonaventure and jumped right into his work and dropping surprises left and right. Him deciding to leave and join Lea was already revealed in the promo but the emotional response by Claire and Aaron was something I didn't expect. Claire's part in Shaun's decision making was so well executed. She didn't push him, she was just there for him and supported him without any pressure making him realize he made a friend. Also, Aaron stepping up and letting his guards down after talking to Claire was so well written. The dialogue in this show is so poignant and moving, loving it. Major kudos to the writers for delivering week after week.
Lea eventually left without Shaun and I will miss her a lot. I'm sure the writers will find a way to bring her back in season 2. A thing I didn't like about this episode is that it was about others trying to keep Shaun around instead of showing us his thoughts and process of staying. The show has to turn back to him as the protagonist he is and tell the stories through his eyes. I hope we see the show turning back to Shaun's pov.
That are my thoughts on Islands: Part Two, what are yours? Feel free to share your thoughts in the comment section down below and don't forget to tune in this Monday for an all new episode of The Good Doctor 10pm Central on ABC