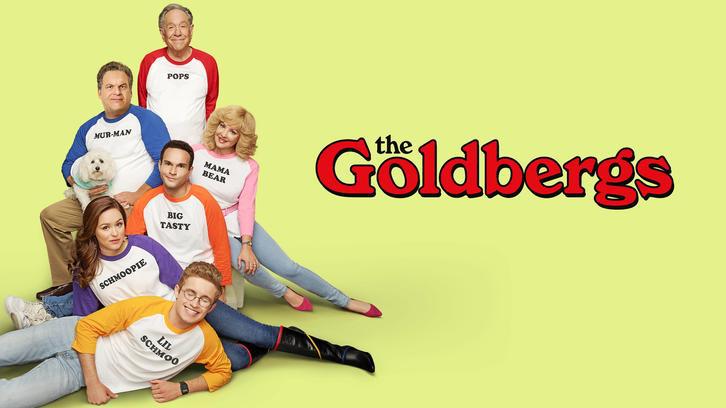 Wow. Just wow. What an absolutely fantastic episode. Dare I say this is the best episode of the show so far? Because it absolutely was.

The Goldbergs bonding over singing the 'Golden Girls' theme tune is probably my favourite episode opener ever. I just love the way they all joined Beverley one by one, even Murray! When an episode opener is that good, you know you're in for a fantastic episode.

After the credits we're with Erica who is enjoying the last few days of winter break. She goes to make her way down the stairs, they've unfortunately been covered in hearts by Geoff and she has one hell of an epic fall. The fact that Geoff sees this and is still standing with a goofy smile on his face, holding a plate with a pancake shaped like a heart? It's hilarious.


The thing I probably love most about this scene, and it's something I've mentioned about The Goldbergs before, is the continuity. The show has made a point to show in the past that Erica is extremely unromantic, a trait that she gets from Murray. She like Murray acknowledges it, and tries to work on it, but it doesn't tend to go well because it's just not them, and I like that the show doesn't vilify either character for that.
Beverly meanwhile is watching 'Golden Girls' and invites Adam to watch so he can picture how they're going to spend their golden years together. Adam is at first receptive until he realizes what Beverly is saying and panic quickly sets in.
"Do you actually think you and I are gonna share a house when we're old?" "No! Barry and Erica will be there too".
Enter Barry and Adam is for once delighted with his brother for butting in, and the JTP appear out of nowhere.
"That's fun, you say three words to them and they always scream them back at you"
I love that the show actually points this out.
Barry tells Beverly that she can have this too, she just needs to pick friends that have a specific role in the group. He proceeds to list which of the JTP is which golden girl.
"Naturally naked Rob is our Blanche. The sensual one. Free with his body" "My parents got me someone to talk to once a week about it"
Beverly wants what Barry has, and we know this isn't going to go well.
Erica points out that Adam is Murray's kid to, and doesn't understand how he didn't inherit his lack of romantic appreciation. Adam explains he's turned to other paternal role models, specifically John Hughes who makes romantic teen movies. Jackie goes on to list all the romantic gestures that Adam has done which come from John Hughes films. Erica comes to the conclusion if she drives round on a mower, Geoff will stop being lame for a few minutes.
"Dad I need your stupid mower" "Now you want to mow the grass? It's the middle of winter, it's about to snow!" "It has nothing to do with mowing" "Then why do you need it?" "It's a whole frigging thing, just stop asking questions" "Oh I'll ask questions alright! "Damnit I'm in college! I shouldn't even have to ask to use the stupid gardening equipment" "When I'm done soaking this toe, I'm gonna go in the garage and so help me if that lawn mower's missing. It's curtains for you! Curtains!" "Well good luck catching me with that Cheeto toe!"
Probably my most favourite exchange of recent episodes after Beverly telling Geoff that Erica was in trouble in 'Parents Just Don't Understand'.
In her bid to assemble her own friends, Beverly decides to attend the PTA meeting in the hunt for potential friends. Beverly claims she has been too busy to attend but then admits she was banned for complaining, and everyone is too afraid to say anything to her face. Virginia tells Beverly they could use her help as they have so much to get through, but Beverly is more interested in creating a tight knit of friends so they don't die alone. Virginia explains she has actual sisters that she can live with, which Beverly doesn't take too kindly and we get our first Bev bleeper of the episode. Coach Mellor then walks in to start the meeting and explains they need a group of volunteers to organise the senior ski-trip. Beverly decides to hijack this and put together a group of friends, and while people are bemused and questioning what she's doing, no-one is gonna say no to the smotherer.
Erica points out everything that is wrong with 'Can't Buy Me Love' and Jackie agrees with Adam that there's no helping her.
"Wow you really are a closed off Murray"
Erica doesn't want to accept that and orders them to show her another movie to help her show Geoff how much he means to her. Jackie then reveals Adam's grand romantic gesture to her, which Erica accidentally reveals is the same thing he did to Dana. This lands Adam firmly in the doghouse with Jackie, and Erica's attempts to cover are terrifically bad.
"Wait I was wrong. It wasn't his first love Dana. It was you. The new one"
Adam begs Erica to stop talking, but Jackie has heard enough and leaves. Erica apologizes for dragging Adam down with her. He's convinced he can win Jackie back with some fresh romantic movie material, but his choices are all terrible.
Taking his advice she heads to the school and confronts the women. Linda admits they did leave Beverly out, but only because they still have so much to organise for the ski trip. Beverly still wants them all to be friends, but Linda explains they don't have time for friends. Taking the hint Beverly leaves.
Barry is looking forward to the ski trip, but picks up on Beverly's down mood and it's a really lovely bonding scene between the two of them. He's extremely offended that the women have left Beverly in the cold, and when they turn up at the house needing help, is very much ready to unleash his fury on them.
"Hi, is your mum home?" "Your kind is not welcome in my home, so beat it!"
It's absolutely adorable, and even when Beverly comes to the door and Linda explains the problem with the ski trip Barry refuses to calm down.
"There's a huge snow storm up state, all the roads are closed" "And so is this conversation. No-one disrespects my momma"
It's absolutely adorable and terrific acting from Troy. Even with the mum's desperate pleas Barry still refuses to calm down, so intervening, Beverly tells him to go to the yard and work it off. He does so extremely reluctantly and the mum's explain that the school cancelled the ski trip due to the snow.
"The point is if you're really like me, then there's a little romantic in you to". Taking this on board Erica goes to see Geoff and the two reconcile.
At the restaurant where Beverly and her friends are eating, who happens to be sitting at the table behind them? None other than the real Beverly Goldberg and her real friends! I knew that this moment was coming, but it didn't make it any less awesome. The episode of course ends with a dedication to the real Goldberg girls, and the real Beverly, Essie, Virginia and Linda talking to the camera.
It was an absolutely fantastic episode, with an absolutely fantastic episode, and a fantastic way for the show to come back from the holiday break.