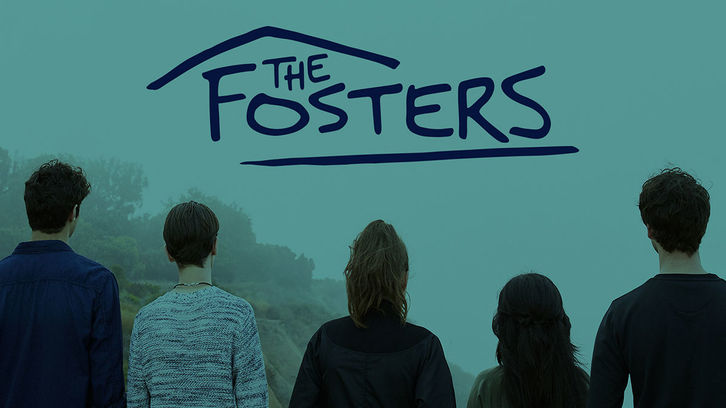 The Fosters airs Tuesday nights 8PM ET on FREEFORM


Callie's speech in #IWasMadeinAmerica was so powerful that it left me in tears, Maia Mitchell's performance was outstanding in this scene, and I bet you it is still on peoples minds. I was not sure that we would get the same level of performance this week, but I was happy to be proved wrong. The episode is not the strongest they've had, but it still hit home in many different ways. So, let's talk about "Line in the Sand" a little and maybe I will throw in some quotes.
We were left in a kind of limbo about Lena's demand for the principal position, but they address that right away when the episode begins. I haven't seen much debate in the fandom about what Lena deserves, but since this is the final season, it seems right that they are addressing this.
Jesus is feeling like everyone is trying to smother him, Emma included. There is a roller derby scene that hints at insecurities on her side. I don't know what Jesus wants, but it seems like he is hot and cold with everyone, but then again he has been through trauma, and he is trying to cope as best as he can. Mariana convinces him to come work for the roller derby which also doesn't go down well with Emma. Things don't seem to be going well for Poppy and Ximena as well; all the immigration problems are starting to take a toll on them. Callie goes to the Conservative student union to get their help, and they surprise her with their response. Ximena does get her chance to appear in front of the judge, and things don't turn out as expected. ICE is still lurking and making things very uncomfortable.
Stef is also having a rough time, with occasional periods of panic all day long. She makes Lena go to dinner with Jenna and Tess in her place. The dinner is very awkward and very uncomfortable for Lena, and she tries to hint at that, but Jenna seems to have an agenda. I am not sure how this whole mess will end, but Tess has some critical decisions to make. We get an intense scene between Stef and Tess that still left me wondering "what next"
I cannot believe that in season 5 we are still being subjected to Mariana's messy love life if you can call it that. She's trying to juggle the three guys she's dating, but we all know this will not end well. There is a scene between Mat and her shot so beautifully, and the two actors did a fantastic job pouring their hearts out. She does get to finally choose how she wants to move forward with her life and with which boyfriend. Brandon is struggling with how to make life easier for Grace, so he plans a senior prank, which gets him in some trouble.
I will end with this little spoiler; someone's heart is going to break, unfortunately I cannot tell you who but, stay tuned!
Quotes to tide you over….
"a girl who leaves behind a trail of glitter will never be forgotten."
"if you expect nothing from anybody, you will never be disappointed."
"You always think the grass is greener on the other side."
Don't forget to watch on Tuesday night at 8PM ET