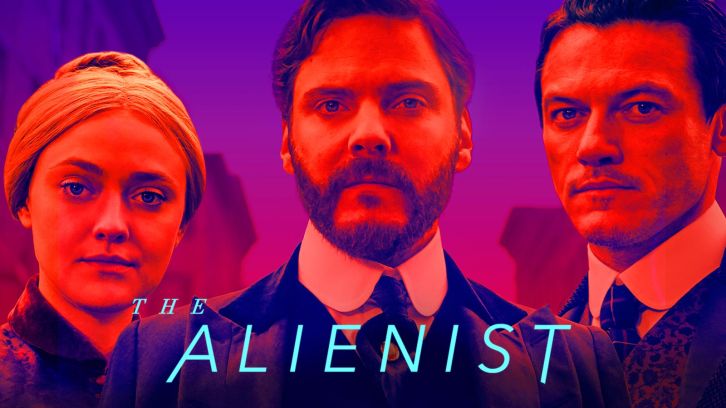 New York City. 1896. A young police officer walks down a dark snow-covered empty way, the snow crunching at his feet. Seagulls can still be heard, despite the nighttime winterscape. The crunches begin to grow louder, as does the howls of the wind. He comes upon but only a hand inlaid over the snow's white surface. Puzzled, he looks around. Then hearing some taunting noise from above, he looks up. He's horrified. A splat of blood drips down upon his cheek. He wipes his hand across his face, he feels it, and looks down at his hand to assess the red matter. In a panic he turns and runs back up the way. He takes his night stick and begins to beat it hard across something metal! Other officers nearby hear the clank and each begin to bang something of similar sounds near them. A chain reaction of metal clanks stirs throughout parts of the city.

The opening scene of
The Alienist
alone sets the tone for this unusual Gothic pyschological thriller and period murder-mystery crime drama, at least for a network like TNT. It's true that over the years TNT has worked hard to bring interesting and unconventional new shows to it's channel with both failure and success, but it has yet to do something that might be considered more truly "late night cable", something acutely atmospheric, darkly mesmerising, beautifully horrific, and dead-serious.
The series even snags some pretty great talent with Daniel Bruhl (Rush, Captain America: Civil War, The Zookeeper's Wife), Luke Evens (Dracula Untold, Beauty and the Beast), and a now young adult, Dakota Fanning (Man on Fire, Taken, Ocean's 8) in it's top lineup.
The episode continues to play out when a young boy comes into the purview of Dr. Kreizler's (Daniel Bruhl) home, repeating what the cops had said about another young boy dressed as a girl and left in pieces up on the new bridge. Interested in such details, the doctor tells another older boy, Stevie (Matt Lintz), to go and fetch Mr. Moore (Luke Evans) and to tell him to bring his sketch book and that Kreizler would need details. Moore is summoned from his own personal proclivities, as it becomes understood these two leading male characters will come with their own sets of unorthodox fetishes.
"Stabbing a grown man in a heated argument, and the methodical disembowelment of a young boy, are very different things." - Dr. Kreizler
The next 20 minutes allows the audience the privilege to discover the occupations of Kreizler and Moore while meandering through the city with Moore at the crime scene upon the bridge with Commissioner [Theodore] Roosevelt (Brian Geraghty), to Kreizler's school with wanting to help a young boy obsessed with burning things. The then
revealed-to-be
Alienist and
New York Times
Illustrator find themselves interviewing a false suspect at Belleview Hospital, then stealing the thunder of a seemingly divided police department (and former commissioner) being interviewed by reporters on the streets, to, --at last, whirling into the precinct with Moore being shut down by family friend and first official female police member, Sarah Howard (Dakota Fanning), whose more enamoured being familiar with the works of Kreizler, than feeling sexistly demoted as Moore's acquaintance, only for Kreizler to barrel past her into Commissioner Roosevelt's office.
And what is an Alienist, one might ask? It's an archaic term used in the late 19th century for those that study and help the mentally ill. It's really another word for a forensic psychologist or psychiatrist thus having an association crime or criminology and the justice system. The word mostly fell out fashion by the mid 20th century, but is sometimes still used in psychiatric facilities for those trying to determine if someone is mentally fit to stand trail.
The remainder of the episode then proceeds to to bring Sarah Howard slightly more into the fold, as Kreizler pushes Moore to get Howard to steal the case file that he was denied, which she initially declines, but Moore leaves her his drawing in hopes of changing her mind. We learn pretty quickly that Howard too is unconventional for women of her age--at this time. Not only does she tackle a male-dominated profession, which many seek to shock an insult her, but she also lives alone with just her maids and servants. Talking to her maid, she dismisses mens notions of a women's delicate nature, ironically also while undoing her corset, reminding the audience that despite the advancements Howard seeks, she is still bound by some convention, but
that
convention is not always delicate, but painstaking!
Upon reviewing the illustration, she finds Moore at his local "house" and gives him the case file on the Santorelli boy's murder, and only asks to be informed of pertinent information. He agrees, but never confides to Kreizler about it.
"That's what I admire about you, John. You represent the good that people want to believe is in all of us." -Dr. Kreizler
In the meantime it was revealed earlier that Kreizler believes that the latest murder may relate to another case from three years ago, the Zweig children. They were sent to his school to help the boy, Benjamin, deal with an obsession of wearing his sister's clothes. One day they were playing outside and mysteriously disappeared, only later to be found dead inside a rooftop water container. The girl's body in tact, but the boy's was mutilated and disemboweled! It's clear from Kreizler's determination he regrets not being able to protect them, since it happened under his watch. With the help of two Jewish brothers given to Kreizler from Commissioner Roosevelt, the bodies of the Zweig children are exhumed and the two forensic scientists begin to go to work, while Kreizler decides to step out with Moore for an early dinner, but Kreizler gets a creepy message in the form of a cut out tongue and finds himself on the hunt.
Following a man through the crowded streets and with Moore barely following behind, Dr. Kreizler finds himself in a seemingly abandoned building chasing someone up several flights of spiral stairs, finally reaching the attic. The door ahead shuts, but he follows and opens it. He steps through. By this point Moore had caught up. He looks at Keizler and asks,
"Where did he go?".
Keizler looks up to reveal a hole on the roof.
The final scenes show someone on the hunt for another little boy, while Kreizler explains his notions to Moore about how he thinks the mind of this potential serial killer works--explaining the killer feels deeply and needs to make the boys feel his pain, walk his path, and see as he does.
One of my favourite things about this pilot was the cinematography. From the angled shots of Moore and Roosevelt climbing the wooden stairs unto the bridge (reminding of The Wall in
Game of Thrones),
to the camera being placed just behind the horses of a horse-drawn carriage dangerously weaving through traffic, which is also similar to Dr. Kreizler following the man through the streets, or even the opening scene with the police officer looking up at the bridge parallelling the sequence of Kreizler's dead-end chase with a hole in the roof, all made the episode slightly, but pleasantly, dizzying episode full of suspense and great storytelling.
There were other moments too, things pertaining to a dichotomy between gritty and elegant. Winter-street-scapes along with large sets, props, instruments, and clothing feeling genuinely authentic to the gilded age, all reminding me of other crime-horror period pieces such as
Penny Dreadful
or
Ripper Street
. And it's no wonder with cinematographers PJ Dillion (
Game of Thrones, Penny Dreadful, Ripper Street, Vikings
) and Gavin Struthers (
Black Sails, Downton Abbey
) in tow!
As for the cast, they're executed wonderfully through the episode where they're given just the right amount of nuance and alone time, but also with just enough interaction to get a good sense of characterisation, but not without taking away from the mystery or the introduction to the social inter workings of New York City, including the gritty horror and political corruption of it's underworld.
Ultimately I feel that creator, executive producer, and director (
True Detective
) Cary Fukunaga has something intriguing on his hands and seems well-suited to adapt Caleb Carr's Gothic period crime drama series, given how well this pilot pulls itself off. If you're a viewer who likes an interesting combination of a good period crime drama like
Ripper Street
, the philosophical and scientific musings & serial killing-horror aspects of
Hannibal or Penny Dreadful
, with a dash something like
Gangs of New York
or
Boardwalk Empire,
this may be the perfect new limited series for you. But if you're at all squeamish, looking for something more pleasant and less bleak or more melodramatic, this might not be your cup of tea.