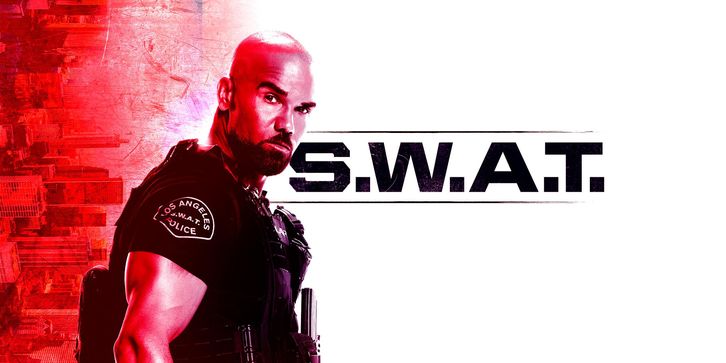 Seizure, written by Aaron Rahsaan Thomas, is an intense hour of television, relentlessly swinging between action and emotional drama. The episode opens with inmates at Helmsing Prison rioting to seize control, but, if you think that's all the title of this episode is referencing, prepare your heart. Prepare it now.

With three different gangs controlling three different sections of the prison, Hondo and Jessica work together flawlessly as they devise the plan, but if the clock wasn't already ticking for Hondo and the team to gain control, Gunnar Cade's just knifed Sister Carmelita in the side – so Hondo's sights are set solely on Cade.

Back at SWAT headquarters, Deacon's wife Annie has arrived with cake. It's Deacon's ten-year anniversary with SWAT, and she wants him to get acknowledged for that milestone. Not everything's gone his way this year, she tells Hicks. Beyond what we've seen it's hard to say exactly what she's referring to, but it feels a lot like a reference to Hondo getting command of the team over Deacon. I wouldn't imagine Annie holds any ill-feelings towards Hondo for that, but seeing her husband miss out must have been difficult.

ANNIE: "It was Barbara who taught me how to be a cop's wife."
HICKS: "Yeah? Well, Barbara's good at that. And just about everything else. I wish I'd let her know that more while she was still alive."

Foreshadowing. So much foreshadowing. From that emotional punch in the stomach, we cut to Deacon, and it's a tense scene as he and Chris take control of A Block.
We learn some interesting and disturbing things about the prison through guard Telly Appleton, who used to sack groceries before getting this job without any proper training. He's just stabbed an inmate who'd stolen his uniform, and now he's following behind SWAT officers as they work to regain control of the situation. He's starting to question if $11 an hour is worth it.

DEACON: "Piece of advice. When I first got this job, somebody told me that I'm gonna see some rough things and I'm gonna have to do some rough things. But every cop needs a chair."
APPLETON: "A chair? What does that mean?"
DEACON: "It's whatever you use to decompress. For some people it's a chair and a glass of scotch. Others it's a favorite meal, a certain book. Anything. The sooner we do this, the sooner we get you back to your chair."


In C Block Sister Carmelita is still bleeding from her knife wound, but she's hanging on, losing blood but speaking words of encouragement to those around her. Hondo and Luca throw a flashbang into the room, and while they incapacitate a couple of the inmates, Cade escapes with the injured Sister Carmelita.
Back to the precinct, and if you think SWAT is going to give you a moment to breathe in between prison scenes, with lovely scenes of Annie with Deacon's 10th anniversary cake, think again.
Hicks is momentarily distracted from the cake by Jess calling, letting him know they've recovered two of the hostages, and during this call nothing seems wrong. It's after the call, as Annie tells Hicks she understands he needs to leave, that something starts to feel off. It's subtle at first, her use of the word "understudy" instead of "understand". And he smiles in confusion, until she struggles to even form a basic sentence, until the tension starts to show on her face, until it's obvious she's in the middle of a medical event, and he helps her to the couch before calling for help. There's no over-dramatic collapse here, but a realistic scene of fear and confusion played beautifully by Bre Blair.
At the hospital we learn there's bleeding in Annie's brain, and the question becomes: Do they pull Deacon out? Annie's about to go into surgery, there's a chance she won't make it. Jess speaks to Hondo who tells her the situation is far from being under control. She won't compromise Deacon or the team while they're all still inside – so she makes the difficult decision to keep the news of Annie from Deacon for now.
The tension continues at the hospital. The bleeding in Annie's brain, the stroke, is due to a non-cancerous tumour. There's swelling in her brain and it's getting worse. It's all hitting too close to home for Hicks, who accidentally uses Barb's name instead of Annie when asking if she'll be okay. Just in case your heart wasn't completely broken already.
There's now just twenty percent of the rioters still to get back in their cells, and seven hostages to rescue. With Gunnar Cade and his crew to get into custody, and Sister Carmelita to rescue, Hondo keeps the news of Annie from Deacon, and it's clear he's struggling with this decision.
Hondo and Luca find out, with help from inmate J.R Coltrane, that Gunnar Cade started the riot to use it as a distraction while he found Dale Degroat, an inmate in protective custody who, if he testifies, could put a bunch of Cade's buddies behind bars. Right now, Cade's using Sister Carmelita as collateral. The team fires a gas canister into where Cade and his crew are attempting to break into Protective Custody. Luca helps Sister Carmelita, while Hondo and Rocker pursue Cade. They follow a trail of blood, suggesting they've managed to hit him with a bullet.
Not much makes me jump, I'm so hardened by years of horror films, but this episode managed to get me so on edge from the action and emotional heartache, that when one of Cade's men appeared and attempted to take down Hondo I definitely flinched.
Jessica is utilized to perfection in this episode. She's there from the start until the end, helping to organize how they'll tackle the riot, questioning the prison owner, Ashe Jones, making the hard decisions with Hondo during the op, and watching everything and everyone. Jessica may be dating Hondo, but that relationship is kept so separate from their careers, and this character is consistently written so strongly, that there's no danger here of Jessica becoming "Hondo's girl". It's because of Jessica that Cade, disguised in a Guard's uniform, limping past squad cars, is unable to escape. No one else pays much attention to him – except Jessica. It's Jessica who steps up to him, Jessica who orders him to the ground, and ultimately Jessica who takes him out with expert aim.
DEACON:
"What is it?"
HONDO:
"It's Annie."
DEACON:
"What about her?"
Jay Harrington deserves an award for the fear in his eyes alone in this scene.
Robert Duncan's music breaks us a little more as Deacon runs to a waiting chopper. He can't get there fast enough, so the scene utilizes slow motion to tighten that vice-like grip on our hearts and draw out the scene; the world moves in slow motion in moments like these.
Confusion and fear swirl again, this time in Deacon as he meets Hicks at the hospital and tries to make sense of it all.
Patrick St. Esprit is powerful in this scene as Hicks calms Deacon, drawing on his own experiences with Barbara's illness.
Hondo has the chance to call Ashe out on the conditions of his prison, and he doesn't hold back.
"I know a warden's dead and a nun got stabbed because of the conditions you created here,"
he tells him. Hondo's angry, and he's going to make sure Ashe pays. He'll get justice for what he saw inside.
And Jessica gets in the parting shot, a warning that when Hondo thinks someone deserves to be behind bars, it happens.
The episode ends at the hospital, with Deacon surrounded by his family while Annie's in surgery, both his kids, and his SWAT family.
Deacon admits to Hondo that he and Annie had made a will when he joined SWAT. They'd planned for what they'd do if anything happened to him.
"Never planned on anything happening to her."
Annie
is Deacon's chair.
And with the success of prisoner rehabilitation brought into question in this episode, I can't help but wonder if Annie might be about to go through rehabilitation of her own – if she pulls through.
Thursday cannot come fast enough.