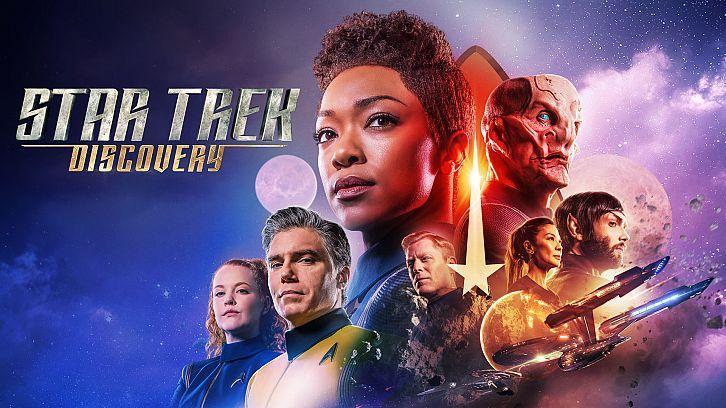 Star Trek: Discovery 1.11 "The Wolf Inside" - Review:
Directed by TJ Scott & Written by Lisa Randolph


The Wolf Inside
continued on from the excellent form of the midseason premiere, remaining in the mirrorverse for another exciting, and nervy hour that saw plenty of game-changing moments, most notably including not only Ash's betrayal as he accepted his identity as Voq - with all it took being a face-to-face confrontation with the Voq from the mirrorverse - but also the revelation that Michael's mentor, Captain Georgiou, was actually none other than the Emperor of the autocratic Terran regime. It was certainly a pretty shocking way to end the episode, and a great way to bring fan-favourite Michelle Yeoh back into the fold after her brief appearance in the first two episodes of
Star Trek: Discovery
.
The revelation that Ash was Voq was almost going to come out soon and although it wasn't as unpredictable and shocking as say, the Ward reveal on
Agents of SHIELD
, it did leave an emotional impact particularly on Michael, who only had Ash as her link to sanity on board the Shenzhou. Now with that gone, and Ash no longer here, it will be interesting to see how the world continues to change her going forward. The Terran Empire storyline represents the biggest chance for rapid character development in this show, and we're already seeing it become clear. There was no turning back from the revelation that Ash was Voq, but for the most part it was handled well. The longer it would have dragged out the more obvious it would have been - so the show kind of had to act on it now, and the writers chose an effective way to do so for the most part.
Michael and Ash decided to lead a two-person strike force into the resistance base, with Michael determined to find out what she could learn from the Vulcans and the Klingons and how the bitter enemies that she knew in her world became allies so quickly in this one. It turns out that they joined sides because of the common enemy in the form of the Terran Empire. The inclusion of Sarek as part of the resistance was a nice touch, and although they were obviously very different people in this universe, it was another reminder that no matter what galaxy they're in it seems that the same people will always find a way to find each other. Sarek's connection with Michael helps prove to the resistance leader Voq that she's not a threat, having become a different person to whom she once was. In this universe, Sarek's words as a prophet carry incredible weight - and Voq is willing to listen to them.
However, things quickly turn south when Voq reveals the lengths that they've had to go to to survive against the Empire. The Voq disguised as Ash is angered that this Voq and the Klingons have abandoned their "Remain Klingon" principals, if they ever had them at all in this universe - and lashes out, breaking his cover. The emotional breakdown of the relationship in trust between Michael and Ash was one of the more important moments of the episode, with both actors Sonequa Martin-Green and Shazad Latif playing their parts incredibly well. But interestingly, this episode didn't mean the end for Voq after he was prevented from killing Michael by Mirrorverse Saru - who in this universe is nothing more Michael's personal slave, who didn't even have a name until she gifted him one by mistake, one of her rare slip-ups of character on board the Shenzhou so far in front of other Mirrorverse characters.
Voq himself was initially beamed into deep space and left to die, but before he could, he was sent over to the Discovery with the Terran data in his back pocket to aid Saru and Tilly thanks to a quick intervention by Michael. I was half expecting the show to pull a stunt and have Ash's identity kept unknown somehow to the crew of the Discovery allowing him to surprise them and keep his cover until at least Michael returned on board, but apparently news gets around quickly and he was taken into custody, denied an honourable death. Because even though they are in a different universe, they are still Starfleet, and he will still be taken care of through the proper channels. What's the betting he doesn't stay behind bars for long, though? Especially now that he will be reunited with L'Rell, who - as a side note, doesn't feature with the Mirrorverse Voq in this episode.
The side story of
The Wolf Inside
was very much Tilly and Saru's attempts to try and get Stamets back to life and their clashing of perspectives. Tilly was very much adamant on being left in charge as she had the most experience with the situation, arguing that bringing in another doctor would only make things worse, and she's eventually overruled. But there's still no luck in this approach, and it's good to see that the show is taking the slow burner approach to Stamets' recovery rather than providing a quick fix.
The other big twist came at the end of the episode as the show revealed the identity of the Terran Emperor. Despite Michael's attempts to stall for time and allow the Resistance to escape using the cloaking technology as cover, they were bombed from space by a ship arriving above them in orbit. This ship turned out to be none other than the Emperor's personal ship, as Georgiou appears in the hologram - questioning why Michael didn't follow her instructions as ordered. This big reveal was certainly an effective one - and I can't wait to see how the writers follow things up next episode, especially as this will be Michael's biggest test yet to see how long she can keep up her ruse. The fate of Lorca isn't looking too good at this point either, especially as he's now closer than ever to meeting the nemesis of his other self.
We may not be getting a Warhammer 40,000 crossover anytime soon within the
Star Trek
universe but this current Mirrorverse arc is the closest we're going to get.
The Wolf Inside
continues to excite and entertain, and I'm really loving the lack of constraints that the show has presented us with so far.
What did you think of Star Trek: Discovery's latest episode The Wolf Inside? Let me know in the comments section below and be sure to check it the next episode this Sunday on CBS All Access, and the following day on Netflix internationally outside of the US and Canada.