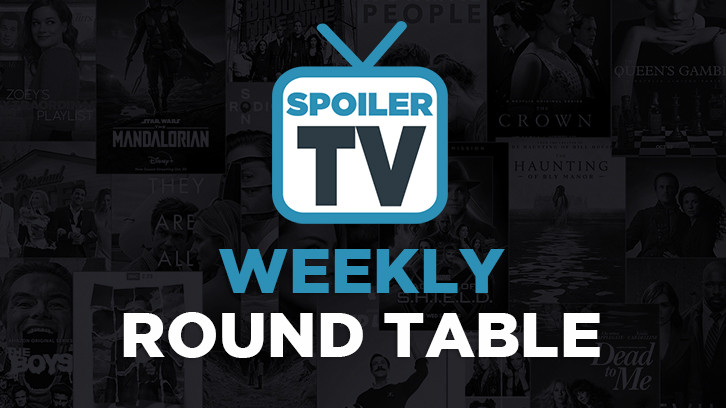 Hello everyone and welcome to a new edition of your favorite Weekly Round Table! This week we go full ahead tackling some big stories from the past week and it's extra lengthy. This week I'm joined by Gina (GK), Patrycja (PK), Shal (KG), Laura (LS), Milo (MI), Katherine (KM), Donna (DR), Claire (CS), Jamie (JC), Lisa (LM), Beth (BW), Jessica (JN) & Samantha (SB). As always I hope you enjoy the read and stop by the comment section to share your thoughts on our topics.


1. CBS is talking a lot about change but the most recent episode of Star Trek Discovery killed another queer character and their 3rd PoC since the show started (13eps aired so far). When will the talk start being more than just talk?
LS:
I was under the impression that Culber was fine, or at least he will be revealed to be fine? If he is gone for good this is a disastrous move on CBS's part because Trekkies, especially LGBTQ+ ones, are going to be coming for their asses. Wilson Cruz is such an amazing advocate (so is Anthony Rapp) and to see him get so excited to have this role only for it to be snatched away? That's not right. That's not okay. Fix this fucking shit, CBS. Or I'm going to keep calling you by your real name: Complete Bull Shit.
MI:
This is a pretty damning stat, but according to reports and interviews, at least in terms of the most recent death - I am hopeful that this is far more than just another example of the 'bury your gays' trope and the writers are using it to tell compelling stories with both Culber and Stamets. GLAAD themselves are seemingly aware that there is more to come with Hugh's storyline in particular, stating that Death is not completely finite in the Star Trek universe, and that they know that the producers plan to continue exploring and telling Stamets and Culber's love story. The actor himself has hinted that he's not leaving the show just yet, and a different version of his character appear in the latest episode after his death to help Stamets. The show isn't completely ignoring its other POC characters who have died either, as we've just seen a different version of Michelle Yeoh's Georgiou return for the mirroverse arc. Granted, how they handle these deaths hasn't always been perfect and some (particularly the second character's) could have been handled better, but progress has been made since then, and for once is not being completely garbage when it comes to this like CBS has been in the past. I could be wrong though as there are still episodes left to play out in the season, but for now - things aren't looking as completely negative as they would be normally, and it helps to have some clarification on what's next in store for Culber and Stamets in particular.
KM:
I am really disappointed about this, particularly since the murder broke up what appeared to be the only queer couple on the show. I thought there were a lot of possibilities with that. I have no idea how they'll stop killing of characters of color this season; I think they'll have to wait until next season because they have already done this season and most likely need rework some scripts and introduce some new characters.
JC:
I'm still not quite convinced that he'll remain dead. If he does, however, I will be very pissed off. If you pull something like that in your first season it means you've been planning it from the start and considering the whole "bury your gays" trope that has gotten a lot of attention lately, I just have to ask: what the hell was you thinking?
LM:
I think Laura Markus nails this answer, so I second her thoughts. I will add that it may be harsh to judge the network on one show - but there isn't a lot of evidence to show any of the change they promise.
2. Grey's Anatomy's spinoff finally got a name! Do you like Station19 or do you prefer Untitled GA Spinoff more?

MK:
I like the name. ABC dragged the reveal out a bit too long but it is short, sharp, and somehow I get some power from it.
PK:
I must say for some reason I actually do like the name Station 19, it's intriguing and I'm excited to give it a shot.
LS:
Personally, I'm very fond of (Chicago) Seattle Fire. The parentheses would stay there.
KM:
I'm going to go with GA - Spinoff #1, because it will be easier to keep track of them going forward. SondABC has the potential to grow in any direction, and at least her shows aren't reboots.
CS:
Didn't think much of the new Grey's spin-off, but thought a good title would have been Seattle Fire?
JC:
I feel like I'm one of the few that actually likes the name. I wasn't expecting anything flashy. I think it's very similar to Private Practice, actually. Understated but it fits.
LM:
Don't watch Shonda shows, so I don't care what they call it... not watching.
BW:
I know I am in the minority, but I like the name, it is simple and to the point. Also, if you watch the only other Firefighter show on the air or have seen previous shows about firefighters, they always refer to their house like this, it is how they distinguish themselves from the other houses in the city they serve and use it as a point of pride. I also said this on the day that it was announced, they spent so long dragging this out that nothing would have been satisfying.
JN:
With there already being a series titled
Chicago Fire
, it made choosing a name for the Grey's Anatomy spinoff a little more challenging as the show couldn't exactly call itself Seattle Fire. While
Station 19
makes sense as a title, I would have preferred the name Three Blocks Down, as the fire station is three blocks down from Grey-Sloan Memorial Hospital. However, the series is fast approaching and we couldn't just refer to the series as the Untitled Grey's Anatomy Spinoff forever.
SB:
Considering how long ABC waited to reveal the name for the spin-off, Station 19 is the most redundant name they could've come up with. It's blatantly obvious they had so many issues coming up with a name due to Chicago Fire, which would beg the question of why anyone thought Grey's Anatomy needed a firefighter spin-off in the first place.
3. Pilot season is in full swing and instead of ordering Time travel shows, the Networks are basically dusting off the old idea boxes and bringing back the 80s & 90s. What does the Revival/reboot fever mean to you? Lack of ideas or avoid risks?

GK:
Aren't they tired of no originality? It started in movies, so everyone came to TV. If TV follows with bad remakes or no originality where do go from there? I do like bringing back original casts of Will and Grace which I've enjoyed. And Rosanne. But beyond that? One or two shows is fine. But I enjoy discovering new shows. I'll watch, but I'm not holding my breath I'll enjoy it.I noticed better quality of shows coming from Canada for a while. SYFY TNT and USA used to have great original content. But I feel like they are all lacking. It's like Lifetime and A&E, once great now mediocre at best. Bring back quality tv!!
KG:
While I'm still iffy on the Charmed reboot, I'm intrigued by the premise and hoping that this time around, there are WOC/LGBT witches. That'd be a wonderful change of pace, and maybe they can tap into other witchcraft lore too. CBS is doing too many reboots but I might give Murphy Brown a chance (provided a streaming service gets the right to air the original show because I've never seen it). They are definitely running out of ideas a bit but I'm enjoyed Will & Grace, and am looking forward to Roseanne. Plus, One Day at a Time is a reboot and it's absolutely amazing. I think we have to wait and see how they are before making assumptions.
LS:
I think the one reboot that might have potential is the
Murphy Brown
one. THAT IS IT. Television has been on the decline for a while, especially broadcast, and especially in terms of creativity and originality. This is the final nail in the coffin. And personally? I'm quite ecstatic to not have to add any more shows to my list. It's bad enough already sitting at 300+.
MI:
As someone who hasn't seen virtually any of the shows that are being remade, it's kind of something that's just passing me by at this point. However, it doesn't always mean that rebooted stuff is going to be bad - take The Exorcist on Fox for example, I never thought that this would be a decent show at all as that movie is one of my favourites - but the show itself has gone on to be arguably the best horror show on television at the moment. I guess it all depends on the quality of the talent involved, as usual.
KM:
When I think of all of the shows on Netflix and Amazon and TNT and USA (when they aren't showing SVU) and TBS and SyFy and all of the other channels showing original content, I don't get it. Are the networks scared of new types of shows and are seeking comfort in the old and familiar. I don't want to watch another Murphy Brown, I've seen it. Don't need another Charmed because the one I had was just fine. Sometimes reboots can be good (BSG, for example), but there is such a thing as too much of a good thing. If you want Candice Bergen in a news show, I have some ideas for a network show that might work better than unleashing Murphy again. That being said, I am all for the "One Day at a Time" reboot.
DR:
I am really upset, more like angry about all the reboots, remakes. Anyone who follows me on Twitter knows my feelings on those. To me this is nothing put pure laziness on the part of the networks. There are too many struggling writers out there that networks are afraid to take a chance on for fear of not having an instant success. So, they go back and retread classic shows, find it cheap to retread and update storylines or scripts, but bottom line is they never work! The network is counting on a built in audience, but you can't make a show success if you try to reboot a successful show from the 80's by trying to update it and make it politically correct. There is a reason for the saying, you can't catch lightning in a bottle twice!
CS:
I guess I'm in the minority that I really like a lot of the reboot ideas. I feel that basically almost every story on tv is a reboot from the 50's, the beginnings of television. Family, love, death, etc... Of course it's a safety net for the networks to bring back beloved characters, but they are not known for taking chances. Though if the writing and acting aren't above par, no show will truly succeed. Frankly, I'm tired of all of the superhero shows more.
JC:
I think reboots seem safer to the networks because there's already an existing fanbase there. There are quite a few reboots that I'm pretty sure wouldn't have made it if it wasn't for the already existing fanbase (won't name names). I guess for me it depends on the concept. There are a few old shows that I'd love to watch but the crappy CGI is holding me back so I wouldn't mind a reboot. Plus, there are a lot of shows that were cancelled without getting a proper ending so I wouldn't mind if those got a revival (like Gilmore Girls got).
LM:
Networks are going for safety. Reboots/revivals also lets them maximize revenue from the streaming services that carry the originals... It's also a testament to how much stock the networks are putting in the numbers from those services. If an old show is getting a lot of hits, why not bring it back? Personally, I'm not interested...
BW:
Some of the shows they are bringing back are peculiar but I think it can work if the ORIGINAL cast is game. Will and Grace hasn't lost a beat and I have loved this revival. I guess I will treat these like I have with the other ones and not judge until I see the final product.
JN:
It really does seem like the revival/reboot fever has gotten out of control over the past several years. There are few and far between original ideas anymore, and everything under the sun is either being redone, rebooted, or revived. While reboots have always existed, it seems like shows that ended less than ten years are being redone, which is sort of offensive to the original series because the shows are barely cold. For me, revivals only work on occasion, and most of the cast needs to be attached to the project for it to work. Bringing back a series with only one or two series regulars is just adds insult to injury. It really does feel like there are no new ideas out there, or at least, people are too lazy to come up with something because it seems easier to take from an existing idea and tap into an existing fan base.
SB:
Revival fever is giving me massive fatigue and reeks of laziness. I would find it truly unbelievable if Hollywood has honestly run out of original ideas. I get that reboots and revivals are the safe bets that bring in a guaranteed audience that advertisers love, not to mention make the Network millions, but it's completely uninspiring and is fast turning one of the most interesting parts of the TV calendar into a boring, predictable mess.
4. Oscar nominations! Who got snubbed? And who got an underserving Nod?

LS:
In short,
Get Out
and
The Shape of Water
deserve every nomination they received and more. These are the best two movies of the year, in my opinion, and both completely and utterly excelled at what they were trying to do. I would love for Daniel Kaluuya and Jordan Peele to win theirs, and Richard Jenkins, Sally Hawkins, and Octavia Spencer to win theirs. Obviously this is not going to happen, at least in the
Get Out
circles, but they are the most deserving. I adored these two movies so much and, if you know what they're about, seems a bit weird to say, but I don't care. These movies enlightened me once more on the magic of cinema this year. Go see them if you haven't already!
MI:
I haven't seen Darkest Hour, The Shape of Water, Lady Bird or The Phantom Thread yet, but they're on my list - so I'll reserve judgement on them until I've seen them. I would have liked to have seen Personal Shopper get a nod, as well as more love for The Florida Project and Armie Hammer getting a supporting actor nod for Call Me By Your Name would have been nice, and in a dream world Blade Runner 2049 would have been nominated for best picture and best director, as well as best original score - but if it doesn't win best cinematography it will be outrageous. Most of the choices are good for the most part from what I have seen though, although The Boss Baby getting the animated nod over The Lego Batman Movie is really questionable, Coco is the only real film that deserves to win that category especially given how poor a year it was for animation.
DR:
Oscar nominations. Several snubs come to mind...most blatantly the lack of ANY nominations for Wonder Women, it was the third highest-grossing movie of 2017 and was critically acclaimed. Patty Jenkins should have received recognition for her groundbreaking work and one could make the case for set design, costumes, editing. Another snub, in my opinion, is the lack of nominations for costumes, make-up, and hair for The Greatest Showman. Molly Chastain and Idris Elba did exceptional work in Molly's Game and deserved mentions as well. As far as undeserving nominations - I'm not going to name names, but feel there are some acting and picture nominations that don't belong there.
CS:
Oscar snubs- I loved the Post, but they were correct in not nominating Tom Hanks. But after Jason Robard's Ben Bradlee, there was no way to top that portrayal.
LM:
Of the movies I've seen this year, I'd say no nominations for Blade Runner 2049 seems harsh. Noms for Judi Dench and Ali Fazal for Victoria and Abdul would have been nice.
BW:
I am not a big movie person nowadays but award shows, in general, aren't my cup of tea normally.
SB:
I've fallen behind on my movie viewings this year and award shows aren't really my thing because the winners tend to be undeserving and in some cases predictable, but I am glad Get Out & Lady Bird are feeling the love. Would've liked Thelma to have gotten a Foreign Language nod though.
That is it from us. Hope you enjoyed the WRT, stop by the comment section and until we meet next week. . .