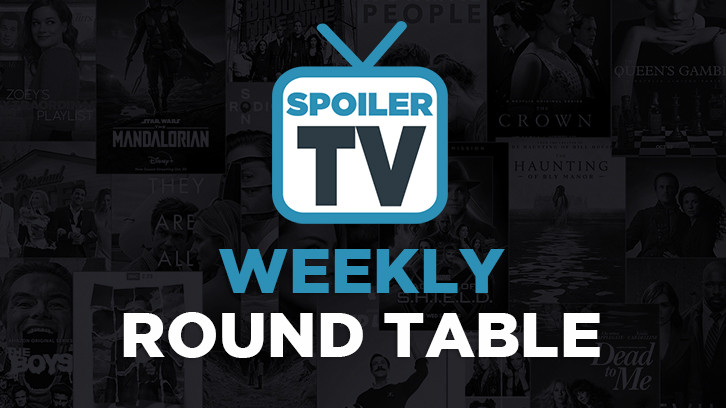 Another Monday another Weekly Round Table. I hope you had a great weekend and are ready to join the discussion on this week's topics. This week ranting by my side Lisa (LM), AD (AO), Donna (DC), Katherine (KM), Jamie (JC), Jessica (JL), Antonia (AE), Sam (SJ) and Jaz (JZ). Sit back, enjoy the read and as always feel free to join our discussion in the comment section down below.


1. American Crime Story is going political. The show is tackling the Lewinsky scandal for the 4th season of the anthology show. Thoughts?
LM:
I love this show, and I can't wait for it to tackle Katrina in season 3 and the Lewinski scandal for the 4th season. While I'm disappointed that they didn't go through with an expose on the Trump/Russia scandal, I think the Lewinski story will give them ample opportunity to explore a lot of issues that are really pertinent today. I'm excited mainly based on the first season - there hasn't been enough of the second season to judge whether the show has maintained its quality, but I think that if they can give the Lewinski story the same attention and treatment as they did with the OJ trial, it's going to help shed new perspective on a story we all think we know - well, those of us who actually lived through the events anyway!
AO:
I am not a big fan of ACS, but I enjoyed the OJ season, which I thought they handled well. Now I haven't watched the Versace episodes that have aired so no opinion on how they are presenting that. I don't know if Ryan Murphy is the right person to handle Monica Lewinsky's story. Also, whom will he bring in to write or consult on this? I hope they bring Monica on as a consultant because she's a brilliant writer and might help them navigate this better.
KM:
Also not a big fan of ACS or any of this kind of show (like the Dick Wolf Menendez Bothers thing). Give me a good documentary any day. If I did have to watch one I don't think I'd pick the Lewinski scandal, however. I feel like I know enough about it already. If you aren't bringing something new to the table, don't waste my time.
AE:
I may be a bit biased in this discussion because I haven't watched ACS, but I've watched Ryan Murphy's other work, and I don't trust him to handle something so political, and especially not something so recent in our history. I know that the most recent seasons of ACS are great, but frankly, there's a difference between simple (if that's even the right word to say it) murder-drama and political drama.
JZ:
American Crime Story has always dealt politics in some way, whether it be racism in season one or homophobia in season 2, so this doesn't seem to be a deviation from the norm. I think in this current climate, with the #MeToo and #TimesUp movement, it's a timely case to deal with. It'll be interesting to see how the women involved in the scandal (From Monica to Hillary) were treated and if Ryan and co will provide some insightful commentary about it. There's a lot of meat on the bone with this one and I think it's a great choice for a potential season 4.
2. Freeform unveils new logo, announces premiere dates and puts new "interesting" projects into development but the numbers are slacking. Where does the network make mistakes in your opinion? Why aren't they able to launch successful Nielsen rated shows? Has their time passed?
LM:
Freeform is still essentially "ABCFamily" in the sense that it's a broadcast network trying to catch Netflix in the streaming market. I don't think any of the big Hollywood Studios has quite figured that out. The biggest difference between a Netflix and a broadcast network is the release of an entire season at once - and then relying on the huge library of choice. I do think that changing their format to tentpole movies followed by an hour of scripted programming might be the bold format shift that could help. Really, however, the thing that will likely help the most, in the long run, is Disney pulling all their content from Netflix - in the meantime, however, Netflix can afford to sink a lot more money into really high-quality programming.
AO:
Oy Freeform, where do I start? I think they should be a part of the streaming service that Disney will roll out. My view of their programming is that they are good for binging. Streaming will also give them room to do more and let their talent do other projects on breaks. If they go this route, then they don't have to worry too much about episode ratings every week. The new logo does look fresh, but hopefully, it means better programming.
JC:
Not sure what is up with Freeform. They do seem to have lost their touch. (the new logo was definitely not a step in the right direction). Don't get me wrong, I think they still have great shows (The Bold Type for instance ) But a good show isn't enough to get great ratings. I think their promotion is where things tend to go wrong. If they don't get their ratings up, now that their big hit (pretty little liars) is gone, they could be in trouble. In fact, they've been reminding me of the CW lately.
JL:
My problem is that the network keeps trying to rebrand to stay current, but I think that is giving fans serious whiplash. Pretty Little Liars, the network's no. 1 series, ended in 2017 and The Fosters, the network's no. 2 series, is finishing season 5B this year, with Freeform having already ordered a spinoff following Callie and Mariana's lives after they move to Los Angeles. So without its two-highest-rated dramas, it doesn't really have any legs left to stand on. Also, when the network changed its name from ABC Family to Freeform, it reiterated it wanted to target "Becomers," but it perplexes me how ordering a rebooted Party of Five falls into that category. It's like the network realizes that its current approach isn't working, so it's just throwing everything including the kitchen sink, hoping something will stick. It's one thing for a network to be well-rounded in shows, but this is just a complete mess at this point. It needs to either shape up or ship out.
AE:
As a longtime consumer of Freeform, I feel like the network's heyday has passed. Even though Pretty Little Liars peaked long before it ended, one can't admit that PLL gave the channel its identity and prestige (if that's the right word for it). Now, without their flagship show, the network is floundering. While for other channels, a diverse fare could be beneficial, Freeform's diverse offerings showcase to me more of an identity crisis. Freeform has shown that it can create genuinely good, critically loved shows like The Bold Type (and The Fosters, to an extent, though I haven't seen that), but you wouldn't know that by looking at what it's ordering and pushing. Alone Together looks like its trying to be Freeform's version of Girls, but the awkward humor of that doesn't exactly fit with Freeform comedies of past or its new Grown-ish. Shadowhunters, frankly, is a mess, but it's the only thing that seems to be as close to a flagship show as PLL was. That would be okay, if Shadowhunters' genre-ish status didn't contrast so much with Freeform's contemporary options. If Freeform figured out who they wanted to be, maybe they could be better at advertising and getting views.
SB:
I feel as if Freeform can go through as many new designs and taglines as it wants until it actually gets rid of its dreadful name? No-one will take it seriously. It kept Pretty Little Liars on air far longer than it should've out of pure desperation because its other shows were failures. The Fosters started out well but had a dip in quality & it's ending had been on the cards for a while. Young and Hungry will probably end up canceled, Grown-ish has been brought on board, Shadowhunters is its new flagship show, The Bold type got renewed but with new people running it. They need to work out what exactly they want Freeform to be, instead of chucking any old show at it, in the hope that it sticks. Are they looking to attract a slightly more grownup audience? Are they still about the teen audience? Do the think binging online is the way forward ala Netflix, or still, want to continue with the weekly watches? Do they have enough budget to actually carry out their plans for the Network? Until they're able to answer these questions and present the audience with a clear plan for their shows, Freeform is just going to keep making the same mistakes & eventually the beyond abysmal ratings will kill the Network off.
JZ:
I think Freeform is more concerned with finding it's audience right now over commercial success. Quite honestly, I don't think it has the weight to compete with the big cable shows. That being said, it seems to have success against itself, with The Bold Type receiving critical acclaim and Grown-ish beating out Shadowhunters in the premiere rating game.
I'm really enjoying the projects the network is putting out. They're clearly going for a female, YA audience with their selection of informed and edgy programming. The casts are diverse, inclusive and its shows are tackling culturally relevant themes and defying typical expectations and stereotypes one would expect from YA shows on other networks like the CW for instance. I think this sort of rebranding is a little shaky right now, but most revolutions are. It just needs more time to settle in with its audience and maybe the ratings will follow.
3. Ellen Pompeo delivers one of the most open interviews in regards to her position as an actress on Grey's Anatomy. What are your impressions of her empowering rant against all those who were throwing stones in her way?
DC:
It's about Equality of pay, how many times do we hear the guy who is just as famous gets more than the leading lady. Ellen stood up for herself if it was a guy people would be like good for you. We need to move with the times but sadly it's the same old story. A Woman stands up and it's who does she think she is. The show is called Greys Anatomy she is Meredith Grey. It's that simple.
JC:
Her character's name is in the title of the show, if anyone can ask for a raise (or just to be paid equally as a man would be) it's her. She's been carrying this show for 14 years now. So good for her.
JL:
I could not have been more pleased to read the recent interview Ellen Pompeo gave. For this past year, Hollywood stars have been pushing for equality, but no one really had the courage to speak up like this. Yes, you have stars coming forward about alleged sexual assault and harassment and gender pay gaps, but no one has really had the audacity to name specifics. It was a breath of fresh air, in a time where it was desperately needed. I hope other stars see this interview and have the bravery to share these difficult truths in the future.
SB:
I thought that Ellen's interview was absolutely magnificent. Those tearing the article apart to grab clickbait headlines and tweets? Not so much. But everything she said was completely justified. The show is named after her character, so of course, she should be the one making top dollar. And of course if her contract prevents her taking up gigs elsewhere, she should get the producing credit for the show, and her projects get pilot commitments at ABC. I think she was also perfectly entitled to call out ABC for trying to throw a new man at Meredith so soon after Patrick's exit. But what I love the most is that women are Hollywood is starting to see each other as allies, instead of the potential enemy or rival. Band together to give each other advice! It's a shame they have to do that and not all actors will automatically join their stand, but it is a start and we honestly need more actresses to be as frank as Ellen was, and the fear culture that has taken over Hollywood to be eradicated.
MK:
My admiration for Ellen grew immensely after this interview. Being this open in such a male manipulating time is just beyond brave. It is truly shocking that she had to wait for 14 years to gain this much power over a show and she is the heart and soul of this one from the beginning. Putting herself out there in this manner is really brave and empowering and a message too all the blackmailed and underpaid actresses out there.
Another turbulent week, crowd with a neat WRT edition. Hope you've enjoyed this week's edition. Stop by the comment section and look forward to next for a new edition.