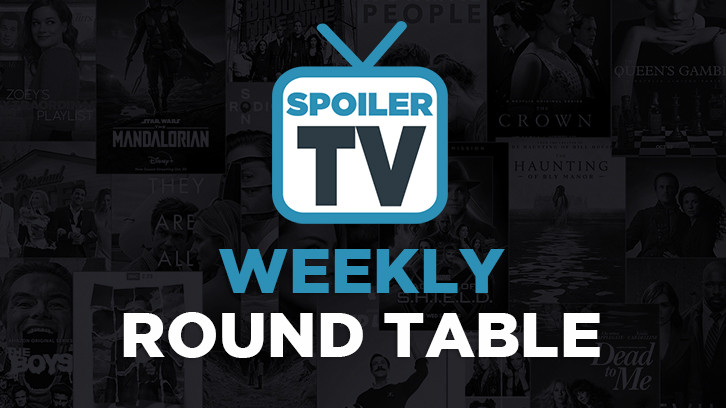 Hello everyone! I wish you all a Happy New Year and welcome you to our first WRT of the year. I hope you entered the year well and are ready for some juicy TV topics to be discussed. This week I'm joined by Samantha (SB), Shal (KG), Winston (WM), Claire (CS) and Jaz (JZ). Your job is to sit back enjoy the read and join the discussion in the comment section down below.


1. #HowToGetAwayWithScandal ! A two-hour xover event between Scandal and HTGAWM was announced. Is it a little bit too late? Or just in time as there won't be another season of Scandal?
SB:
I don't watch either of these shows but the general impression I get is that the crossover is extremely illogical, and being down as a sort of ratings boost. The interview that I believe the Murder showrunner/producer gave didn't exactly inspire confidence. I also think that Networks have been using crossovers as the go-to boost for shows so much, that there's now no buzz in it.
KG:
Even though this crossover doesn't make any logical sense, I'm still pretty excited for it. Liv and Annalise interacting should be amazing, and I can't wait to see these two women go toe to toe.
WM:
I've always wanted this crossover. From the day that HTGAWM premiered, I was waiting for this crossover. unfortunately, I do think it is a little too late. Scandal is in its final season and ratings are limping to the finish and HTGAWM is down as well. I'm not sure how beneficial it is to either show to do a crossover at this point, so it is merely just a matter of wish fulfillment this point. I'll still watch it though!
MK:
Even though Michaela mentioned Obama in 4A, I think the shows could still make it work. I'm really excited to see Kerry and Viola share the screen, that will be some beastly interaction. Also very curious how much of the supporting cast will interact. Kerry whipping the Keating 4 into shape should be hilarious.
2.While we are at Crossovers. Ryan Murphy announced a crossover season for AHS season 9, where he plans to combine plots of season 1 & 3. Brilliant idea or lack of inspiration?
SB:
I've never watched any Ryan Murphy show, but I do think some of his shows are beginning to run out of ideas. Not surprising when he, like Berlanti, has so many on air. American Horror Story from what I read has very much been hit or miss. Personally, I would give the show a rest for the while & give people time to miss it instead of throwing recycled ideas at it,
WM:
I have only watched two seasons of AHS all the way through. I tend to find that once the hype for the season wears off the seasons themselves generally leave me disappointed. Season 1 is the only one I can say that I enjoyed from start to finish ( as is the case with most Murphy shows) I'm not really interested in revisiting it, and I think there needs to be more time spent on actually developing new engaging stories if they want the franchise to continue.
CS:
I am a fan of the AHS collective; though I skipped Freak Show. I think it is a great idea to show connections between the different seasons. It has been a long-held fan theory that they may be connected to each other. I think that the possibilities are endless. Also, there have been hints of connections such as Twisty the clown from Freak Show turning up in Cult.
JZ:
Personally what I like about AHS is the fact that it is an anthology series and I can pick and choose which ones I want to watch without feeling like I'm missing out on anything or alienated in any way. Ryan Murphy when he first started out insisted that the series remain this way. I've not seen 1 but have watched 3 so I already feel like this season might be isolating for me so I might not enjoy it because I'd be lost. I'm disappointed Ryan Murphy backtracked on his initial plan and I do think it's about a lack of inspiration. It's a shame they had to do this instead of taking a creative break and coming back with a fresh idea, something that an anthology series has the power to do.
MK:
I'm really skeptic about this possible concept, mostly cause of cast availability and how it will fit the verse in continuity. Murder House and Coven are two of their best seasons in my opinions and it could be a blast if they find a good narrative.
3.Helena Bonham Carter in negotiations joins The Crown as Princess Margaret for season 3&4. Yay or Nay?
SB:
I think this will be excellent casting when confirmed. Helena Bonham Carter is a fantastic actress and I know that Netflix has a number of high profile actors/actresses attached to their shows, but none to me that is really on her scale. With Olivia Colman already on board to take over from Claire Foy as well, season 3 & 4 has such great potential and I can't wait for it.
KG:
Not who I was expecting but I'm definitely here for this casting! I can't wait to see how she tackles the role.
CS:
The Crown is on my list of must-watch shows and the idea of having Helena Bonham Carter join the cast only makes me more excited to start watching this acclaimed series.
MK:
Helen is a legend. She is such a powerful actress, I adore her. And I really hope the deal is sealed by now, cause if an actress can captivate the complexity of Princess Margaret it's her.
4.ABC completely pulled The Mayor from its schedule. Why do you think it didn't get to burn off the remaining episodes?
SB:
At a guess ABC either think they have enough programs on the side to cover for The Mayor being pulled, or are happy to fill the timeslots with repeats given we are now halfway through the TV calendar. I'm honestly surprised that they waited this long to act as the show has been pulling awful numbers for weeks, and it's been quite obvious that it just didn't click with viewers.
WM:
I think the Mayor will get the burnoff treatment at some point. Probably for the summer. i think they see that their #1 comedy has slipped some and are happy to air repeats of it in attempt to gain a few more eyeballs on weds, because it's not like the Mayor was doing much better.
JZ:
I don't think The Mayor was an overly bad show that deserves to be canceled without airing all it's episodes. Sure, the series was repetitive at times but the cast had such amazing chemistry and comedic timing that they held the show together when the plot didn't.
I think what went wrong was it's time slot. It was going up against some real heavyweights and the show just couldn't find it's footing or a new audience. Also there's an over abundance of ABC comedies at the moment that if a series is not overwhelmingly outstanding, it's not worth of ABC's time and sadly, The Mayor did not live up to the hype.
Hope you enjoyed this year's first edition of the WRT, feel free to join the discussion in the comment section. Till next week.